Amplified Volume!
This Phone Speaks Volumes -- Win an Amplicom™ USA PowerTel 500 Amplified Phone!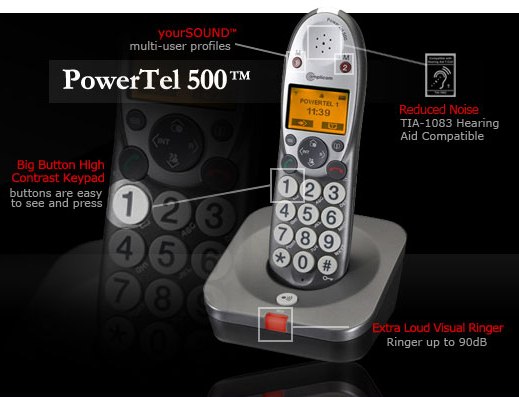 Most of us take for granted the ability to connect with family and friends or transact business over the telephone. But for the 36 million Americans who have mild to severe hearing loss, using the phone is fraught with stress, often avoided, or completely abandoned. Now, Amplicom™ USA (www.AmplicomUSA.com) puts the hard of hearing and aging population back in touch with the touch of a few buttons. Amplicom's PowerTel 500™ amplified phone sets the industry standard for interference and distortion free communication, superior technology and ease of use.
With an amplified volume of up to 50 dB, Amplicom's PowerTel 500 is one of the loudest phones on the market.  By offering 5 frequency settings that cover a wide spectrum, this phone is also one of the clearest on the market, even when the volume is turned up to its maximum -- and it's interference-free!  The PowerTel 500 also features yourSOUND™ multiple hearing profiles, allowing settings to be adjusted, remembered, and switched with the touch of a button for different members of a household.  There are two multi-user profile buttons on each cordless handset and three on corded models.
Click here to "Like" Amplicom on Facebook and see another great giveaway! 
Visit www.AmplicomUSA.com for a list of retailers.  
Enter now for your chance to win the Amplicom USA Amplified Phone Giveaway!
Entries are unlimited. 
Check out more SheKnows Giveaways!