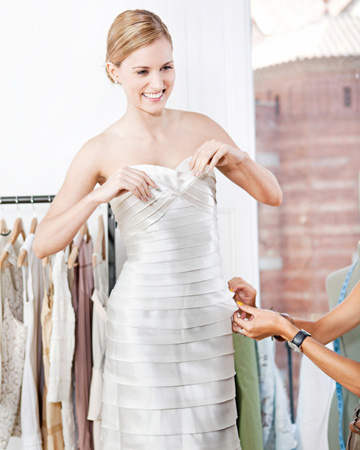 Bridal boot camp
Ready to get in shape for your wedding day? The key is to make a plan you'll enjoy and stick to it! Here, we share workout timelines and give you a peek at the before and after photos of one bride who had just six months to get fit.
Make a plan
Paula Procida, trainer at CLAY Health Club + Spa, says the first step in getting in shape for your wedding day is to write down your specific fitness and health goals and decide if you need outside help or if you have the self-determination to stick to it on your own.
Fit bride tip
Decide how you will have the most enjoyment getting fit, and then commit! You'll have so much fun losing weight it won't be a chore or an obligation, and you'll be more likely to stick to your plan and reach your goals.
Take action
"Hire your trainer, enroll in your class, buy your video... get the ball rolling!" If you're doing it on your own, Procida says, "set a weekly schedule, stick to this plan for five to six weeks and then change it up."
For example, she says the first five weeks may look like this:
Monday: Spin for one hour
Tuesday: Weight training for one hour
Wednesday: Swim for one hour
Thursday: Spin for 45 minutes, weight training for 30 minutes
Thursday: Yoga class
Friday: Spin for one hour
Saturday: Weight training for one hour, cardio (elliptical, etc.) for 20 to 30 minutes
Sunday: Rest
The second five weeks may look like this:
Monday: Weight training for one hour, cardio for 20 to 30 minutes
Tuesday: Elliptical machine for 45 to 50 minutes, 10 minutes of abs
Wednesday: Weight training for one hour, cardio (stair stepper, etc.) for 20 to 30 minutes
Thursday: Pilates class, cardio for 45 to 50 minutes
Friday: High-intensity yoga for 1-1/2 hours
Saturday: Run with intervals and hill climbs for 30-45 minutes
Sunday: Rest
Don't have that much time to dedicate to working out? You can still get some serious results with a consistent, if less intense, workout schedule. Jade Tully, a trainer at Cal Coast Fitness, says, "I would suggest at least three times a week getting a workout in: two cardio days and one strength or cross-training day. This is a great start if you only have a few days to dedicate to working out!"
Fit bride tip
Decide what will work for you and take the time to invest in you! I work so many hours and put my clients, my family, my friends, everyone before me. This was the one time that I decided it was okay to put me first! And it was a good lesson. My health and how I feel about myself are important! So important. It is a balance and a feeling I am not willing to lose again.
Real-life inspiration
Meghan Clem, owner of Irvine, California, wedding-planning company Intertwined, Inc. (and the fit bride behind the tips above) turned to trainer Jade Tully of Cal Coast Fitness to get gorgeous for her own wedding.
Clem had just six months to get in shape. Her goals were to lose 15 pounds, look amazing in her dress and build cardio endurance for team soccer. In addition to committing to personal training sessions, she cut out alcohol, substituted soda with iced tea and lots of water, switched to a lean protein and low-carb diet and stopped eating after 8 p.m. She made it clear she didn't do anything "crazy" like deny herself the pleasure of tasting wedding cakes and choosing her menu. "It's a time to enjoy yourself with your fiancé, too!"
"In the beginning, there was a lot of toning of upper body (it's a full-length dress, so what people really see are your arms and back!). I wanted to make sure they looked amazing. Toward the middle and end we added in more core and cardio to slim down, so the overall effect was slim and trim! And I felt so good. So in shape, so strong, so light on my feet! It was awesome. I think that was ultimately the best part. I felt great, so I am sure that translated into me looking even better on my big day!"
"She was such a hard worker and very consistent with me!" says Tully. "Now she contracts me to do her brides because she loved her outcome!"
Clem continues to work out alongside her brides during a weekly bridal boot camp and weighs even less now than she did on her wedding day!
Check out her before and after photos
Expert Tip
"Water gets old and boring, but it's a great filler," says Jade Tully, a trainer at Cal Coast Fitness. She suggests drinking decaf tea instead. "It has flavor and is water based, but not so bland!"
More workout inspiration
13 Workouts to try in 2013
Healthy eating vs. exercise
Top functional exercises for full-body fitness
---
The opinions expressed in this article are of the author and the author alone. They do not reflect the opinions of SheKnows, LLC or any of its affiliates and they have not been reviewed by an expert in a related field or any member of the SheKnows editorial staff for accuracy, balance or objectivity. Content and other information presented on the Site are not a substitute for professional advice, counseling, diagnosis, or treatment. Never delay or disregard seeking professional medical or mental health advice from your physician or other qualified health provider because of something you have read on SheKnows. SheKnows does not endorse any specific product, service or treatment.