When I initially did the DailyBurn.com Inferno program, I followed a set of rules that a PR person had emailed me. They didn't include DailyBurn's own special eating program, which meant there was little structure to my eating.
This time, I've learned a lot about the DailyBurn.com nutritional program, which begins with Ignite.
What's Ignite?
DailyBurn.com's nutritional program doesn't include any calorie counting or crazy prepared foods to eat three times a day. Instead it has Ignite, a nutritional lifestyle that begins with a detox period where you completely cut out soy, dairy, gluten, artificial sweeteners, sugar and alcohol for 21 days. Why these six things? Apparently they encompass the most common food intolerances, so cutting them out completely allows your body to detox and avoid inflammation, stress hormones, etc.
In the interest of full disclosure, since I was working directly with the folks behind DailyBurn.com, I was able to skip this step. As a food writer and recipe developer, my work makes it impossible to skip those six things for 21 days.
Although you can technically eat anything that doesn't contain any of the so-called "Evil 6" ingredients, there is an Ignite list of approved foods that are recommended for eating while in the Ignite stage. Eating from this list is supposed to help lead to optimal results.
What comes after Ignite?
After Ignite, there's Balance, where you can have the "Evil 6," in extreme moderation. You are allowed 10 credits per week; you deduct a credit each time you have one of the six. That means if you like your coffee sweetened with sugar and swirled with cream, you could only have that five times a week — and that would be your only indulgence.
If you work out every week, then you can add another five credits to your 10, allowing you 15 credits.
As far as eating plans go, DailyBurn.com offers a lot of guidance and reasoning on their site to help users understand why they are avoiding these things. There are tons of resources available to make the plans run as smoothly as possible.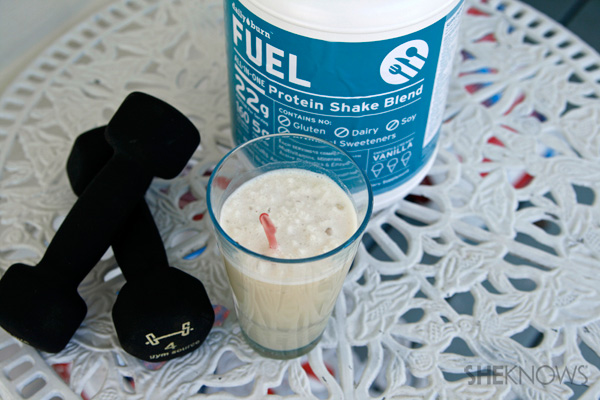 Supplementing the plan
DailyBurn also provided me with their DailyBurn Fuel protein powder and DailyBurn Essentials vitamin packs to try. These are intended to supplement the plan.
DailyBurn Fuel is available in chocolate and vanilla and is a plant-based protein blend. It has no artificial sweeteners, no soy, no gluten, no dairy, etc.; it fits squarely into what's acceptable in the plan. I tried the vanilla version. What was great about this protein powder was that it didn't have that chalkiness that can be so unpleasant.
It's best blended with fresh fruit, which tones down the vanilla flavor (which otherwise can be a little overpowering).
More on Sarah's Slim-Down
Inferno wrap-up and a new plan
Week one of Inferno
Week two of Inferno
---
The opinions expressed in this article are of the author and the author alone. They do not reflect the opinions of SheKnows, LLC or any of its affiliates and they have not been reviewed by an expert in a related field or any member of the SheKnows editorial staff for accuracy, balance or objectivity. Content and other information presented on the Site are not a substitute for professional advice, counseling, diagnosis, or treatment. Never delay or disregard seeking professional medical or mental health advice from your physician or other qualified health provider because of something you have read on SheKnows. SheKnows does not endorse any specific product, service or treatment.