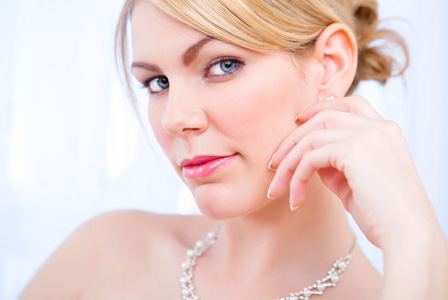 Whether you're plagued by chronic skin problems, fear a sudden flare-up or just want to maintain your best possible skin for your wedding day, there are plenty of strategies that really work. Here are some of the best.
Quick Fixes For Skin Imperfections
Maintenance is key for beautiful bridal-day skin
It doesn't matter if you have a chronic issue such as rosacea – which can flare in times of stress – or dry skin, which can worsen depending on the weather or your activities, the time is now to get into a routine to maintain your best possible skin.
"See a dermatologist for ongoing issues, if you haven't already," says Dr. Ronald Brancaccio, director of the Skin Institute of New York and clinical professor of dermatology at New York University School of Medicine. "The sooner you can get into treatment and an effective maintenance routine, the better."
Diana Alfieri, who was married in August 2012, knew she needed to keep up an effective skin routine well before her wedding day. "I did have worries about my skin. Not so much on my face, but I do tend to get acne on my back and red bumps on my arms," she says. "My dress was strapless, so this did concern me. I did not see a dermatologist, I just made sure to use a cleanser and astringent every day for a month leading up to the wedding."
"Whatever your issues with your skin, your wedding day is about looking your best while still looking like yourself. Remember that rest, relaxation and good nutrition go a long way toward achieving that goal."
Besides addressing your own specific issues, follow the basic tenets of the American Academy of Dermatology: Cleanse with the gentlest cleanser that is effective for your skin; moisturize regularly; use sunscreen with at least SPF 15 every time you go outside; do not pick at, squeeze or scratch your skin.
The monster zit
One of the top worries of any bride-to-be is the sudden zit flare-up. Never mind the trick from the movie My Big Fat Greek Wedding – "Windex!" If a zit pops up, you'll want to get rid of it fast. The best fix? "If you're looking for an over-the-counter remedy, use benzoyl peroxide at a 5 to 10 percent concentration twice a day," says Dr. Brancaccio.
For acne cysts, a dermatologist can perform an injection of cortisone directly into the cyst, reducing inflammation very quickly. "These shots work only on cystic acne, though," Dr. Brancaccio explains.
Above all, he warns, do not pick at a blemish. "What your mother says is true: It will only make it worse."
Dry patches
Whether on your face, elbows or elsewhere on your body, dry patches can be both uncomfortable and unsightly.
"You can soothe and camouflage dry patches with a good moisturizer with sunscreen," says Dr. Brancaccio. "Some of these products are tinted, too, which can help."
If your skin is extremely dry, try a very thick moisturizer such as Aquaphor, he says. "You can use it anywhere, even on your lips. It's an especially good overnight treatment."
The key to effective moisturizing is to use your products regularly. This will help keep patches and flare-ups at bay.
Covering birthmarks and tattoos
Covering pronounced marks on the face or body can be challenging. Whether you feel the need to cover a tattoo for a religious wedding ceremony or you just want to cover a birthmark that makes you self-conscious, there are types of makeup just for this purpose. Many dermatologists can help you find a product that is effective and may even have good ones available in their offices.
"Dermablend, which is available in department stores, is very good," says Dr. Brancaccio. "It comes in all shades, which can be helpful for people with darker complexions. I know it works well to cover birthmarks. Tattoos can sometimes be more difficult to disguise, especially if they have dark or bright colors in them." Tattoo artist Kat Von D has a line of tattoo concealers, also available at department stores, that are designed for full coverage.
Whatever your issues with your skin, remember that rest, relaxation and good nutrition go a long way toward achieving a beautiful briday-day complexion. So enjoy the time leading up to your big day, and be prepared for the beauty glitches — preferably with something more effective than Windex!
More bridal beauty tips
Tips for your best bridal smile
The wedding day workout
Quick tips for beating wedding-day bloat

---
The opinions expressed in this article are of the author and the author alone. They do not reflect the opinions of SheKnows, LLC or any of its affiliates and they have not been reviewed by an expert in a related field or any member of the SheKnows editorial staff for accuracy, balance or objectivity. Content and other information presented on the Site are not a substitute for professional advice, counseling, diagnosis, or treatment. Never delay or disregard seeking professional medical or mental health advice from your physician or other qualified health provider because of something you have read on SheKnows. SheKnows does not endorse any specific product, service or treatment.