Play Your Way To Fitness
It's tempting to use playground time as an opportunity to catch up on the latest celebrity gossip zines, but you should really get up off that park bench and get your butt in shape. As your kids tear around the jungle gym like wild monkeys, use the equipment as your own personal (and free!) fitness center.
SheKnows is training for our first half marathon at the P.F. Chang's Rock 'n' Roll Arizona Marathon & 1/2 Marathon in January. A big struggle for most of us, is finding the time to workout. This routine will help your break a sweat while playing with the kids!
Slides, swings and monkey bars may look like child's play, but with a little imagination, they can be used to create an incredible full-body workout. Every playground is a little bit different, so you may need to scope out the situation to come up with a game plan, but here are just a few ideas for turning your playtime into gym time.
Box jumps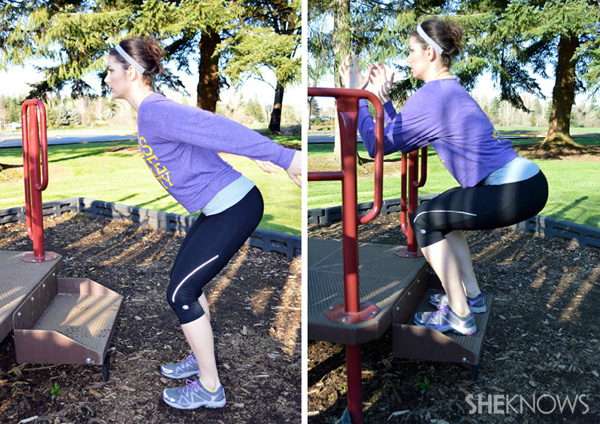 Who needs a plyometric box? Just find an elevated step or park bench and get to hopping! Just remember to keep your feet hip-width apart and to land each jump with "soft knees" to help prevent injuries. Targets your entire lower body: glutes, hamstrings, quads, hips and calves.
Workout suggestion: Perform two sets of 10 to 12 jumps.
Calf raises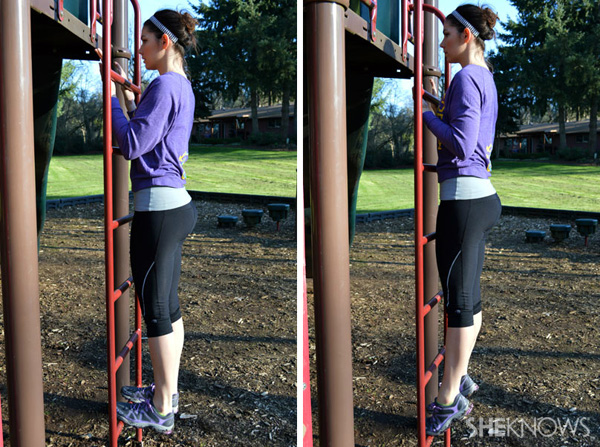 Use a step, ladder or curb to perform calf raises. The elevation allows you to increase the range of motion, enhancing the exercise. Just be sure not to use your upper body to help pull you up as you raise your body up onto your toes. Use your hands for balance only. Targets your calves.
Workout suggestion: Perform three sets of 15 calf raises.
Suspension lunge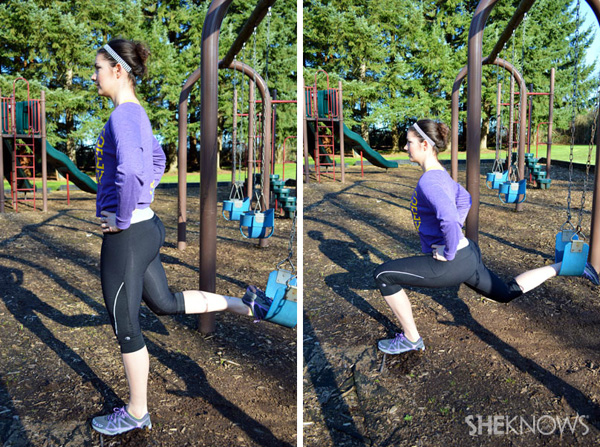 Skip TRX class and opt for a swing, instead! Swings are like the original suspension trainer, forcing you to concentrate on balance and stability while performing traditional movements. To perform a suspension lunge, start by balancing on one foot, placing the top of your opposite foot on the seat of a swing. Extend your back leg behind you as you lower yourself toward the ground into a lunge. When your front knee forms a 90-degree angle, return to start. Targets your entire lower body and core.
Workout suggestion: Perform two sets of 10 to 12 lunges on each side.
Triceps dip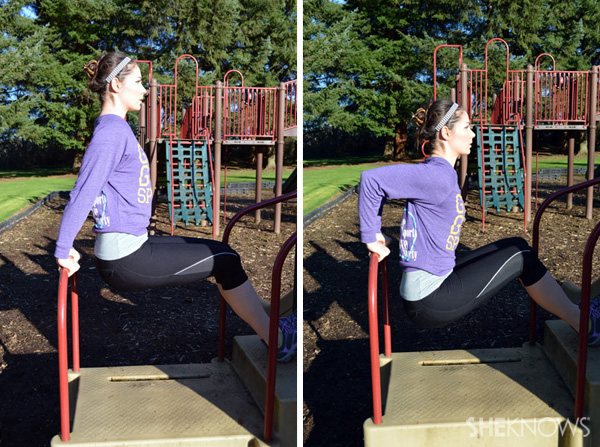 Playgrounds are full of bars and handles! Locate a bar that you can rest both hands on, at a height that allows you to start with your hips forming a 90-degree angle, as though you were seated in a chair. Keeping your lower body steady, bend your elbows and begin lowering your hips toward the ground. When your elbows form a 90-degree angle, reverse the movement and return to start. Targets your triceps.
Workout suggestion: Perform two sets of 10 to 12 dips.
Suspension plank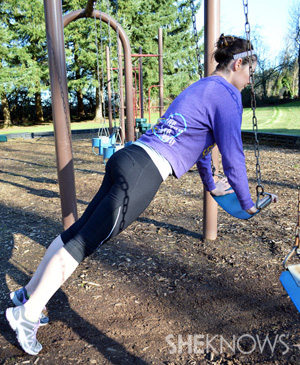 If you think a traditional plank is hard, try a suspension plank! By balancing your upper body on a swing, you'll have to fully engage your shoulders, chest, hips and core as you work to keep your body tight and straight. As an alternative, rest your hands on the ground, with your feet on the swing's seat. Targets your chest, shoulders and core.
Workout suggestion: Perform two 30-second planks.
Lateral traveling plank

If your playground has steps or pods of varying heights, use them to perform a lateral traveling plank. Like a standard plank, the traveling plank will challenge your core, but it will also force you to engage your upper and lower body more fully. Just be careful and make sure you're planting your hands firmly on each pod before working your way across the steps — you don't want to slip! Targets your chest, shoulders, hips and core.
Workout suggestion: Work your way up and down the pods five times without resting.
Assisted pull-up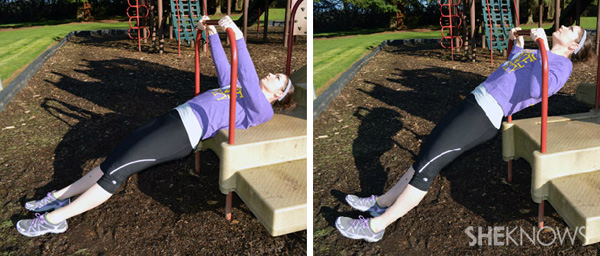 All those bars and handles can be used to work your back muscles, too. Just find a bar that allows you to rest your heels on the ground with your body at an angle. Start with your arms fully extended, then pull yourself up to the bar. Lower yourself back to start and continue the exercise. Targets your back and biceps.
Workout suggestion: Perform two sets of 10 to 12 pull-ups.
Hey, runners!
SheKnows is training for our first half marathon! Add running to your weekly workouts and join us in January at the P.F. Chang's Rock 'n' Roll Arizona Half Marathon. Register here.
More great workouts for moms
Mom swap: Ways to change up your gym routine
Slim without the gym: The 10-move home workout
Workout moves with baby in tow
---
The opinions expressed in this article are of the author and the author alone. They do not reflect the opinions of SheKnows, LLC or any of its affiliates and they have not been reviewed by an expert in a related field or any member of the SheKnows editorial staff for accuracy, balance or objectivity. Content and other information presented on the Site are not a substitute for professional advice, counseling, diagnosis, or treatment. Never delay or disregard seeking professional medical or mental health advice from your physician or other qualified health provider because of something you have read on SheKnows. SheKnows does not endorse any specific product, service or treatment.