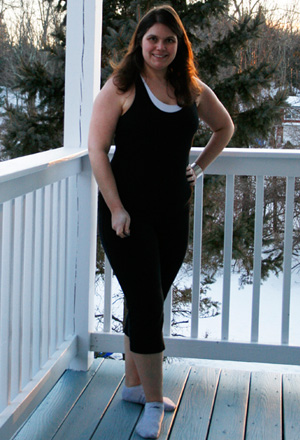 After three weeks on the Inferno program with tips from DailyBurn.com, one thing is abundantly clear: These workouts aren't for someone who isn't already at least somewhat in shape. That's been kind of a problem for me, since I was decidedly out of shape before beginning.
On the positive, I am now working out three to four times each week and that's a big improvement. However, I didn't have any weight loss this week (um, again) and I am pretty frustrated.
On eating
A lot of the rules I can totally get behind. Starting the day with two glasses of water and staying hydrated? That makes sense — and my body feels better for doing that. Drinking a protein shake for breakfast? It's actually not so bad, and can be a good start to the day. Snacking smartly and feeling the difference between craving and hunger? Also great.
But where the program has lost me a little is on the eating. Though the guidelines do address some things you should be doing with your eating, it doesn't address the meals — the other times. Or even how much you should be eating.
Maybe I should just know. Maybe letting myself feel hungry, snacking smartly and starting the day with two glasses of water and a protein shake should be enough. But it's not. Between those times, should I be going heavy on protein and light on carbs? I know eating more fiber is essential (and have been doing that), but what about other nutrients?
And do calories, fat and sodium in my diet matter here?
A few days ago, I started using an iPhone app, MyNetDiary, to track some of my meals. That's helped some. But I think in a plan, for me at least, I really need a loose guideline for what the total eating picture should look like.
Working out ... and breaking rules
Sarah's stats:
Height: 5'6"
Starting weight: 194 pounds
Current weight: 192 pounds
Total loss: 2 pounds
The first week of this Insanity-like plan was... insane. I hurt from head to toe and was nursing an unrelated injury, too. The second week I dealt with working out outside of a gym routine (a.k.a. shoveling snow). Now, in week three I tried to get to a point where things just make sense for my life.
The more intense workouts sideline me for days, so I have been doing only part of them and supplementing with other workouts. I do the lower-intensity ones in full, and those are OK.
But this week, I got tired of skipping cardio. Part of my problem with the workouts is my current lack of endurance — which I don't see how I can fix without breaking the rule that says you should skip the cardio and do weights instead. So I just did it. I hit the gym for an intense spate on the elliptical followed by some leg exercises. And I felt good.
And yes, I am going to break that rule again this week. Here's to hoping I can wrap up this program with a bigger loss.
More on health
Sarah's Slim-Down: Week one of Inferno
Red-carpet results: Denise Austin's celebrity diet and fitness tips
6 Boxing drills for a hot body
---
The opinions expressed in this article are of the author and the author alone. They do not reflect the opinions of SheKnows, LLC or any of its affiliates and they have not been reviewed by an expert in a related field or any member of the SheKnows editorial staff for accuracy, balance or objectivity. Content and other information presented on the Site are not a substitute for professional advice, counseling, diagnosis, or treatment. Never delay or disregard seeking professional medical or mental health advice from your physician or other qualified health provider because of something you have read on SheKnows. SheKnows does not endorse any specific product, service or treatment.