Doctors and patients weigh in on red wine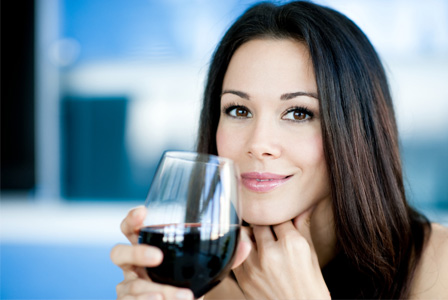 While information on the benefits of drinking moderate amounts of red wine are well publicized, has the information made it into the doctor's office? Do doctors think it's a healthy addition to a patient's diet?
Red wine Rx
The doctor's side
Dr. Lisa Ganjhu, a gastroenterologist in New York City, spends her days consulting with patients on improving their dietary habits. What is her take on prescribing red wine for heart health? "As a liver specialist, I think the problems with alcohol may outweigh the benefits. The problem arises in the consumption of alcohol and it's negative effects in large doses. It is fine in small and appropriate portions. The problem is our society is a very addictive society and alcoholism is a big problem. Most people under report their alcohol consumption." 
"You do not need to drink wine to get the benefits. You can simply get it from eating grapes, or drinking grape juice."
Dr. Matilde Parente agrees: "I do know that AHA heart health guidelines do not advise doctors to encourage any patients to begin drinking wine or any alcoholic beverage strictly for health reasons. In addition to liability issues, there is an ethical aspect to encouraging alcohol use. There may be a known or unknown family, social or genetic issue with alcohol misuse. Perhaps there is a history of emotional instability, marital problems related to alcohol or domestic violence. Maybe the patient has a binge-behavior pattern that might present a problem with alcohol use. There could also be a problem with alcohol and a current — or future — prescription medication. In other words, there are a variety of medical, social, legal and ethical issues that support the AHA and U.S. Department of Agriculture statements regarding use of alcohol with regard to heart health that stop short of endorsement or encouragement from physicians." 
The patient's side
Despite the warnings and potential ethical issues associated with prescribing red wine, patients are telling a different story. Patient Nicole Wright says that her doctor suggested "one to two glasses of red wine every evening to relax." Because she says: "When I get stressed my blood pressure rises." Her doctor did let her know that one to two glasses would help, but that more than two was damaging.
Walter Meyer had a similar experience when his doctor took him off of his cholesterol medication (due to side effects and his borderline levels) and offered him a deal: "Take our cholesterol class and substitute a glass of red wine a day for the [medication]." Meyer saw good results as his scores dropped from 206 to 203 in three months.
Why all the hype?
Dr. Parente thinks that the hype over red wine and it's benefits may be attributed to "[the] public and patients — and some of their doctors, perhaps — misinterpreting and even over-interpreting information that has emerged about red wine. There could also be an element of wishful thinking in there too, wherein we so want something to be true that we'll exclude all evidence to the contrary and only focus on those bits of news that confirm what we want to believe."
All the benefits without the drawbacks
Dr. Ganjhu recognizes why people do try wine, as "red wine or anything made from the skin of the red grape is rich in the antioxidant resveratrol. We know based on some studies (mostly animal studies) that it may help in preventing heart disease by increasing levels of 'good' cholesterol and protecting against artery damage, prevention of certain cancers and dementia." However, she thinks it may be a wiser choice, given the risks of alcohol, to opt for other sources: "You do not need to drink wine to get the benefits. You can simply get it from eating grapes or drinking grape juice. Other foods that contain some resveratrol include peanuts, blueberries and cranberries, mulberries, loganberries and pistachios." 
Tell us
What about you? Do you drink wine for your heart? Share in the comments below!
More heart healthy reading
Limit your alcohol
Why you shouldn't be drinking wine
Alcohol and your heart: what you should know
---
The opinions expressed in this article are of the author and the author alone. They do not reflect the opinions of SheKnows, LLC or any of its affiliates and they have not been reviewed by an expert in a related field or any member of the SheKnows editorial staff for accuracy, balance or objectivity. Content and other information presented on the Site are not a substitute for professional advice, counseling, diagnosis, or treatment. Never delay or disregard seeking professional medical or mental health advice from your physician or other qualified health provider because of something you have read on SheKnows. SheKnows does not endorse any specific product, service or treatment.
More From SheKnows Explorer