Protect Your Peepers
A workout is only good for you if you're staying safe, and your eyes are an important part of the equation! Grab one of these great pairs of sunglasses for your next outdoor workout to guarantee a safe and stylish sweat session.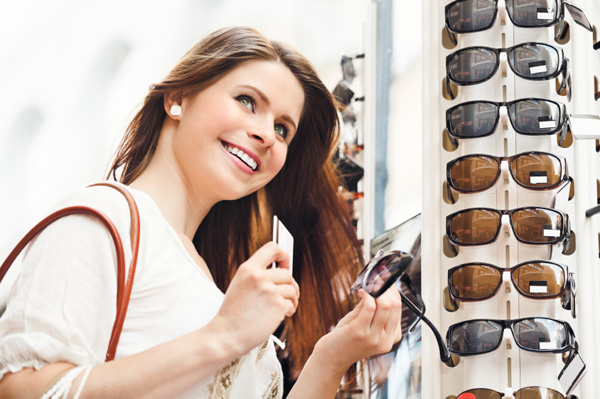 Sunglass-buying playbook
"Snow and water can reflect nearly 80 percent of the sun's rays, and reflected sunlight can be extra dangerous because UV rays are intensified."
Before grabbing the first pair of sunglasses you see at the drugstore or mall, it's important to know what to look for. Dr. Grossman, Chief of Optometry and Eye Health at LensCrafters, says, "Sunglasses help your eyes in two important ways: They help block light and they protect against the damaging rays of the sun. Some of the damage can happen right away and some can occur over a lifetime of exposure." Outdoor sporting conditions can play a big part in this damage. Dr. Grossman explains, "Snow and water can reflect nearly 80 percent of the sun's rays, and reflected sunlight can be extra dangerous because UV rays are intensified."
To make sure you're keeping sun damage to a minimum, use Dr. Grossman's playbook for choosing the right pair of sunglasses:
Never buy a pair that offers less than 99 percent UVA and UVB protection.
Never buy a pair that doesn't fit properly.
Avoid sunglasses that are labeled "cosmetic" or that don't provide UV protection details.
Labels that say "UV absorption up to 400nm" is the same thing as 100 percent UV protection.
If you have a prescription, purchase a pair of prescription sunglasses.
Choose sunglasses that cover the sides of your eyes to reduce light from entering.
Consider scratch-resistant coating if you're prone to falls or collisions in your sport.
When it comes to fast-moving sports, make sure to have impact-resistant polycarbonate lenses and frames. The more flexible the frame and lens, the less likely they will break in a bad fall.
And, just like sports stars need to know the terminology of their sports, it's important for a sunglass-buyer to know the terminology of the purchase. Consider these terms before making your buy:
Polarized lenses: Polarized lenses block glare created when light reflects off of flat surfaces, like roads or water — this feature can also reduce eyestrain.
Anti-glare coating: This coating is placed on the back of the lenses, reducing glare that occurs when sunlight shining behind you hits the back of the sunglasses' lenses, reflecting into your eyes.
Lens color: While yellow lenses may look cool, they may not be practical for your sport. The color of the lens will affect how much light reaches your eyes, as well as how well you see colors and contrasts. Green or gray lenses work best for bright, sunny conditions. Yellow lenses will brighten up your surroundings on early mornings or late evenings. And when visibility is an issue due to clouds or haze, choose a color that's not overly dark — like a light brown or rose.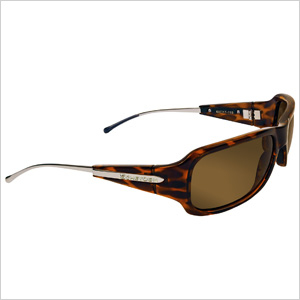 Best for water sports and workouts
The Scheyden Revelry or Scheyden Revelstoke sunglasses are the perfect pairing for a day out on the water. These sunglasses are sported by the cast of Discovery Channel's Flying Wild Alaska, and for good reason! Hand-ground and polished, the distortion-free lenses feature a water-repellent coating that wicks sweat and water away. The lenses also feature a scratch-resistant finish that will help keep them safe for practically any activity. (Scheyden, $259 to $309)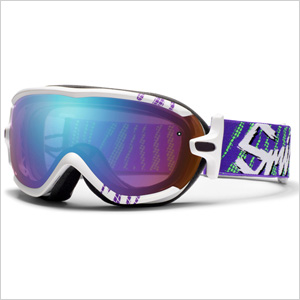 Best for snow sports and workouts
You'll be able to head down the mountain in style this year! Sure, the Smith Optics Virtue is a goggle and not a pair of sunglasses, but the impact is the same. These bad boys offer a semi-rimless design to increase field-of-vision, and an anti-fog inner lens to ensure you'll be able to see the surrounding terrain. They're also helmet-compatible so you can keep your pretty little head protected, too! (Smith Optics, $140)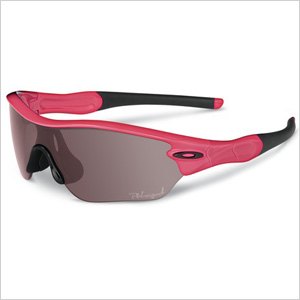 Best for high-intensity action
When you're running a marathon, biking a century or gathering up a group of friends for a killer match of beach volleyball, you need sunglasses that will stay put. There's not a better pair out there than the new (and fashionable!) Oakley Radar Edge. They even feature interchangeable lenses so you can switch out the lenses depending on the weather or environment. (Oakely, $180)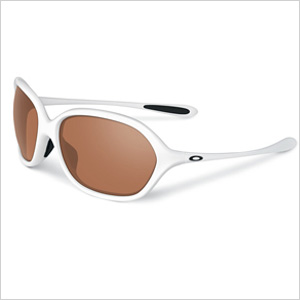 Best for casual sporting and exercise
When you're keeping things low-key, you have a little more leeway to flex your fashion muscle. For activities like walking, paddleboarding or hiking, pick up a pair of Oakley's Warm Up sunglasses. The larger frames will enable you to channel your inner movie star, but with features like unobtainium nose- and ear-pads that are designed to keep the sunglasses in place while you sweat, you know that you're really getting the high-performance reliability you've come to expect from Oakley. (Oakley, $120)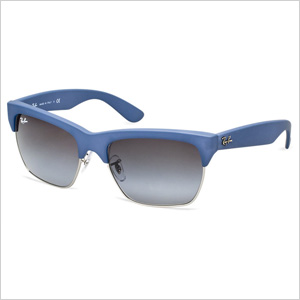 ---
The opinions expressed in this article are of the author and the author alone. They do not reflect the opinions of SheKnows, LLC or any of its affiliates and they have not been reviewed by an expert in a related field or any member of the SheKnows editorial staff for accuracy, balance or objectivity. Content and other information presented on the Site are not a substitute for professional advice, counseling, diagnosis, or treatment. Never delay or disregard seeking professional medical or mental health advice from your physician or other qualified health provider because of something you have read on SheKnows. SheKnows does not endorse any specific product, service or treatment.