Birrell has been a Bikram yoga instructor for five years and manager at the Bozeman yoga studio since 2010. Bikram Yoga Bozeman, owned by Chris and Rebekah Bunting, recently celebrated its 10-year anniversary and has experienced tremendous growth as more and more people see the results and benefits of the practice. Since Bozeman is blanketed in snow much of the year, it's not a surprise that doing yoga in a hot environment is so popular.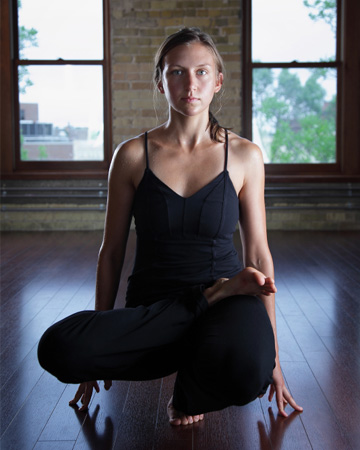 "Many students find that the intensity of the practice helps them get more out of their own mind."
What is Bikram yoga?
Bikram yoga is also called hot yoga because the yoga workouts are done in a heated room. However, Bikram isn't just any yoga practice. "Bikram Yoga is a 90-minute series of 26 beginning yoga postures (asanas) and 2 breathing exercises (pranayamas) that are done in the same order," Birrell explains. "Most poses are done twice — the first set acts as a diagnostic, and the second set is where you push a little more and create change in the body and the mind."
The beauty of the Bikram practice is that it works the whole body, with each pose warming you up and preparing you for the next posture and the postures to come. It not only promotes health and strength, it is also very healing, according to Birrell. "A state-of-the-art ventilation system brings fresh pre-heated air into the room throughout class to ensure that there is plenty of fresh oxygen to breathe," she says. "The heat provides many benefits, including increased blood flow throughout the body, and helps detoxify the body through the sweat."
Benefits of Bikram yoga
Bikram yoga is an intense form of hatha yoga that offers many health benefits, including strength, flexibility, balance and a cardiovascular workout. Birrell got into Bikram after suffering running-related knee injuries. "I thought I would just do the yoga for a few months while training for a marathon, but after experiencing the physical, mental and emotional benefits of the yoga, I became hooked," she recalls. "Many people find that they receive increased healing benefits from Bikram due to the scientific design of the posture series, as well because of as the heat."
Bikram for mind-body fitness
In addition to gaining strength and flexibility, many students also experience weight loss. But Birrell says Bikram isn't just good for your body. It also gives you an overall sense of well-being. "Many students find that the intensity of the practice helps them get more out of their own mind," she explains. "We call it a '90-minute moving meditation' that is great for stress relief and bringing balance back to the mind-body connection."
Risks of Bikram yoga
Though working out in a 105-degree room seems most suitable for hard-core athletes and yoga enthusiasts, Birrell says Bikram Yoga Bozeman's students range in age from 12 to 74, are from all walks of life and come in with different physical, mental and emotional goals. "Bikram yoga is a beginning yoga class, and new students do not need any experience with yoga to come," she adds.
However, Bikram is not recommended for pre-pubescent children, says Birrell. "Without developed sweat glands children could overheat in the room. At Bikram Yoga Bozeman we do not allow children under 12 to practice in the hot room."
Just do it
Wondering if Bikram yoga is for you? "It's normal to feel a little nervous or scared," Birrell says, "but my best advice is to just try it. I promise you will feel change."
Girl Crush
Click here to read Jenny McCarthy dish about her new late-night show, dating & motherhood!
More on yoga
The best mind-body workouts for the new year
Get the most out of your yoga practice
Yoga poses that awaken the senses
Photo credit: Michael Roman/WENN.com
---
The opinions expressed in this article are of the author and the author alone. They do not reflect the opinions of SheKnows, LLC or any of its affiliates and they have not been reviewed by an expert in a related field or any member of the SheKnows editorial staff for accuracy, balance or objectivity. Content and other information presented on the Site are not a substitute for professional advice, counseling, diagnosis, or treatment. Never delay or disregard seeking professional medical or mental health advice from your physician or other qualified health provider because of something you have read on SheKnows. SheKnows does not endorse any specific product, service or treatment.