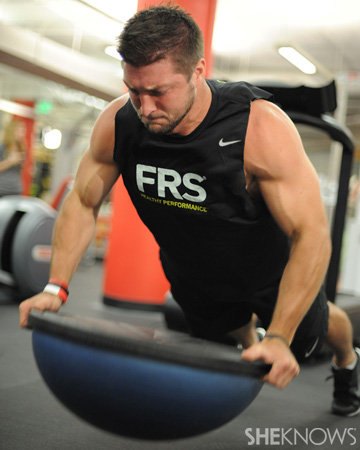 Tebow's healthy diet & exercise routine
Professional athletes like Tim Tebow have to be in top shape at all times. SheKnows found out just what it takes to be a star quarterback when we went one-on-one with the football pro at the FRS Healthy Performance challenge.
When you watch pro athletes like Tim Tebow on television, you may wonder just what it takes to achieve the level of physical excellence required to play sports competitively. SheKnows had the privilege of working out with Tebow recently and sampling his diet at the FRS Healthy Performance challenge in Los Angeles.
Here's what we learned:
Football players exercise as a team, and it's that team spirit that keeps them going during strenuous workouts. During our session, we repeated one word frequently as a group for motivation: "Fearless!"
2
It's not all about muscle
While having some serious guns is important, Tebow also practices speed and agility drills to keep him on his toes. Our trainer had us shuffling while twisting our hips back and forth to practice this. Not only is this good for the game, it's a great cardio burn for non-athletes.
Tebow's workout's are long. While ours was only 45 minutes, Tebow usually spends 45 minutes on each drill during his workouts, so he has to stay hydrated. To do this, he drinks FRS Energy continuously throughout his sessions, giving him the hydration he needs and a boost of natural energy.
4
You have to fuel your body
Tebow eats super healthy! After our workout we were treated to a brunch of egg whites (no oil), fresh mixed fruit, oatmeal and whole wheat toast.
Tebow's diet
"Breakfast is really the most important meal of the day," he told us. "You want to be able to fuel yourself."
Although Tebow said that his whole diet is generally as healthy as his breakfast, the football star admits that he indulges on occasion. His favorite treats include ice cream, his mom's cakes, and Honey Bunches of Oats.
"I let myself have frozen yogurt and go out to eat," says Tebow. "You have to really have balance."
One thing he eats that he does not enjoy is "green" smoothies.
"My nutritionist used to make one drink with one pound of spinach and it was really the most disgusting drink," says Tebow. "But it would make you feel so good the next day."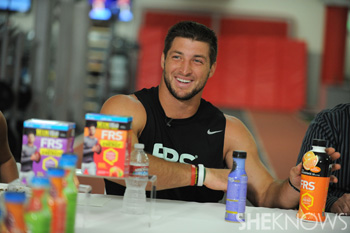 Free Radical Scavengers
The most important part of his fitness diet is the protein and energy Tebow gets from FRS.
FRS stands for Free Radical Scavengers and was originally developed by scientists to provide a natural, sustained source of energy for chemotherapy patients. It is now used by athletes worldwide like Tebow and Lance Armstrong to fuel their performance.
We tried their amazing instant energy shots pre-workout and can attest to the power surge it supplied mid-session. Tebow personally drinks the FRS concentrate.
Watch our workout here:
More celebrity fitness
Maria Menounos shares her Shape cover secrets
Celebody: How Brooke Burke keeps her family healthy
Shake up your fitness routine with workouts celebs love
---
The opinions expressed in this article are of the author and the author alone. They do not reflect the opinions of SheKnows, LLC or any of its affiliates and they have not been reviewed by an expert in a related field or any member of the SheKnows editorial staff for accuracy, balance or objectivity. Content and other information presented on the Site are not a substitute for professional advice, counseling, diagnosis, or treatment. Never delay or disregard seeking professional medical or mental health advice from your physician or other qualified health provider because of something you have read on SheKnows. SheKnows does not endorse any specific product, service or treatment.