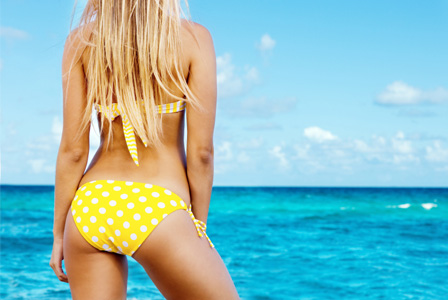 We all want toned abs, arms and legs -- but what about our backs? It's an important area to strengthen, but one that often gets skipped in favor or lunges, crunches and leg raises.
Bringing sexy back
This summer, we suggest taking another look at this oft-overlooked area and including some back-specific moves into your routine. Not sure where to start? Check out the video below featuring six sculpting moves we love.
Getting started
We asked Sammie Kennedy, fitness expert and creator and host of Booty Camp Fitness Ultimate Home Edition 2, for her insight into building a stronger back. She created a simple but effective back workout to get your back in summer-ready shape. Kennedy recommends doing three rounds of the circuit twice a week to build a strong and beautiful back. She also shares some general back-sculpting tips for a better body. The following moves are what you'll see in the video.
Lat-pull plié  (15 reps)
Standing back fly (15 reps)
Lat raise combo (12 reps)
Bent over row (8–10 reps)
Back extension (12–15 reps)
Rear leg raise (16 reps)
Importance of strong backs
A lot of people focus on working their core but neglect to train their back. Not a good plan, warns Kennedy. "We rely on our back muscles to complete most of our physical tasks during the day, so it's incredibly important to develop and strengthen those muscle groups," she explains. "A strong back also helps with both posture and core."
Weak back muscles can also be linked to conditions like osteoporosis, so it's important to work the broad muscles in your back (latissimus dorsi), the muscles and tendons that run along your vertebral column (erector spinae) and the muscles that connect the scapula with the vertebrae (major and minor rhomboids), stresses Kennedy.
Back-strengthening tips
Kennedy shares a few general workout tips to keep in mind while performing back exercises, which may vary depending on the exercise:
Make sure that your feet are planted firmly on the ground.
Push up from your heels when performing squats.
Ensure that whatever weights you're working with are evenly distributed and a reasonable weight for your level of strength. You don't want to encourage a back injury by going too heavy too soon.
Constantly remind yourself to keep your core engaged. Tightening the abdominals will help support the spine and muscles of the lower back.
When lifting weights, don't go too heavy as you may risk compromising form.
Strong back benefits
Skipping back-strengthening moves? You might want to reconsider that fitness decision. Kennedy shares some of the biggest benefits to a stronger back.
Improvement in posture (you'll look taller) and abdominal strength.
Possible prevention of injury, pulled muscles, or future conditions like osteoporosis.
A sculpted, toned back that looks great in summer sundresses and swimsuits.
"Just like doing abdominal exercises for a defined stomach, or squats for a sculpted booty, training all of your back muscles will help to define those beautiful back curves that all women have," says Kennedy. "Exercises like the lat-pull plié will help sculpt the sides of your back, creating a beautiful 'V' shape that emphasizes a slimmer waist," she explains. "Exercises like the standing back fly and bent-over row really help to define those muscles around your spine in the upper back and shoulders, so you look just as sculpted and sexy from behind in a low-back dress."
Head-to-toe summer body tips
To get in summer-ready shape from head to toe, combine flexibility, strength training and cardio for a full-body workout, advises Kennedy. "A lot of people try to spot-train specific body parts, but unfortunately this is a myth. Only an overall reduction of body fat will help to reveal all the hard work you have done," she says. "A full-body workout based on the three training categories mentioned above will help you develop a lean physique that's toned all around."
More fitness tips
Lazy girl's get-fit guide
Summer slimdown: 7 simple tips to lose weight
Kettlebell workout: 5 Dynamic moves for full-body fitness
---
The opinions expressed in this article are of the author and the author alone. They do not reflect the opinions of SheKnows, LLC or any of its affiliates and they have not been reviewed by an expert in a related field or any member of the SheKnows editorial staff for accuracy, balance or objectivity. Content and other information presented on the Site are not a substitute for professional advice, counseling, diagnosis, or treatment. Never delay or disregard seeking professional medical or mental health advice from your physician or other qualified health provider because of something you have read on SheKnows. SheKnows does not endorse any specific product, service or treatment.