How To Prevent These Major Health Issues
There's a good chance you've heard that heart disease and breast cancer are the No. 1 and 2 causes of death for women in the US. However, did you also know that depression and chronic lower respiratory diseases are also top causes of death for both younger and older women in the US? Before you skip that doctor's appointment for a work meeting or work through a cold, check out these 6 health risks women face and important (and easy) ways you can prevent them.
(page 2 of 2)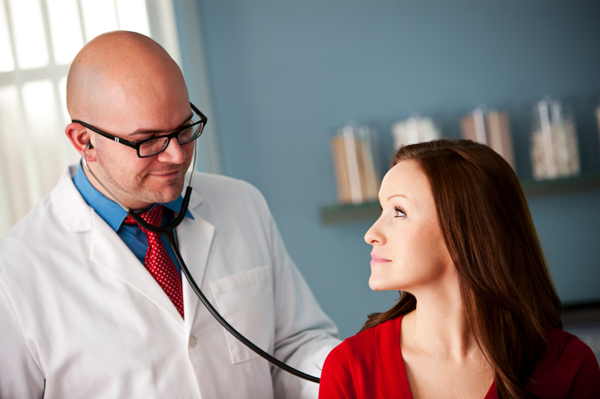 Stroke
Stroke is the No. 3 leading cause of death in women in the US today, with 6.7 percent of women of all ages dying from a form of it. Strokes occur when the brain isn't getting the blood it needs to function, and can be caused by an artery blockage or an aneurysm. Although the common signs for stroke, like sudden numbness of the face or body, trouble walking or seeing, or bad headaches happen in both men and women, women often experience additional symptoms, like chest pain, sudden hiccups, face pain or shortness of breath. Strokes can happen to women of any age, but the percentages increase with each decade. Poor diet, high blood pressure and lack of exercise are all causes of strokes. In addition, it's been shown that women over 35 who are taking birth control are at a higher risk for stroke than those who aren't.
Experts believe that 80 percent of strokes can be prevented. The key ways you can help prevent a stroke is to know and understand your blood pressure, avoid smoking, get tested for diabetes, get routine cholesterol tests, maintain a healthy weight, exercise regularly and limit alcohol consumption to one drink a day.
Breast cancer
Although women are prone to many types of cancer, like colon and skin, breast cancer is the second-leading cause of death for women and affects nearly 12.2 percent of women, according to the National Cancer Institute. Like most types of cancers, there are four stages, with stage 4 being the most severe. What's scary about breast cancer for most women is that early breast cancer causes no pain, which means you could easily miss a diagnosis if you're not seeing a doctor regularly. In addition to seeing a doctor, it's important to do breast tests on yourself to identify lumps or irregularities. According to the American Cancer Society, the top risk factors for breast cancer in women are increasing age, genes, family history, race (white women have a greater risk for this than African American women), early onset menstruation, lack of children, obesity and excessive alcohol consumption.
Some cancer is hard to prevent (due to genes or family history), but you can help prevent breast cancer by not smoking, maintaining a healthy weight, exercising, eating a healthy diet, breast feeding, making routine doctor's visits and getting regular mammograms, limiting alcohol and avoiding pollution.
Heart disease
This disease was once considered just a "man's disease" but now it's the leading cause of death for women in the US, claiming the lives of nearly 25 percent of women. However, according to Cindy Pearson, executive director of the National Women's Health Network, the real cause for concern in women is premature death and disability caused by heart disease. Although statistically more men die of heart disease than women, females tend to be under-diagnosed, often to the point that it's too late to help them once the condition is discovered. According to the Mayo Clinic, the symptoms for heart disease in women are typical for women, and sometimes doctors and patients miss the mark. So what are the risk factors for heart disease in women? The main ones include obesity, high blood pressure and high cholesterol, smoking and genes.
Like many of these diseases, the easiest way to prevent heart disease is to maintain a healthy weight, exercise regularly, manage chronic conditions, limit alcohol and smoking, eat a healthy diet and schedule regular doctor visits to test blood pressure.
Knowing, understanding and working to prevent these common conditions will not only save your life, but help you lead a healthier, happier one!
More women's health articles
Women's health issues no one talks about
The secrets to women's health
5 Common women's health problems
---
The opinions expressed in this article are of the author and the author alone. They do not reflect the opinions of SheKnows, LLC or any of its affiliates and they have not been reviewed by an expert in a related field or any member of the SheKnows editorial staff for accuracy, balance or objectivity. Content and other information presented on the Site are not a substitute for professional advice, counseling, diagnosis, or treatment. Never delay or disregard seeking professional medical or mental health advice from your physician or other qualified health provider because of something you have read on SheKnows. SheKnows does not endorse any specific product, service or treatment.