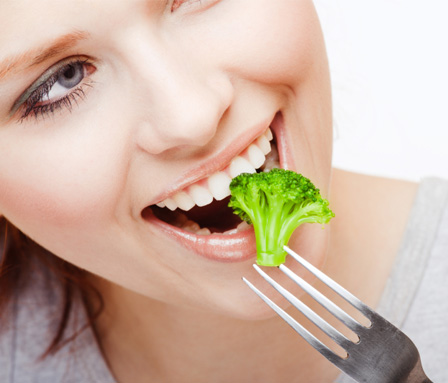 We all know green vegetables are good for us, but did you know they can ward off illness and help with digestion? A study from the Babraham Institute in England found that eating our greens boosts our immune system and helps maintain intestinal health. Pass the Brussels sprouts, please!
Eating green will keep you healthy
Crucifers are queen when it comes to health
What happens when you don't get your veggies? A 2011 UK study, reported in the journal Cell, found it puts you at risk for infection and disease. Not a surprise, given their nutritional value, but this study drilled down into the merits of cruciferous veggies, such as cauliflower, broccoli, bok choy and kale.
Researchers at Babraham Institute in Cambridge, England, fed mice a balanced, healthy diet for three weeks, noting their digestion and overall intestinal health. The researchers then fed the mice a veggie-free diet for three weeks. The mice lost 70 to 80 percent of a type of white blood cell, also found in humans, that is key to a humming immune system.
The cells in question, known as intra-epithelial lymphocytes (IELs), exist as a network just beneath the cells that form the barrier along the body's surfaces. They play a critical role in monitoring the large number of microorganisms that exist in the intestine, keeping infections at bay and maintaining a healthy gut. The intestines have both good and bad bacteria, and need the IELs to keep things in balance.
Specialized immune cells fueled by green veggies
"I would have expected that cells at the surface would play some role in the interaction with the outside world, but such a clear-cut interaction with the diet was unexpected," says study author Marc Veldhoen, an immunologist with the institute.
The research shows for the first time that mice fed a diet low in vegetables rapidly lose these specialized immune cells (IELs) lining the intestinal tract, but not other immune cells.
The study also found that cruciferous veggies, such as cauliflower, broccoli, bok choy and kale, contain a compound that helps those cells survive, says Veldhoen.
Daily greens can act as digestive therapy
While the rainbow of vegetables is important, the green variety has a direct impact on intestinal immune cells. Because the cells in the intestines digest our food and liquid intake throughout the day, they work hard and have a high turnover.
The discovery that green vegetables can help prevent irritation and inflammation is important, given the rise of intestinal inflammatory disorders such as inflammatory bowel disease (IBD). The research has implications for better understanding the basis of these intestinal inflammatory disorders and may offer new opportunities for therapeutic intervention.
More healthy reading
Healthy foods that boost happiness
10 Tasty ways to boost your immune system
Top 10 healthiest vegetables
---
The opinions expressed in this article are of the author and the author alone. They do not reflect the opinions of SheKnows, LLC or any of its affiliates and they have not been reviewed by an expert in a related field or any member of the SheKnows editorial staff for accuracy, balance or objectivity. Content and other information presented on the Site are not a substitute for professional advice, counseling, diagnosis, or treatment. Never delay or disregard seeking professional medical or mental health advice from your physician or other qualified health provider because of something you have read on SheKnows. SheKnows does not endorse any specific product, service or treatment.