Post-Pregnancy Workout For Moms
Regardless of how much weight you gained during pregnancy, you don't have to write off your pre-pregnancy body as a distant memory. Stacy Berman, founder of
Stacy's Bootcamp
in New York, has been boot-camping women back into shape for the past 15 years. She shares this six-move post-pregnancy workout that will help you target your trouble spots, burn calories and reshape your body into a fit physique -- all in the comfort of your own home.
(page 2 of 2)
Centipede
Targets the core muscles, hamstrings, and upper body.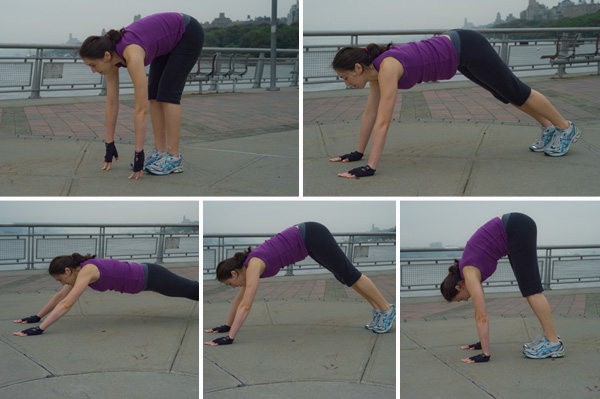 Start position: Start in a standing position. Bend forward, keeping your legs straight, and place your hands on the floor in front of you.
Movement: Walk your hands as far forward as you can, keeping your abdominals tight. Then tip-toe your feet towards your hands. Stand and repeat.
Note: Keep your legs straight so you feel a stretch in your hamstrings.
Side-to-side jump squats
Targets the lower body muscles and adds cardio element.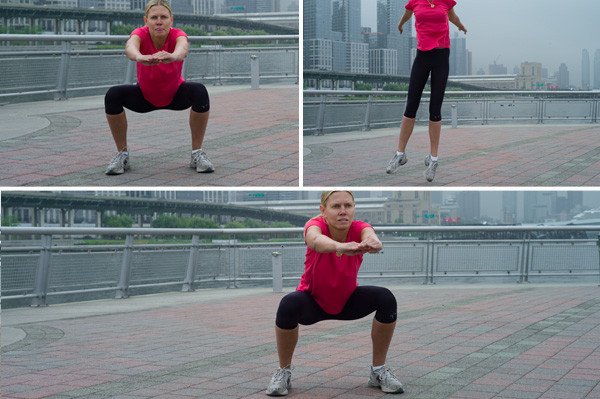 Start position: Start in a squat position, knees at a 90-degree bend without letting them pass over the toes.
Movement: Jump as far right as you can, pushing off your left foot, and land into a squat position. Be gentle; there should be no thudding. Make sure you don't lean towards one side. Repeat jump to the left.
Note: A modified way to perform this move is to stay in squat position and step wide to the right without the jump, then repeat to the left.
Side-to-side push-ups
Targets upper body and core muscles.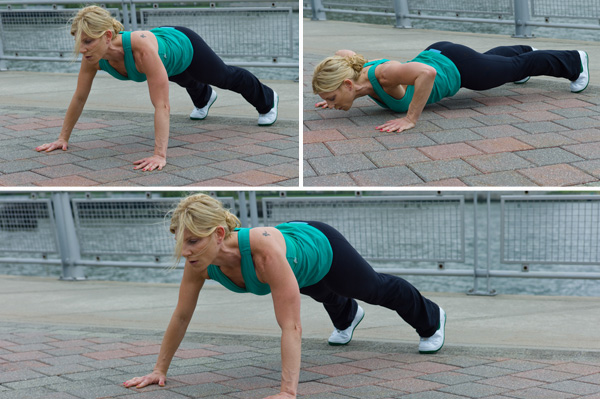 Start position: Start in a full push-up position with your hands in line and slightly wider than your shoulders. Keep your core muscles tight so that your hips are in line with the rest of your body.
Movement: Bend your right arm and let the body turn slightly to the left. Push up to the starting position. Repeat on the left side.
Tip: If you are doing this correctly you should feel your obliques and "back fat" area working. If being in a full push-up position is too challenging right now, bend your legs so your knees are on the floor. Be sure to keep your core muscles tight.
U leg lifts
Targets core muscles.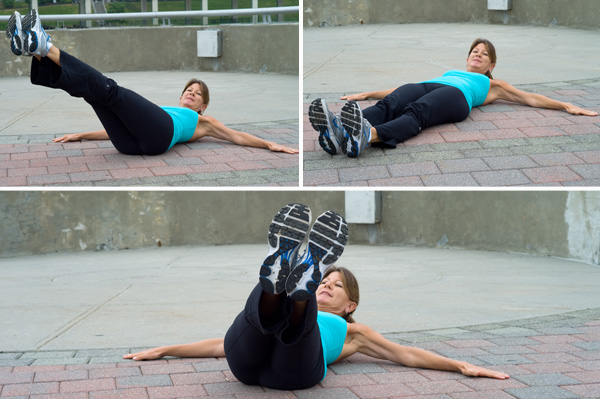 Start position: Lie on the floor on your back with your legs straight. Tighten your abdominal muscles (belly button to spine).
Movement: Keeping your legs straight, lift your right leg about 6 inches from the floor, keeping your lower back pressed firmly against the floor. Draw a U shape with your toes. Lower and repeat with your left leg.
Note: As you get stronger, lift both legs together 6 inches from the floor and draw a U shape with your toes (see photos).
Editor's note
Before you start any fitness program, talk to your medical provider to get cleared for regular exercise and the type of program that is right for you.
More fitness tips for new moms
Post-baby fitness plan for new moms
New moms! How to get a flat belly
4 Ways to combine playtime with a workout
---
The opinions expressed in this article are of the author and the author alone. They do not reflect the opinions of SheKnows, LLC or any of its affiliates and they have not been reviewed by an expert in a related field or any member of the SheKnows editorial staff for accuracy, balance or objectivity. Content and other information presented on the Site are not a substitute for professional advice, counseling, diagnosis, or treatment. Never delay or disregard seeking professional medical or mental health advice from your physician or other qualified health provider because of something you have read on SheKnows. SheKnows does not endorse any specific product, service or treatment.