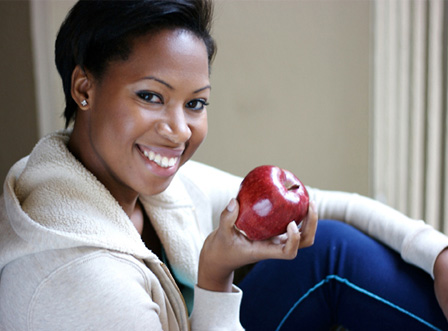 Unfortunately, there's no magical cure for PMS. But there are some simple things you can do to help make that time of the month less painful, starting with the way you eat. Read on to discover five foods that you should eat during your period.
The period plan
When it comes down to it, the best way to prepare your body for its monthly visitor is to maintain a healthy, well-balanced diet. Easier said than done, right?! Try integrating some of these period-friendly foods into your nutrition plan for a less painful time of the month.
Leafy green vegetables
According to Dr. Christine O'Connor of The Gynecology Center, leafy greens (think kale or Swiss chard) can benefit your body several ways during that time of the month. Not only are they rich in iron and B vitamins; their high fiber count also can help with digestive issues often associated with your menstrual cycle.
Nuts
Instead of reaching for that bag of licorice come snack time, reach for a bag of nuts. "Foods that are rich in good fats or omega-3s (such as nuts) can be helpful and much more filling than the calories in junk foods," Dr. O'Connor said.
Fresh fruits
Another food to aid your period-related digestive problems is fruit. Stock up on your favorite fresh fruit before your flow begins to ensure a healthy digestive system.
Whole grains
Just like fruit, the fiber in whole grains can help you stay regular, especially during your period. Whole grains also include complex carbohydrates, which provide important vitamins and minerals.
Red meats
It's important to increase your iron intake during your period to make up for what's lost each month. "A diet high in iron helps avoid anemia and symptoms that can go along with it," said Dr. Sharon R. Thompson of Central Phoenix Obstetrics and Gynecology. "Women who eat red meat will be able to get sufficient iron from food." However, if you're not a meat-eater, Dr. Thompson recommends taking a supplement to maintain adequate iron stores.
Quick tip
In addition to a healthy diet, Alyssa Dweck, MD, recommends regular aerobic exercise, yoga, meditation and breathing exercises to help alleviate period symptoms.
Foods to avoid
As tempting as those freshly baked cookies are, it's best to resist your period-induced urges.
"Many women have the urge to snack on junk food and empty calories," Dr. O'Connor explained. "This ends up not being nutritionally filling, and can lead to an uncomfortable, bloated feeling."
In addition, Dr. O'Connor recommends steering clear of foods and beverages with high sodium content, which can also contribute to bloating.
Every woman is different
Dr. Thompson points out that it's important to keep in mind that every woman is different. "There can be a lot of variation among women in terms of how foods affect their symptoms," she said. "For example, some women may notice that decreased salt intake reduces bloating with menses, while for other women, this makes no significant difference. The same is true for mood symptoms, pain with menses, amount of menstrual flow, etc."
More on women's health
Diet tips for easier periods
Diet tips to prevent menstrual cramps
6 Simple tips for an easier period
---
The opinions expressed in this article are of the author and the author alone. They do not reflect the opinions of SheKnows, LLC or any of its affiliates and they have not been reviewed by an expert in a related field or any member of the SheKnows editorial staff for accuracy, balance or objectivity. Content and other information presented on the Site are not a substitute for professional advice, counseling, diagnosis, or treatment. Never delay or disregard seeking professional medical or mental health advice from your physician or other qualified health provider because of something you have read on SheKnows. SheKnows does not endorse any specific product, service or treatment.