What's next for America's Got Talent finalists
Ali and Christina Christensen?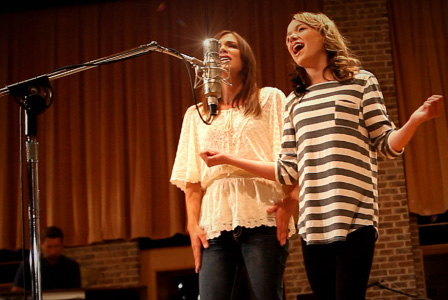 The sisters have released a song they wrote and recorded to spread awareness about cystic fibrosis (CF), a life-threatening genetic lung disease that affects approximately 30,000 children and adults in the U.S.
Managing cystic fibrosis through song
The song "Something About Me" is about the girls' experience living with CF. Ali, 22, Christina, 15, and their two siblings were all diagnosed with CF at a young age, which is common for this disease. Here's our Q&A with Ali Christensen.
SheKnows: CF has been a big part of your life. How have you and your family dealt with it?
Ali Christensen: CF has always been a normal part of our lives. We were both diagnosed with CF at birth because our older brother and sister had it and the doctors knew to check. Now, all kids are checked at birth so that early treatments can be started to keep them healthy from the start.
Just like any family, the treatments and lung therapies have just become routine to us. While CF is a part of our life, it doesn't define us. We all face unique challenges in our lives and we have decided to embrace them to help make us stronger.
"We all face unique challenges in our lives and we have decided to embrace them to help make us stronger."
Music is healing and good for the lungs

SheKnows: You sang with your sister for the first time at your older sister's funeral in 2009. Why is singing so important to you?
Ali Christensen: Music has always been a big part of our lives. It's what we love to do. In many ways, music is a nice escape from everything in life. But one really cool thing for us is that it is an important lung therapy, too, so singing actually helps keep us healthy.
SheKnows: Why did you decide to reach out to others with this inspirational song, available for download on www.CFvoice.com?
Ali Christensen: It has always been important to us to be an example and an inspiration for other people. We all have personal struggles and the song is dedicated to anyone who faces challenges in their lives. "Something About Me" shares our message that our struggles shouldn't keep us from pursuing our dreams. It's a message of hope.
SheKnows: What was it like being a finalist on America's Got Talent?
Ali Christensen: We had an incredible experience on America's Got Talent, and being top 10 finalists was unreal. One of the judges, Piers Morgan, was so sweet and kept saying that there was "something about us." That phrase stuck with us and helped inspire the title and message of our new song.
Lung therapy is part of living with CF
SheKnows: Living day to day with CF, what's the biggest challenge for you?
Ali Christensen: Fitting in treatments can be tough. Sometimes we want to hang out with friends and spend more time doing activities we enjoy, and our treatments can get in the way of that. At the same time, though, we know that managing our treatments is so important for us to stay healthy, so that we can continue to do the things in life we love. You just have to find a good balance that works for you.
SheKnows: What's next for your singing career?
Ali Christensen: We are so lucky to be pursuing our dreams right now and sharing our message through our new song. We have more coming. This is only the beginning!
More children's health tips
Facts from the Children's Miracle Network
Is your child living a healthy lifestyle?
Childhood obesity: Survey says parents don't see hazards
---
The opinions expressed in this article are of the author and the author alone. They do not reflect the opinions of SheKnows, LLC or any of its affiliates and they have not been reviewed by an expert in a related field or any member of the SheKnows editorial staff for accuracy, balance or objectivity. Content and other information presented on the Site are not a substitute for professional advice, counseling, diagnosis, or treatment. Never delay or disregard seeking professional medical or mental health advice from your physician or other qualified health provider because of something you have read on SheKnows. SheKnows does not endorse any specific product, service or treatment.