(page 2 of 2)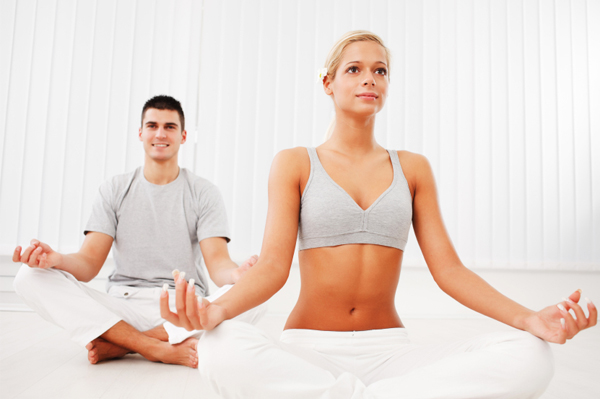 Connect with couple's yoga
"Couple's yoga is a great way to celebrate each other and strengthen your relationship," explains Andrea Metcalf, fitness expert. Research shows that pheromones are heightened during exercise --  certainly another great reason to salute the sun together. Metcalf recommends three poses that help increase strength and flexibility of the major muscle groups that helps improve your love life.
Pose 1: Child's pose with chest opener
This pose opens the chest for Partner 2 and draws energy and circulation to the pelvic region of Partner 1.
Partner 1 gets into a child's pose position -- knees wide bent with hips sitting back and chest reaching to the floor, arms extended.
Partner 2 gently puts backside to backside and slowly opens body over back of partner, then leans head back, resting between the shoulder blades of Partner 1.
Pose 2: Straddle opener
This poses increase energy and flow to the pelvic region.
Partner 1 and 2 sit facing each other in straddle positions. One partner faces feet inside the ankles of the other. One partner squeezes in as other squeezes out.
Pose 3: Partner heel stretches
This pose draws blood-flow down to the hips and pelvic floor as well as opens the hamstrings for better flexibility.
Both partners sit with feet towards each other, bend knees and then lift legs. Extend legs for a deeper stretch.
Have a home spa experience
Nothing beats a luxurious couples' treatment at the spa, but maybe you want to bring the experience to the comfort of your own home. Cornelia Zicu, chief global creative officer at Red Door Spas recommends creating the most professional spa-like ambiance as possible. She suggests lighting candles and raising the thermostat to a toasty 72 degrees F. Play soothing music on low volume in the background – search "spa music" on iTunes – and get inspired with Zicu's expert tips to re-create Red Door's latest spa trend: the hot stone massage.
Here are Zico's hot stone massage tips:
You will need about 30 flat stones with rounded edges.
Heat a pot of fresh water to 110-120 degrees.
Have your partner lie face down, find out their spots of tension and remove a stone from the hot water. (If it feels hot -- not just warm -- to the touch, allow it to cool.)
Lay the stone flat on your partner's skin on the tense area, then glide it across in long strokes using just a tad of pressure.
For deeper kneading, focus on fleshier areas, such as the thighs, arms and behind. To do this, lift and squeeze the area gently to release tension.
Once the stone cools, you can replace it with another stone, or use a new stone on a new area. Continue this process until you have covered all areas of the skin you wish to massage.
Finally, enjoy! Don't worry so much about technique -- this experience should be about relaxing and strengthening your bond, not about perfection.
More Valentine's Day ideas
Valentine's Day decor
Single gal's guide to a sweet Valentine's Day
Ways to treat yourself on Valentine's Day
---
The opinions expressed in this article are of the author and the author alone. They do not reflect the opinions of SheKnows, LLC or any of its affiliates and they have not been reviewed by an expert in a related field or any member of the SheKnows editorial staff for accuracy, balance or objectivity. Content and other information presented on the Site are not a substitute for professional advice, counseling, diagnosis, or treatment. Never delay or disregard seeking professional medical or mental health advice from your physician or other qualified health provider because of something you have read on SheKnows. SheKnows does not endorse any specific product, service or treatment.