Fabulous, Filling Fiber
When you were a child, getting your daily dose of fiber meant choking down raw broccoli and other plain veggies. That probably didn't give you the highest opinion of fiber, but fiber-rich foods can actually be delicious. On top of being great for your overall health, fiber-rich foods will make you full faster, so you'll tend to eat less. Here are a few fiber-packed foods that can help you with your weight loss goal.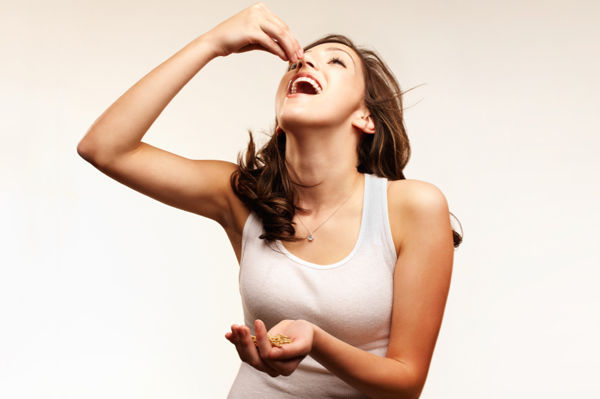 Artichokes
Artichokes are flavorful and fiber-packed, and go great with a salad or on top of a whole grain pizza. If you like their taste, there's no reason to hold back. Artichokes are one of the most fiber-filled foods. One cooked medium artichoke contains about 10 grams of fiber, according to the Mayo Clinic, so go crazy!
Black beans
Beans have been a staple of cowboy movies for a reason. When you're out on the plains, nothing fills you up as quickly as a can of black beans. Top a salad or add black beans to any meal, and you'll be full after a few bites. That's because black beans contain about 15 grams of fiber per cup. Plus, they're delicious and can help get your digestive track in line.
Whole wheat spaghetti
The Atkins Diet has led us to believe that all carbs are bad carbs, but whole wheat spaghetti offers wholesome goodness that white pastas do not. One cup of cooked whole wheat spaghetti has about six grams of fiber. Add a fresh-veggie-packed sauce on top and you have a delicious meal that will fuel your body with fiber.
Nuts
Just a handful (one ounce) of nuts is all you need for an energy pick-me-up in the middle of the day. Almonds, pistachios and pecans are all rich in fiber, at around three grams per serving. They're a crunchy, healthy snack that will help you fend off candy and chip cravings. In small portions, their fat content is nothing to worry about. In fact, they're rich in good fats.
Peas
Peas can be cooked several delicious ways. From fried rice to split pea soup, peas are a sweet, fiber-filled addition to any meal, at around nine grams of fiber per cup. You can mash them into a sauce for a hidden pea secret that your kids will eat, or just eat them plain. Their versatility stretches beyond their common role as an unsavory side dish.
More healthy eating tips
Must-have healthy foods for 2011
10 Must-eat foods for women's health
Best disease prevention tips for women
---
The opinions expressed in this article are of the author and the author alone. They do not reflect the opinions of SheKnows, LLC or any of its affiliates and they have not been reviewed by an expert in a related field or any member of the SheKnows editorial staff for accuracy, balance or objectivity. Content and other information presented on the Site are not a substitute for professional advice, counseling, diagnosis, or treatment. Never delay or disregard seeking professional medical or mental health advice from your physician or other qualified health provider because of something you have read on SheKnows. SheKnows does not endorse any specific product, service or treatment.