Run At Will
Despite The Chill
Hitting the pavement for a run during the winter months can feel daunting. Not only do you have to contend with the mental and physical exertion of the run, you may also face cold temperatures, rain, wind, sleet, snow and ice. Rather than skip your outdoor activity, simply make sure you have workout gear designed to handle the task.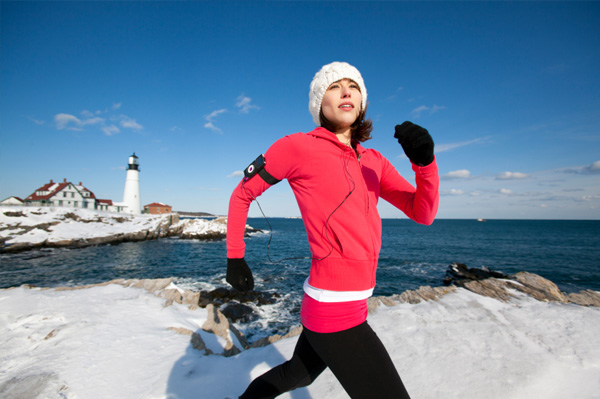 Water-resistant shoes
If you've ever stepped in a puddle during freezing conditions, you know just how miserable wet socks and shoes can be. Don't suffer wet feet during your run — choose running shoes that are specifically designed to be water-resistant and breathable. When rain or snow hits your shoe, the moisture will be wicked away from your foot and prevent you from calling it quits due to frost-bitten toes.
Ear-covering gear
Whether you choose an ear-covering headband, a beanie or just a jacket with a hood, comfortable ears will make a world of difference on your winter run. When exposed to low temperatures and wind, the external ear can start to ache, eventually leading to extreme discomfort. Ear-covering gear designed to press your ears close to your head will help prevent ear, head, neck and upper jaw aches that can develop when the ears are exposed. Look for gear that's made of wicking, water-resistant fabrics for even better protection.
Lightweight cold-weather outerwear
There are lots of jackets and pants on the market that will keep you warm in any weather, but most of them aren't practical for the range of motion required during a run. Hit specialty running stores to look for lightweight jackets and pants that are water resistant and approved for temperatures below 55 degrees. The "lightweight" factor is key because the lighter your gear, the easier your run will end up feeling. As a bonus, look for jackets with longer sleeves and thumbholes to help keep your hands warm during your run. Not sure where to start your search? Consider Under Armour's super-cute Charge Cotton Storm Fleece Hoodie and matching Charged Cotton Storm Pant available at Dick's Sporting Goods. The gear will keep you warm and dry, and you'll still get to enjoy the comfort of plush fleece.
Moisture-wicking base layers
Just because it's cold outside doesn't mean your run won't cause you to break a sweat. Wearing base layers that wick your sweat away from your body and keep you dry from the inside out will allow you to feel comfortable no matter the weather. If you're in the market for a new pair of leggings and you're looking for something with style, Under Armour's Printed Leggings have dry-fast technology and come in three fun color combinations - they're definitely perfect for wearing under layers during cold winter runs, or to the gym on treadmill training days.
To get the most out of moisture-wicking gear designed for warmer conditions, consider pairing short-sleeved shirts or capris with moisture-wicking arm or leg warmers available at most specialty sporting goods stores.
Breathable, weather-resistant gloves
Some people hate the feel of their hands constricted by gloves, but cold fingers can put a damper on an otherwise promising run. Look for well-fitting gloves that are wicking, weather-resistant and breathable. There are lots of gloves on the market designed specifically for runners with features like MP3 thumb pads for greater dexterity, mesh palms for enhanced breathability and removable finger covers to take you from a downright cold-weather run to something a little bit warmer. Whatever your personal preference, you're sure to find a pair of gloves that meets your needs while keeping your hands comfortable and warm.
More fitness tips
Quick cardio workouts in your neighborhood
Setting up a workout schedule
Ways to motivate yourself to get fit
---
The opinions expressed in this article are of the author and the author alone. They do not reflect the opinions of SheKnows, LLC or any of its affiliates and they have not been reviewed by an expert in a related field or any member of the SheKnows editorial staff for accuracy, balance or objectivity. Content and other information presented on the Site are not a substitute for professional advice, counseling, diagnosis, or treatment. Never delay or disregard seeking professional medical or mental health advice from your physician or other qualified health provider because of something you have read on SheKnows. SheKnows does not endorse any specific product, service or treatment.