Strap On Those Running Shoes With A Smile
When it comes to getting fit, a lot of the battle is in your head. Once you've overcome the negative thoughts holding you back from the body you want, working out isn't quite so difficult. Here are ways to motivate yourself to get fit.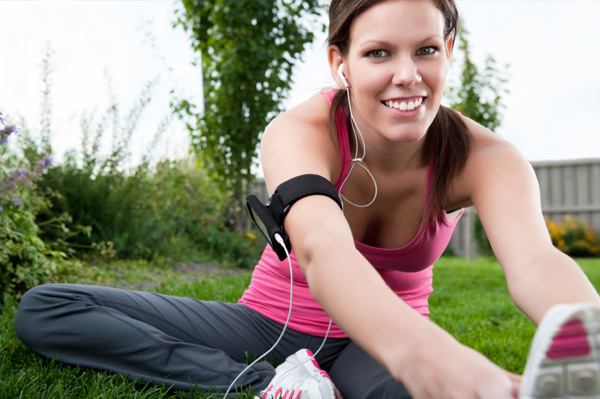 Toot your horn!
Studies by fitness industry expert Dr. Len Kravitz indicate that social support is a key indicator of whether or not a person will stick to a workout regime, as does a person's belief in his or her own ability to accomplish a workout. If you've made a goal to start working out, shout it from the rooftops! When people know you're on a mission, they're not only more likely to ask you about your progress (and who wants to admit they've quit?), they'll be proud to hear of your great achievements.
If you're not comfortable sharing your resolve to get fit with others, there are plenty of inexpensive online tools and apps that can provide supportive motivation. For example, runens is a free iPhone app that allows you to share your runs (which are tracked by GPS technology) anonymously with an online community.
TIP: Nothing can kill your motivation to get fit quicker than busting your hump all week, only to find that the scale hasn't budged. Muscle is denser than fat, and since you're adding muscle and burning fat as you shape up, you will often notice a loss of inches before the scale changes. Instead of getting hung up the numbers, pay attention to how much better you feel and how hard you've worked.
Set goals and celebrate them
When you set a goal to get fit, the "big idea" is to build towards a healthier lifestyle that you can adopt for the long-haul. But that doesn't mean you shouldn't set goals for yourself along the way —and celebrate them! For example, if you can't run more than thirty seconds without huffing and puffing to start, set a walk-run program for yourself, with the goal to be running more than you walk by the end of six weeks. Once you've accomplished the goal, buy yourself a snazzy new workout tank or treat yourself to a relaxing mani/pedi. Keep the rewards coming and you'll keep shooting for the stars!
Find the meaning
Everyone is motivated differently and to find meaning in fitness, you need to tap into what makes you feel alive. If you're competitive, signing up for a local race might ignite an inner fire. If you feel energized by helping others, pledge to support a local charity in a fitness event. If you want to improve your fitness to have more energy for your kids, get them involved in some of your workouts with a fun family walk or bike ride. For most, simply burning calories is an "empty" goal that won't resonate for the long haul. But when you can visualize each completed workout getting you one step closer to a mission that is dear to your heart, hitting the gym on the way home from work is less daunting. Find what matters to you and go for it!
More fitness tips
Setting fitness goals
10 Tips to stick to your workout during holiday travel
10 Ways to improve your workout
---
The opinions expressed in this article are of the author and the author alone. They do not reflect the opinions of SheKnows, LLC or any of its affiliates and they have not been reviewed by an expert in a related field or any member of the SheKnows editorial staff for accuracy, balance or objectivity. Content and other information presented on the Site are not a substitute for professional advice, counseling, diagnosis, or treatment. Never delay or disregard seeking professional medical or mental health advice from your physician or other qualified health provider because of something you have read on SheKnows. SheKnows does not endorse any specific product, service or treatment.