Healthy eating
The biggest loser food substitutes
With the release of her third book in The Biggest Loser series, best-selling author Devin Alexander shares her tips for a healthy kitchen. Changing eating habits can be difficult (just ask any of the Biggest Loser contestants), but a few simple ingredient swaps and cool kitchen gadgets will have you dropping weight like the "losers" in no time.
Devin's five ingredients for healthy swaps

Egg whites
"I substitute two egg whites for 1 egg yolk when possible. I save five grams of fat and about 45 calories every time I nix a yolk!" For your next breakfast, try an egg-white omelet with your favorite veggies and healthy ingredients.

Salt-free seasonings
"Salt is usually the first ingredient listed (and thus the main ingredient) in many seasonings. With salt-free seasonings you can control exactly how much salt is in your dish. This is especially great for people who love spicy food because you can really get a great spicy flavor without all the unwanted salt."

Oatmeal
"In addition to being a great breakfast, I use oatmeal in turkey meatloaf or meatballs to add extra texture and moisture when paired with egg substitute. Plus, it's great when making low-fat crumbles for fruit desserts."

Lemon juice or lime juice
"Fresh lemon and lime juice can really add so much flavor. These can be great to squeeze over a salad in combination with just a tiny bit of extra-virgin olive oil, on whole wheat couscous or over fresh fish.

Cocoa powder
"If you're anything like me, sometimes you have a chocolate craving you just need to satisfy! Cocoa powder has only 10 calories per tablespoon and gives you two grams of fiber. Add it to a protein smoothie or some yogurt and kill the craving without a major consequence."
Devin's top five healthy cooking helpers

Non-stick cookware
"This will save you so much time in the kitchen, from cooking to cleanup, and you greatly reduce the amount of oil you need to use in your dishes."

Food processor
"Whether you're chopping herbs, shredding cheese or even making my banana "ice cream" from the Biggest Loser Dessert Cookbook, it's sure to help you whip up healthy decadence in no time."

Sharp knives
"When you have to saw through food or struggle to get those veggies prepared, cooking can easily begin to feel tedious."

Fine cheese-shredder
"When you shred cheese really finely, you can cover more of your food with less cheese. Plus, low-fat cheeses melt better when finely shredded."

Kitchen scale
"I don't suggest weighing every ingredient all the time, but a kitchen scale is helpful to check and make sure your portions are staying on track. It's really easy for them to creep up, which can cause the pounds to creep on."
Head to the SheKnows food tab tomorrow for Devin's healthy recipe alternative to a Thanksgiving meal!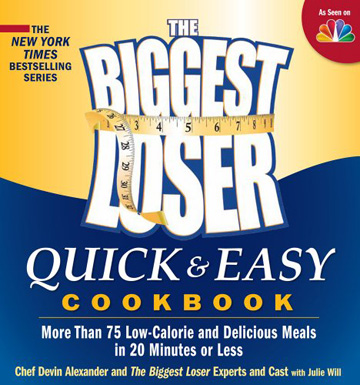 For more of Devin's tips, watch The Biggest Loser tonight on NBC at 8/7 c, where she will unveil The Biggest Loser Quick & Easy Cookbook.
---
The opinions expressed in this article are of the author and the author alone. They do not reflect the opinions of SheKnows, LLC or any of its affiliates and they have not been reviewed by an expert in a related field or any member of the SheKnows editorial staff for accuracy, balance or objectivity. Content and other information presented on the Site are not a substitute for professional advice, counseling, diagnosis, or treatment. Never delay or disregard seeking professional medical or mental health advice from your physician or other qualified health provider because of something you have read on SheKnows. SheKnows does not endorse any specific product, service or treatment.