Keeping Cancer
In The Conversation
As the Five short films highlight the battle against breast cancer, you'll laugh and cry with Patricia Clarkson's character, Mia, who deals with her cancer in a rather unconventional fashion. Thankfully, the actress isn't battling breast cancer in real life, but she hopes that these five films will help keep cancer in the conversation.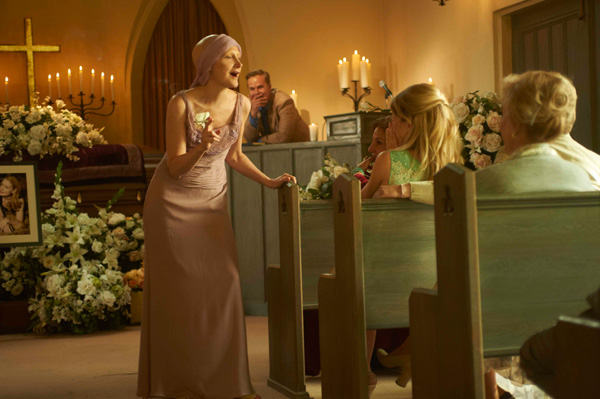 TELLING MIA'S TALE
"We cannot lose sight that this is a crucial fight that has affected way too many women in our country," says Clarkson. Having seen friends face the disease head-on, the actress has a personal connection to the subject and she brought this knowledge to the table as she brought Mia to life on screen.
"Who we are and what we've been through -- our experiences and what we see, what we've actually lived through -- lives in us and comes forth. That's what we want as actors. People's struggles and strife that I've witnessed was with me through all of this -- every day," she tells SheKnows, radiating the same raw emotions she brings to Mia in Five.
The stories on screen don't sugar-coat anything. Clarkson reflects on working with Jennifer Aniston, who directed the film Clarkson stars in. They both agreed that Mia had to look the part -- which wasn't necessary glamorous. "I know how this looks, and we can't lessen that," Clarkson notes.
Finding the funny in it all
"I read the script and I thought it was amazing. It made me laugh and cry," Clarkson explains, discussing what pushed her to take on the project.
We asked her to reflect on the role. "It's a tragic and comic look at a woman. It's the end of her life. She makes a few choices that are pretty radical, and then she lives."
To sum up the "radical" part without giving too much away, Mia speaks her mind as she prepares to die. She may attend her own funeral, too. But really, since when is being honest "radical"? Patricia Clarkson captures the heart of a real, honest woman, in what she calls a wonderful tale of woe and triumph.
The takeaway
After watching Five and talking with Clarkson, it's clear that cancer cells aren't the only battle these women are fighting -- it's everything that comes along with the disease: telling your family, finding a support system, overcoming the news.
"It's simply staggering what their bodies and hearts go through; the emotional and physical toll this took on me -- and I'm just playing a woman with cancer. It gave me more love for all the women who are battling this disease."
All in all, Clarkson feels that working with Aniston on such an intense project was the highlight of her career. "She made it happen every day. The whole thing is something I'm so deeply proud of."
Sneak peek: Five, A Lifetime original production
Watch a sneak peek of the Lifetime original production Five, directed by Demi Moore, Alicia Keys, Penelope Spheeris, Patty Jenkins and Jennifer Aniston.
More on Breast Cancer awareness
Jennifer Aniston supports Breast Cancer Awareness Month
NFL players talk ta-tas for breast cancer awareness
Beats for boobs: Support breast cancer awareness organizations
---
The opinions expressed in this article are of the author and the author alone. They do not reflect the opinions of SheKnows, LLC or any of its affiliates and they have not been reviewed by an expert in a related field or any member of the SheKnows editorial staff for accuracy, balance or objectivity. Content and other information presented on the Site are not a substitute for professional advice, counseling, diagnosis, or treatment. Never delay or disregard seeking professional medical or mental health advice from your physician or other qualified health provider because of something you have read on SheKnows. SheKnows does not endorse any specific product, service or treatment.