Preventing Asthma Attacks In Children
For kids with asthma, the return to school in September worsens their condition. The close confines of a classroom and exposure to a variety of germs and allergens carried by other kids, combined with seasonal allergens such as ragweed and molds, means unmanageability, misery and often trips to the emergency room. Here's what you need to know to prevent serious asthma attacks.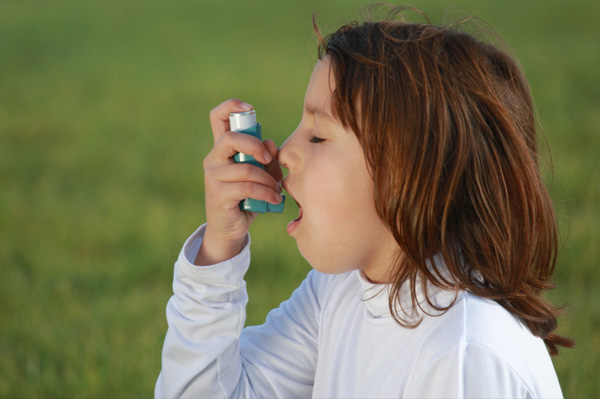 September is high time for asthma attacks
Parents, the September asthma epidemic has arrived. Asthma-related trips to the ER peak 17 days after Labor Day, according to research published in the Journal of Allergy and Clinical Immunology. Why? Allergies make asthma attacks worse and more frequent – in September, allergens such as mold, ragweed and dust mites are prevalent.
Ragweed season, mold, dust mites common triggers
Dr. Jacqueline Eghrari-Sabet, founder and medical director of Family Allergy & Asthma Care in Gaithersburg, Maryland, says about 85 percent of kids with asthma have allergies. Their asthma trigger is their allergies.
"There are lots of dust mites when you open up school and start filtering moving air around," the asthma expert says. "The school's been closed up all summer long and the dust mites have been eating away. Even having kindergartners sit on the rug for reading time is a quite significant thing."
Dr. Eghrari-Sabet also notes that many kids may have taken a break from their asthma medicine over the summer holiday, so their "tank has run out of gas," putting them more at risk.
Top tips to prevent asthma attacks
Parents can take steps to help kids with asthma manage this transition back to class and to mitigate attacks. Dr. Eghrari-Sabet offers these important tips:
Keep asthma under control
Asthma is a chronic disease that needs constant maintenance to keep under control. With asthma, the key is control. There is no easy way to stop an asthma attack, yet nobody should have an asthma attack. You should keep your child's asthma under control at all times. When you recognize that control is key, you are in the driver's seat.
Lack of vitamin D linked to asthma in kids >>
Determine allergens triggering asthma
Find out what your child is allergic to, particularly so you can control the environment. There is a simple blood test called ImmunoCAP that can help determine this. You can go to your primary care doctor or allergist to be tested and ask for the ImmunoCAP test by name, because it is a reproducible test. Once the test results are in hand, your primary care doctor or allergist can put them together with your child's patient history and come up with a plan, educate you and your child on the proper environmental control and advise you whether he or she is a good candidate for allergy shots so that they can become desensitized. The plan may involve allergy shots and/or environmental control, such as keeping pets out of the house, putting dust-mite covers on the bed or ridding the house of mold.
Take asthma medications
Take controller medications, which are maintenance medications. People don't stop taking medication with any other chronic disease, so you shouldn't stop taking asthma medications. Have a conversation with your child's doctor about the difference between controller and rescue medication. Your child should be on a controller medication that is taken daily. This is different from the rescue medication taken when symptoms flare despite being on the controller medication. The guidelines for asthma say you should not be using your rescue medication more than twice a week. When you use your rescue medication more than that, you increase your chance of an asthma attack and actually significantly increase the chances of a life-threatening episode.
Work closely with a doctor
Follow up with your doctor frequently to have the control assessed, so that you're sure it's not "Goldilocks syndrome" – your child is not on too much medicine, not on too little medicine, but on the medicine that's just right. Find out if your child is taking medicine correctly and following an action plan correctly.
More on respiratory health for your kids
How to keep an asthma healthy home
Early signs of asthma
Protect your child from RSV – respiratory syncytial virus
---
The opinions expressed in this article are of the author and the author alone. They do not reflect the opinions of SheKnows, LLC or any of its affiliates and they have not been reviewed by an expert in a related field or any member of the SheKnows editorial staff for accuracy, balance or objectivity. Content and other information presented on the Site are not a substitute for professional advice, counseling, diagnosis, or treatment. Never delay or disregard seeking professional medical or mental health advice from your physician or other qualified health provider because of something you have read on SheKnows. SheKnows does not endorse any specific product, service or treatment.