Cold Vs. Flu: The Seasonal Showdown
You wake up in the morning with a cough, congestion and general malaise. You know you're getting sick, but with what? Learn how to interpret your symptoms to judge whether you're dealing with a common cold or the seasonal flu.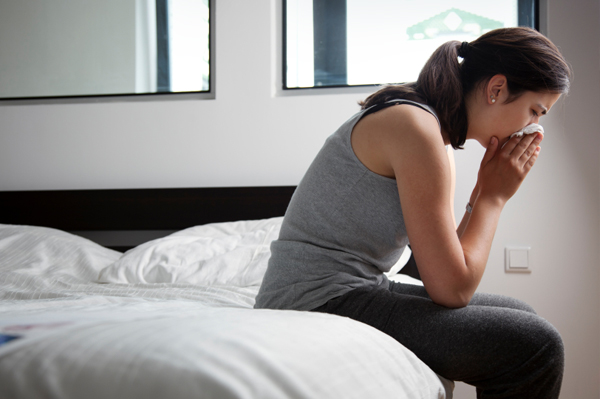 The cold vs. the flu: A basic rundown
The common cold and the seasonal flu share a lot of similarities: They're both caused by viruses, they're both respiratory illnesses, and they have comparable symptoms. In fact, neither the cold nor the flu is caused by a single, stagnant virus; rather, virus strains mutate and change, explaining why people are susceptible to these illnesses year after year.
The main difference between the cold and the flu is the severity of symptoms. Dr. David Farman, an emergency medicine physician at Hendricks Regional Health in Danville, Indiana, explains it this way: "Fever, body aches, rapid heart rate, cough, headache and the feeling that you've been hit by a truck are harbingers of the flu."
Colds tend to be accompanied by similar but milder symptoms typically accompanied by sneezing, sniffling and a sore throat.
Determining & treating your illness
Unfortunately, there's no hard and fast way to determine whether you have the common cold or the flu. "There isn't a reliable test out there to confirm whether you have the flu," says Farman. "The nasal swabs done by physicians are really only about 50 percent sensitive for picking up cases of influenza."
So what's a sick woman to do? "If you have the right symptoms in the right season, and you present within 48 hours of symptom onset, a course of Tamiflu could be in order," Farman says. "Tamiflu is an antiviral that shortens the duration of your influenza. For example, if taken properly, it can decrease your miserable week to a mere five days."
Preventing the common cold & the flu
Regarding cold and flu prevention, you actually have a better shot at preventing the flu than you do the common cold. This is because scientists work hard every year to develop a seasonal flu vaccine designed to fight the most prevalent strains of the flu virus predicted to cause illness. If you're willing to get vaccinated every year, then in most cases, you'll be able to avoid the flu.
On the other hand, there is no vaccination for the common cold. For your best bet at beating the virus, use common sense: Wash your hands frequently and avoid contact with sick people.
"Ninety-nine percent of people will recover from the flu without any ill effects. The elderly, the young, the pregnant and those with poor immune systems are at the highest risk for complications. If your symptoms are severe or you have a relapse after initially recovering, consult your physician."
– David Farman, M.D., F.A.C.E.P., Department of Emergency Medicine, Hendricks Regional Health
More on flu prevention
Natural cold & flu fighters
Are you at risk for the flu?
Protecting your children from the flu
---
The opinions expressed in this article are of the author and the author alone. They do not reflect the opinions of SheKnows, LLC or any of its affiliates and they have not been reviewed by an expert in a related field or any member of the SheKnows editorial staff for accuracy, balance or objectivity. Content and other information presented on the Site are not a substitute for professional advice, counseling, diagnosis, or treatment. Never delay or disregard seeking professional medical or mental health advice from your physician or other qualified health provider because of something you have read on SheKnows. SheKnows does not endorse any specific product, service or treatment.