Cramps, Be Gone!
We have all been there. Crouching over, holding our stomachs, lying on the floor: sometimes nothing seems to work. As an alternative to popping a pain relieving pill, try some of these natural, healthy solutions to resolving your menstrual cramps.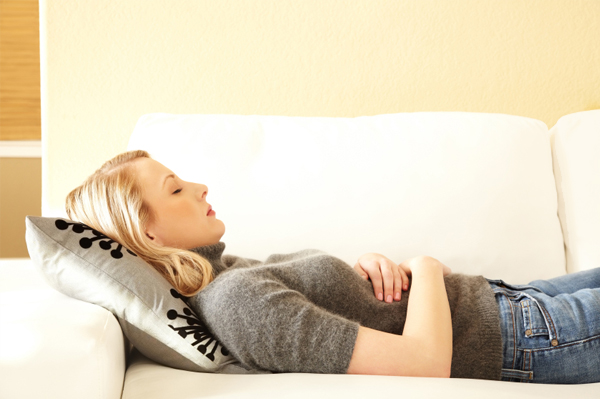 Watch what you eat
Eating the right foods, such as those heavy in fiber, can make all the difference. The Mayo Clinic wrote that certain dietary supplements, like vitamin E, vitamin B1, and vitamin B-6 have also been proven effective pain-relievers when it comes to menstrual cramps.
Read about more foods that ease cramping >>
heating pads
Try lying on your couch or bed with a heating pad placed firmly under your lower back for about 10 minutes. The warmth from the heating pad will soothe your muscles, easing your body's discomfort and minimizing cramps. Getting enough rest during your menstrual cycle is also important. Using this same heating pad method to relax is a great way make sleeping or napping easier.
Back away from the coffee
Coffee might be part of your daily routine, but one week a month, it's helpful to put down the mug. Caffeine can emphasize your cramps making them even more uncomfortable, and carbonated beverages can irritate an already-sensitive stomach.
Get Movin', sister!
Although you may not feel so up-an'-at-'em at the time, exercise actually helps relieve menstrual cramps. Motivate yourself to swim, jog, hike, or play tennis and soon you will forget all about the pain. Exercising not only keeps your mind off your cramps, but heals internally as well. Gustavo Rossi, MD, an obstetrician-gynecologist told WebMD that exercise releases beta-endorphins, which function as "human morphine." If that isn't motivation to work out, we don't know what is.
Hydrate
Drink up and drink some more! Staying hydrated is important all the time, but can really make a difference during your period. You can eat more watery fruits and vegetables which can add up to an equivalent of about three glasses of water a day or drink other fluids like plain water, juice or milk to equal the hydration recommendations of drinking 8-10 (8-oz glasses) of fluid each day. Make sure to be carrying a water bottle with you if you are on-the-go. So many parts of your body, including your stomach, will thank you!
Learn more about staying hydrated >>
---

Read more about women's health
---
The opinions expressed in this article are of the author and the author alone. They do not reflect the opinions of SheKnows, LLC or any of its affiliates and they have not been reviewed by an expert in a related field or any member of the SheKnows editorial staff for accuracy, balance or objectivity. Content and other information presented on the Site are not a substitute for professional advice, counseling, diagnosis, or treatment. Never delay or disregard seeking professional medical or mental health advice from your physician or other qualified health provider because of something you have read on SheKnows. SheKnows does not endorse any specific product, service or treatment.