Easy Ways
To Eat Healthy
Healthy eating doesn't have to be hard. In fact, healthy eating can be an amazingly easy way of life. Here are some tips and tricks to get you started on your way to better eating.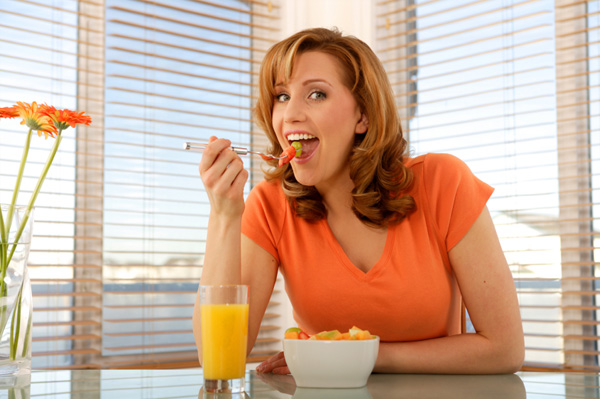 If you don't like it, don't eat it
Just because it's healthy, doesn't mean it has to be part of your diet. By all means, we encourage you to try new fruits, vegetables and healthy options as you transition to a healthy eating plan. All we're sayin' is you don't have to force down heaping servings of broccoli on the daily if you just can't stand broccoli. Get experimental when you go to the market to stock your fridge or try new items at your fave restaurant. You're bound to find plenty of delicious -- and healthy -- foods that you totally dig.
Don't skip breakfast
Eating healthily does not include skipping any meals, actually, but breakfast is, as the old adage says, the most important meal of the day. If you skip breakfast, you're likely to make up those calories (and then some!) later in the day. Some studies even suggest that eating breakfast allows you to control mindless snacking later in the day.
Find out how to make healthy eating a way of life >>
Don't get stuck in a rut
It's easy to have a turkey sandwich on whole grain bread every day for lunch or a bowl of vegetable soup for dinner, but don't get stuck in a food rut just for the sake of ease. Think outside the box. Try new foods and new, healthy recipes. If you have a favorite restaurant, ask the server about some of the healthy eating menu options, or request that the chef prepare a special plate for you with healthy eating guidelines in mind.
Get your fill
Research shows that most Americans are not getting enough whole grains, fruits and vegetables. On the daily, you should enjoy 6 to 11 servings from the bread, rice, cereal and pasta group (3 of which should be whole grains), 2 to 4 servings of fruit and 3 to 5 servings of vegetables.
Discover easy ingredient swaps for healthy eaters >>
Don't ditch a particular food group
While temptation to lose weight and eat in a healthy manner may lead you to cut certain foods from your diet, studies show that's not the way to go. Enjoy a variety of healthy foods in moderation, and don't forget those statistics above.
Drink up
If you think you're hungry all the time, you might be mistaking that feeling for thirst. Studies show that 1/3 of Americans are not drinking enough water, which can lead to mild dehydration, fatigue, mid-day slump, difficulty concentrating and even headaches. So cheers to your health!
Snack smart
Be prepared to handle your hunger in a healthy way. Put together a small take-along pack of portable foods such as apples, bananas, carrot sticks and nuts. If you get hit with a snack attack, you'll be ready with healthy options to ward off a full-fledged binge.
Up next: More healthy eating tips and tricks >>
---
The opinions expressed in this article are of the author and the author alone. They do not reflect the opinions of SheKnows, LLC or any of its affiliates and they have not been reviewed by an expert in a related field or any member of the SheKnows editorial staff for accuracy, balance or objectivity. Content and other information presented on the Site are not a substitute for professional advice, counseling, diagnosis, or treatment. Never delay or disregard seeking professional medical or mental health advice from your physician or other qualified health provider because of something you have read on SheKnows. SheKnows does not endorse any specific product, service or treatment.
More From SheKnows Explorer