Seasonal Changes
Affect Sound Sleep
If the transition from winter to spring has you tossing and turning at night, you're not alone. The National Sleep Foundation estimates that on average 50 to 70 million people are affected by sleep-related problems, and the change of seasons can be particularly disruptive to your peaceful snooze time. Here's why -- and 10 ways to sleep soundly year 'round.
(page 2 of 2)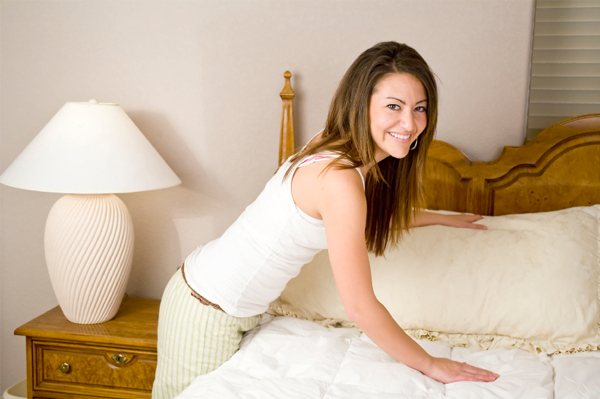 Spruce up the bedroom
"Out with the old and in with the new," says Dr. Logan Levkoff. "Adding new features to your bedroom such as a lighter comforter, bedding in bright colors, or even a new supportive mattress can help you adjust to the seasonal changes that affect sleeping habits." If you're in the market for a new mattress, she recommends Sealy's new line of Next Generation Posturepedic mattresses. The new design supports the body 20 percent better than other leading brands.
Bring sexy back for better sleep
"It's no secret that America is a sleep-starved nation, and spending more time resting between the sheets has many health benefits," Dr. Levkoff adds. "But getting a good night's sleep can also have a positive impact on your relationship." The certified sex educator says nearly 54 percent of men and 67 percent of women feel that more sleep would be the best way to improve their love lives. "So not only is healthy sleep important to weight control, mood and physical appearance, it's key to satisfaction in the bedroom, too."
Get unplugged to get some rest
Forty-five percent of people admit to using their computer while they are in bed. But psychologist and physical therapist Dr. Elizabeth R. Lombardo says watching TV and using computer, iPad, and cell phone screens can excite your nervous system -- both biologically from the lights and psychologically from the content. She advises we turn those devices off at least 30 minutes before bedtime.
Have a wind-down routine for bedtime
Dr. Lombardo, author of the bestselling book A Happy You: Your Ultimate Prescription for Happiness, says we respond to the same classical conditioning as Pavlov's dog, which would salivate when he heard the bell ring because he associated it with his dinner. She suggests we develop a bedtime ritual such as reading a book, dimming the lights, or taking a warm shower or bath. "Your body will begin to associate this event with sleep," she says, "allowing you to fall asleep more easily."
Develop a sleep schedule
"Even though we're no longer children with a curfew," Dr. Lombardo explains, "it's important that you go to bed and get up at about the same time everyday, even with the time change. This allows your body to get into a rhythm."
More sleep tips to get your health and beauty sleep
Ways to turn your bedroom into a sleep haven
Foods that help you sleep
How to recover from a sleepless night
---
The opinions expressed in this article are of the author and the author alone. They do not reflect the opinions of SheKnows, LLC or any of its affiliates and they have not been reviewed by an expert in a related field or any member of the SheKnows editorial staff for accuracy, balance or objectivity. Content and other information presented on the Site are not a substitute for professional advice, counseling, diagnosis, or treatment. Never delay or disregard seeking professional medical or mental health advice from your physician or other qualified health provider because of something you have read on SheKnows. SheKnows does not endorse any specific product, service or treatment.