Live Healthy
And Beat Disease
When you hear the word "diet," your mind likely goes right to "weight loss," then maybe you start to think about your skinny jeans, or the warm weather and the ever-creeping swimsuit season. But where your mind should go when it hears that four-letter word is much more important than just having a smokin'-hot bod -- at the top of your priorities should be keeping your body healthy.
(page 2 of 2)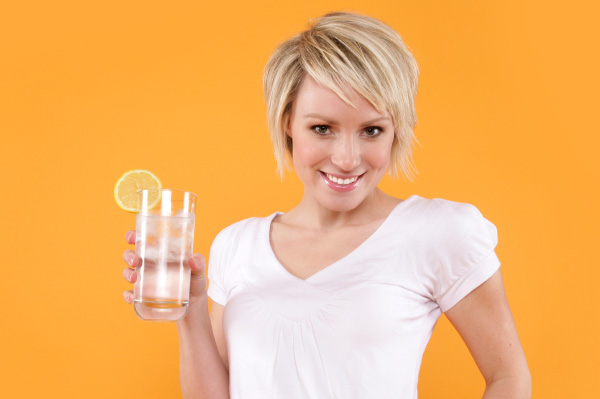 Fiber: Your partner in disease prevention
Essential to women fighting heart disease and diabetes is fiber found in whole grains, fruits and veggies.
Fiber knocks out heart disease
"The reason you want to add healthy fiber sources to your diet is because there are certain soluble fibers that will bind with cholesterol compounds and leave the body through bowel movements," Patiño notes. Fiber also helps prevent constipation, thus plays another role in reducing cholesterol in the body, which reduces the risk of heart and artery disease.
Drink up and fiber up
Similarly, Toth suggests women shoot for more than 20 grams of fiber per day, along with at least eight glasses of water. "The water combined with the fiber helps grab and flush out the heart-harming fats in the body, also lowering cholesterol."
Ditch the refined grains
It's also not a bad idea to steer clear of white bread and pasta, which isn't considered whole grain because your body processes it similarly to refined sugars. This is important not only for women looking to lower their cholesterol and prevent heart disease, but also -- and especially -- for women concerned with diabetes.
Get professional dietetic support
Whether you're diabetic or pre-diabetic, both experts agree that you should work with your doctor and a dietician to find a diet right for you. When eating out or cooking at home, Toth said diabetes-conscious women should avoid meals focused on carbs, like dishes with pasta, rice or white bread. "Diabetes can be scary and confusing at first, but a registered dietitian will be able to help you effectively manage your new lifestyle," she says.
Super-foods to boost your immune system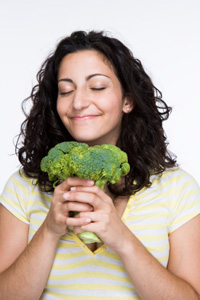 Asparagus
There are many super-foods out there, Patiño says, but several are specifically beneficial to women preventing heart disease and diabetes. First on the list: asparagus. The veggie is low-cal, has a "favorable ratio" of potassium and sodium, and is high in nutrients like folate, vitamin K, and the all-important fiber.
Beets
Next in line are beets, particularly for those ladies looking for a healthy heart. This is especially relevant when it comes to the levels of potassium in comparison to sodium, which Patiño attributes to overall human health: "The potassium in beets can actually help correct the potassium-to-sodium imbalance many people have!"
Green peas
To load up on vitamins A and K, look for green peas -- even the dehydrated ones. The little green guys will also help you with your fiber intake.
Blueberries
Another small food packing a mighty health punch are blueberries -- the "brain food" said to not only keep your memory sharp, but that also contain lots of vitamins and antioxidants. The antioxidant capacity of blueberries actually ranks higher then the popular açaí berry juice, Toth points out.
Broccoli
One other super-food -- and one of Toth's favorites -- is broccoli, which, she says, "contains many of the same anti-cancer properties as the super-food wheatgrass, but 25 times the vitamin C."
You gotta exercise, girls
But diet shouldn't be your only focus -- regular exercise is vital to a heart-healthy lifestyle. Your cardiovascular system needs you to keep the blood flowing, and regular exercise will increase circulation and keep the heart and blood vessels strong.
"If you want to lower cholesterol, you shouldn't focus on diet alone. Exercise works hand-in-hand with a health diet, and plays a huge role with helping to lower cholesterol levels," Patiño says.
It will also help sustain long-term weight loss, with specific benefits to women with prediabetes, as it has the most significant impact in preventing or slowing the progression to Type 2 diabetes. "With a weight loss of 5 to 7 percent of body weight and 150 minutes of physical activity per week, people can prevent or delay this progression," she said.
More tips for a healthy heart
Heart-healthy eating
Joining Shay Pausa is celebrity chef Gale Gand and Dr. Jennifer Mieres. They discuss how what we eat affects our heart.
More tips for disease prevention
Diet tips to prevent Type 2 diabetes
Best low-impact exercises for heart health
Eat Mediterranean to reverse heart disease
---
The opinions expressed in this article are of the author and the author alone. They do not reflect the opinions of SheKnows, LLC or any of its affiliates and they have not been reviewed by an expert in a related field or any member of the SheKnows editorial staff for accuracy, balance or objectivity. Content and other information presented on the Site are not a substitute for professional advice, counseling, diagnosis, or treatment. Never delay or disregard seeking professional medical or mental health advice from your physician or other qualified health provider because of something you have read on SheKnows. SheKnows does not endorse any specific product, service or treatment.