Vanessa Minnillo:
Girlfriends For Folate
When she became a spokeswoman for the Bayer and March of Dimes collaborative campaign Girlfriends for Folate (GFF), Vanessa Minnillo knew everyone would think she was pregnant. Although she's happily engaged to hunky boy-band alum Nick Lachey, the TV personality isn't ready to tackle the role of mommy just yet. But she is ready to raise awareness about the importance of women staying healthy – whether they are trying to conceive, pregnant, or not.
(page 2 of 2)
Girl talk with Vanessa Minnillo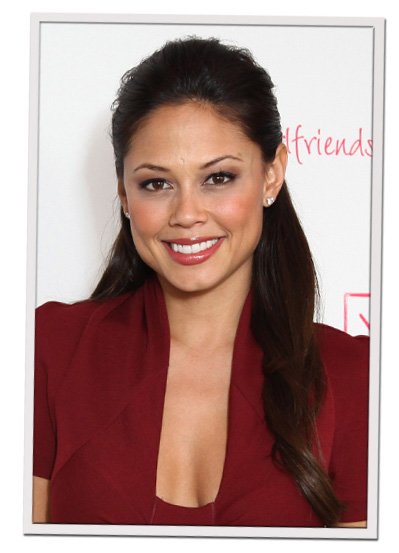 SheKnows sat down with the former Miss Teen USA beauty to find out more about her involvement with the GFF initiative, her fitness routine and more.
SheKnows: Why did you become involved with GFF?
Vanessa Minnillo: I got engaged this year and turned 30 and I started thinking about the next chapter of my life. I know I want to have children and I started educating myself to prepare my body for that. Going through the research I actually found out it's important to [take folic acid] beforehand.
So [my involvement with GFF] happened organically. I knew that folic acid was important, and when Bayer approached me with the opportunity to partner with them as well as March of Dimes, I immediately jumped on board. I learned more than I've ever known and want to help explain it, share it and educate women across the country about how important folic acid is. You need to take preventive measures.
SheKnows: Have you always been health-conscious?
Vanessa Minnillo: I would lie if I said always. [Nick and I] love to have "cheat days." As I've gotten older, I realize it's harder. You have to be more careful about what you put in your body because everything affects you differently. I've always taken multivitamins. Every morning Nick and I take our vitamins together. Through my multi I didn't realize I was getting all the folic acid I needed.
SheKnows: Besides your multi-vitamin, what other ways do you get folic acid in your diet?
Vanessa Minnillo: I love cereal. Nick makes fun of me because I have so many boxes of cereal. I love Cocoa Krispies, Cinnamon Toast Crunch, Lucky Charms and Captain Crunch. It's great because in 1996 the FDA recommended that folic acid be included in [fortified] cereals. So that's my two-for-one -- enjoy my kids' cereal and get an extra dose of folic acid.
SheKnows: Your fiancé is in great shape. Do you work out together?
Vanessa Minnillo: We tried working out together, but the guy is a cardio fiend and I'm not. The idea of running 11 miles is not fun to me. It's better when we sync our schedules to work out [individually] at the same time. So if I'm working out with a trainer who motivates me, Nick is working out at home at the same time. Then when we come home, we have time together.
But he's a lot more motivated than me. After traveling or a long weekend, he still works out. I ask him, "Wow, how can you do that right now?" He says he has to get his body going and sweat out toxins, and it makes him feel better. He's right. Statistically, [exercise] releases endorphins, raises serotonin and makes you feel happy. The man knows what he's doing.
SheKnows: You say you're not big on cardio. What type of exercise do you like to do?
Vanessa Minnillo: I like a multi-purpose workout. If I can do lunges and dumbbell curls at the same time, I'm all about it -- something that doubles up and works more than one muscle group. I like using the elliptical machine and working out my arms. I like to feel the workout from head to toe.
SheKnows: What's next for you career-wise?
Vanessa Minnillo: I [recently] did episodes of 30 Rock and Hawaii Five-O. It's pilot season in Los Angeles and I tested for a few pilots that didn't move forward. I'm on the cusp, and I have another big [screen] test, so maybe the fourth time is the charm. There's also a hosting opportunity that I can't talk about yet that I am beyond excited about. If it works out, I say goodbye to acting and go back to hosting. It's what I love to do. Acting has been fun and a great challenge for me -- but hosting is my forte.
More on folate and folic acid
Why women need folate
How folic acid is essential for a healthy pregnancy
Why you need more folic acid in your diet
---
The opinions expressed in this article are of the author and the author alone. They do not reflect the opinions of SheKnows, LLC or any of its affiliates and they have not been reviewed by an expert in a related field or any member of the SheKnows editorial staff for accuracy, balance or objectivity. Content and other information presented on the Site are not a substitute for professional advice, counseling, diagnosis, or treatment. Never delay or disregard seeking professional medical or mental health advice from your physician or other qualified health provider because of something you have read on SheKnows. SheKnows does not endorse any specific product, service or treatment.