Exercises To
Improve Your Posture
You don't have to accept that burning pain in your neck and shoulders, ache in your low back and throbbing headaches as a daily norm. Pain isn't normal and can often be remedied just by improving your posture. Dr. Beverly Marr, creator of The Soar Method for Perfect Posture, says proper posture will not only help ease your pain, but it can also improve your energy level and even your digestion. Here are five of Dr. Marr's stretching and strengthening exercises for better posture.
(page 2 of 2)
Take it slow and listen to your body
As with any new exercises, Dr. Marr recommends a doctor's approval and that you listen to your body. "It is important to check with your physician prior to any new exercise regime," she suggests. "[When doing the exercises], the rule of thumb is this: If any part of the specific exercise hurts, stop that motion and just move on to the next one." Be sure you breathe through the following exercises and keep in mind that, with practice, your posture will improve.
Before you begin, make sure you warm up for five minutes by marching in place, swinging your arms in a controlled manner and breathing deeply. This will get your muscles prepared to move.
Chest stretch
Stretches the front of the upper body, which tends to get tight if you spend a lot of time slumped over a desk.
Start position: Sit on an exercise ball, then walk your legs forward until your back is against the ball.
Movement: Keep your neck parallel to floor and extend your elbows back so your arms are also parallel to floor. Your back should be draped over the ball. Gently pulse for a count of 20 seconds.
Hip flexor stretch
Stretches the muscles that lift your leg. These muscles can get tight if you sit most of the day.
Start position: Stand tall facing the wall, with your toes about 1 foot from the wall. Bring the fitness ball to the side of your right knee. Put your right flexed knee on top of the ball while keeping your hips parallel to the wall.
Movement: Slowly roll the ball away from the wall, bending your left knee and keeping your body completely straight. Do not lean forward. Try to keep your weight on your right side. Hold this pose for a count of 30. Repeat on the other side.
Power extension
Stretches the front of the body while strengthening your back muscles, glutes and hamstrings.
Start position: Kneel behind the fitness ball with your feet flat on the wall. Drape your body over the ball.
Movement: Straighten your legs, squeeze your glutes and lift your upper body up off the ball. Hold for a long count of 5. To move out of this pose, bend your knees and drape your body over the ball again. Repeat 5 times.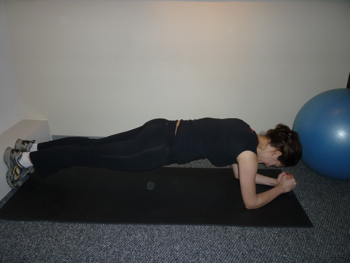 Plank
Strengthens your core muscles, which can get weak with poor posture habits.
Start position: Lay on your stomach on a mat, with your feet flat against the wall. Get up on your elbows. Keep your neck straight.
Movement: Lift up your entire body, stabilizing your body on your toes and forearms. Hold this position with your legs, back, neck and head in alignment. Tighten your belly muscles and make sure you breathe; don't drop your head. It is normal for your body to shake. Hold for a count of 60 seconds. If you can't hold it that long, lie down and rest for a count of 10, then rise back up, aiming for a total of 60 seconds in plank position.
Peel Up
Stretches your legs and back
Start position: From the plank position, peel yourself up from the floor by straightening your arms and extending your head and spine back into a cobra pose.
Movement: Get up on your hands and knees and do the cat stretch by gently rounding your back up. Keeping your hands on the floor, place one foot on the floor, then the other, and slightly drop your buttocks towards the floor. Lift your low back (but don't straighten your legs) and gently, one vertebra at a time, roll yourself up, keeping your chin tucked, until you are standing -- then slowly unroll your neck. Stand straight with a slightly extended back and neck, arms out to the side and take a deep inhale.
The entire SOAR Method exercise series targets every major muscle group and joint to safely and naturally straighten the spine and promote healthy posture. To learn more about the SOAR Method to Perfect Posture and the additional stretch and strengthening posture exercises, visit www.thesoarmethod.com.
More ways to improve your posture
Celebrity secrets to a better posture
Why posture matters
How to improve your sitting posture
---
The opinions expressed in this article are of the author and the author alone. They do not reflect the opinions of SheKnows, LLC or any of its affiliates and they have not been reviewed by an expert in a related field or any member of the SheKnows editorial staff for accuracy, balance or objectivity. Content and other information presented on the Site are not a substitute for professional advice, counseling, diagnosis, or treatment. Never delay or disregard seeking professional medical or mental health advice from your physician or other qualified health provider because of something you have read on SheKnows. SheKnows does not endorse any specific product, service or treatment.