Low Calorie
Lunch Ideas
Our healthy lunch recipes for weight management are easy, delicious and low-calorie. Trust us, you won't even miss that greasy pizza or expensive (and calorie-filled!) lunch at a restaurant. Check out these quick and tasty recipes to help you fill up your stomach without weighing down your scale.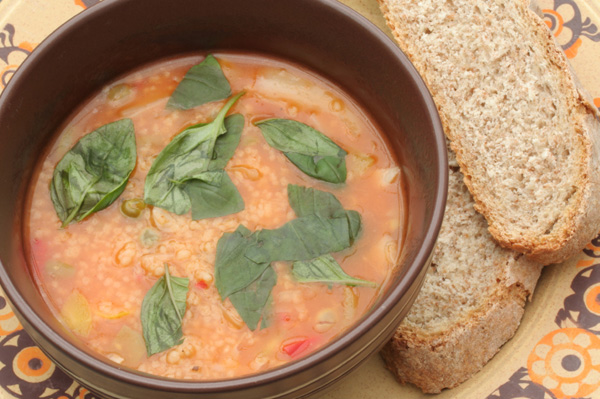 Our healthy lunch recipes for weight management are all 400 calories and under. "The key to shedding pounds is to eat 250 to 300 calories every three hours," says personal trainer and fitness expert Jenny Schatzle. "Small, frequent meals will speed up your metabolism." She says to avoid snacking while making your meals (you could eat double the calories!) and to watch out for hidden calories in salads.
"Avoid heavy salad dressings, like Ranch, Thousand Island or Blue Cheese. Also avoid salty meats like salami and bacon, and cheese. If you combine salty meats, heavy cheese and creamy dressings, your salad could have more calories and fat than a cheeseburger," says Schatzle, who has been featured in People magazine and on E! Television.
Turkey Meatloaf Muffins
These quick and tasty muffins only contain 80 calories each! "These are great for people trying to lower their carb and fat intake," says fitness expert from Bodybuilding.com Jamie Eason.
Ingredients
2 lbs ground turkey (or chicken)
3 egg whites
1 cup quick cooking oats
1/2 tsp ground cumin
1/2 tsp dried thyme
2 tsp dry yellow mustard
2 tsp black pepper
2 tsp chipotle pepper spice
1 tsp salt
2 tbsp garlic powder (2 cloves minced)
1 small onion (finely chopped)
2 celery stalks (finely chopped)
Directions
Preheat oven to 375 degrees.
Spray muffin pan with canola or olive oil.
Mix all your ingredients together in one large bowl.
Roll the mixture into balls and place in muffin pan. Muffins should be about the size of a racquetball.
Bake for 40 minutes.
Makes 12 muffins.
Serving Size Women 2 muffins; Men 4 muffins
Calories 80
Chickpea spinach salad
"This salad has the right balance of complex carbohydrates, lean protein and filling fiber to energize the rest of the day," says registered dietitian and personal trainer Brittany Glassett.
Ingredients
1 cup baby spinach
½ cups spring mix salad mix
½ cup chick peas (garbanzo beans), rinsed and drained
½ bell pepper (any color), sliced
¼ cup red onion, chopped
¾ cup broccoli florets
¼ cup carrots, sliced thinly
1T sunflower seeds, unsalted
¼ avocado, sliced
¼ cup cooked quinoa
1/8 cup balsamic vinegar
Directions
Combine salad, chick peas, quinoa, sunflower seeds and vegetables in a bowl.
Drizzle balsamic vinegar over the top.
Calories 360
Tuscan Tomato and bean soup
"This vegetarian soup is super simple to make and is great for lunch or dinner," says Andrea Correale of Elegant Affairs catering.
Ingredients
4 tablespoons olive oil
½ onion, chopped
2 garlic cloves, chopped
3-4 carrots, chopped
2 large zucchini, chopped
1 small bunch spinach chopped
2 cups tomatoes, chopped
1 cup white beans1 cup red kidney beans2 tablespoons kosher salt
4 tablespoons tomato paste
4-6 cups chicken stock
Directions
Heat the olive oil in a large pot and sauté the onion over medium-low heat until it begins to burn slightly.
Add the garlic and sauté for 1 minute.
Add all the remaining vegetables. Season with sea salt and stir to mix in the onions.
Cover and cook for 20 minutes, until the vegetables have reduced in volume by half.
Stir in chicken stock and beans (Add more water for more broth with the soup.)
Increase heat, bring to a boil and then reduce the heat again.
Add the tomato paste.
Cook for 10 more minutes.
Calories 375 per serving
Red, white & green grilled cheese
This low-calorie sandwich, courtesy of the cookbook by the National Heart, Lung and Blood Institute (NHLBI) of the National Institutes of Health Keep the Beat Recipes Deliciously Healthy Dinners, is perfect when you are craving a warm sandwich.
Ingredients
1 tsp garlic, minced (about ½ clove)
1 small onion, minced (about ½ cup)
1 cup frozen cut spinach, thawed and drained (or substitute 2 bags (10 oz each) fresh leaf spinach, rinsed)
¼ tsp ground black pepper
8 slices whole wheat bread
1 medium tomato, rinsed, cut into 4 slices
1 cup shredded part-skim mozzarella cheese
Non-stick cooking spray
Directions
Preheat oven to 400 °F. Place a large baking sheet in the oven to preheat for about 10 minutes.
Heat garlic with cooking spray in a medium sauté pan over medium heat. Cook until soft, but not browned. Add onions, and continue to cook until the onions are soft, but not browned.
Add spinach, and toss gently. Cook until the spinach is heated throughout. Season with pepper, and set aside to cool.
When the spinach and onions are cool, assemble each sandwich with one slice of bread on the bottom, one tomato slice, ½ cup of spinach mixture, ¼ cup of cheese and a second slice of bread on the top. (For picky eaters, see Healthy Eating Two Ways suggestion below.)
Spray the preheated nonstick baking sheet with cooking spray. Place the sandwiches on the baking sheet. Bake for 10 minutes, or until the bottom of each sandwich is browned.
Carefully flip sandwiches, and bake for an additional 5 minutes, or until both sides are browned. Serve immediately.
Calories 254 per sandwich
Recipe makes 4 sandwiches
Ham and Swiss sandwich
"I created this recipe for tackling the baby weight," says Jennifer Marshall of Happy Mama Gifts.
Ingredients
1 Thomas "everything" Bagel Thin (whole), 110 calories
2 Light Laughing Cow Swiss Cheese Original wedges, 70 calories*
2 slices Farmer John's extra lean ham, 80 calories
Directions
Toast the thin bagel.
Spread cheese on the bagel.
Add the ham and enjoy!
Calories 260
*you can also switch out 1 cheese wedge for 1 slice of ham (making it 265 calories) if you prefer.
More healthy recipes
---
The opinions expressed in this article are of the author and the author alone. They do not reflect the opinions of SheKnows, LLC or any of its affiliates and they have not been reviewed by an expert in a related field or any member of the SheKnows editorial staff for accuracy, balance or objectivity. Content and other information presented on the Site are not a substitute for professional advice, counseling, diagnosis, or treatment. Never delay or disregard seeking professional medical or mental health advice from your physician or other qualified health provider because of something you have read on SheKnows. SheKnows does not endorse any specific product, service or treatment.
More From SheKnows Explorer