Keep Your
Kids Healthy
Sniffles, coughs and tears. There's nothing worse than a house full of sick kids, or feeling helpless to their plight. Do your part to keep your kids healthy by educating yourself. Keep reading to learn about the top 5 child sicknesses and find out how to prevent them.
(page 2 of 2)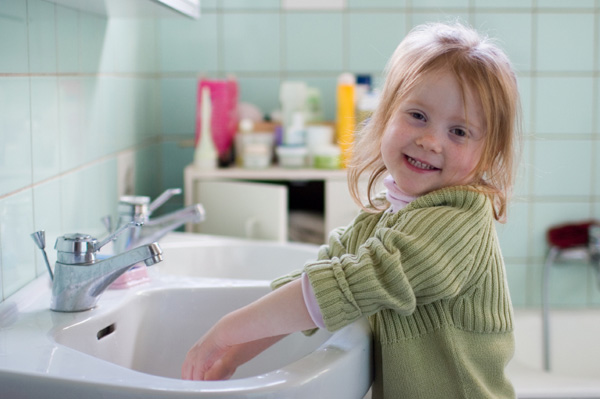 How to prevent these common sicknesses
What do all five of the above sicknesses have in common? "Immune support and bacteria imbalance, which means the bad guys have won," Koff said. In order to combat those two dilemmas, Koff recommends boosting your child's immune system with the help of organic foods. "Aim for daily intake of fruits and vegetables," she said. "Try to include mushrooms if your kids like them -- they're great for the immune system." Check out this article for more tips on boosting your child's immune system.
Another key ingredient to building a healthy immune system is healthy bacteria. "Probiotics can come from food sources like kefir, cultured veggies, cultured dairy and supplements," Koff said. Be cautious of food products with large amounts of sugar, as they'll outweigh the benefits of the good bacteria.
Spices can also join your fight against bacteria. "Simply add oregano and thyme to your pizza," Koff suggested.
In addition to foods and spices, changing behaviors can also help build up your child's immune system. Check out these easy tips for living germ-free:
Clean hands
Remind your children to wash their hands frequently, including before or after eating and after using the toilet. "Suggest that children soap their hands for as long as it takes to sing the 'Happy Birthday' song," Koff said.
Sleep
"Adequate sleep is an important arsenal in keeping colds at bay, as well as shortening the course of the cold," Koff said. According to health and nutrition counselor Gina van Luven, children under 1 year should receive between 14 and 16 hours of sleep. Children ages 1 to 3 need between 12 and 14 hours, children ages 3 to 6 should sleep at least 10 to 12 hours, and children age 7 to 12 require about 10 to 11 hours. Teens should sleep between 8 and 9 hours each night.
Sneezing or coughing
Koff recommends encouraging children to cover their mouths when coughing or sneezing and, if possible, to use a tissue or the crook of their elbow instead.
Get regular exercise
"Be sure your child gets regular exercise," van Luven said. "The type and duration will depend upon the child. Talk with a fitness or health professional who specializes in children's health for advice."
Hydrate
"Kids, especially athletes, should always remember to stay well-hydrated," Koff said.
Limit contact
"Try to keep healthy kids away from sick children and adults," Koff suggested. "While getting sick is part of a child developing a strong immune system, keeping healthy kids away from sick ones in an easy way to avoid creating a cycle where cold-sharing makes everyone sick for longer."
Don't overdo it
"Be sure your child has down time every day, and has an opportunity to communicate his/her feelings and concerns," van Luven said.
Secondhand smoke
"Secondhand smoke can irritate the lungs and sinuses of children, like adults, and ongoing exposure may contribute to a greater frequency of respiratory issues," Koff said.
Take a vitamin
"Take a quality multi-vitamin and additional Vitamin D, especially during winter, when we tend to get less sunlight," van Luven said.
Don't share water bottles
"Children should avoid sharing water bottles and other personal items with other kids to prevent contracting a cold," Koff said.
If you didn't catch your child's sickness in time, don't fret. Check out this article for tips on soothing foods and drinks they'll love. Keep their mind off their sore throat with the help of these fun at-home activities for sick kids.
More ways to keep kids healthy
---
The opinions expressed in this article are of the author and the author alone. They do not reflect the opinions of SheKnows, LLC or any of its affiliates and they have not been reviewed by an expert in a related field or any member of the SheKnows editorial staff for accuracy, balance or objectivity. Content and other information presented on the Site are not a substitute for professional advice, counseling, diagnosis, or treatment. Never delay or disregard seeking professional medical or mental health advice from your physician or other qualified health provider because of something you have read on SheKnows. SheKnows does not endorse any specific product, service or treatment.