Sex Questions Answered
When it comes to sexual problems and women's health issues, distinguishing what's normal and what's not can be difficult. We consulted experts across the country to discuss common problems and find out when you need to call a doctor.
(page 3 of 3)
Is bleeding between periods normal?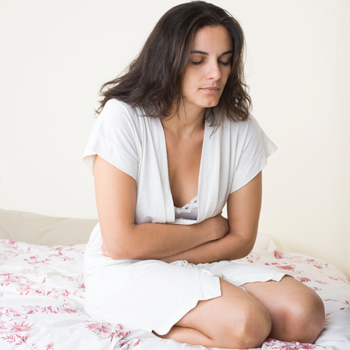 In women who are not pregnant, spotting between periods is commonly caused by changes in birth control pills and other hormone therapy, says Dr. Tina Groat. In addition, biopsies and other examinations performed on the cervix and vaginal area can cause bleeding between menstrual periods.
Vaginal bleeding, however, can signal serious gynecologic conditions or other medical problems in pregnant women, post-menopausal women (who have not had a menstrual period in 12 consecutive months) and pre-pubescent girls. Unexpected vaginal bleeding could be a sign of a serious health issue, such as cancer, and should be evaluated by a doctor right away.
Possible causes of vaginal bleeding between periods include:
Cervical cancer
Cancer of the uterus or fallopian tubes
Biopsy or other procedures commonly performed for human papillomavirus (HPV) screenings
STDs including chlamydia and gonorrhea
Uterine fibroids and polyps
Miscarriage and other pregnancy complications
Interruption/change in use of birth control pills
Pelvic inflammatory disease
Vaginal trauma or disease
Genital warts
Use of intrauterine device (IUD)
Ectopic pregnancy
Vaginal dryness due to lack of estrogen after menopause
Stress
Underactive thyroid (hypothyroidism)
Use of blood thinners
You should see a doctor any time you have unexpected bleeding between periods. Specifically, you should seek immediate medical attention if you experience this under the following circumstances:
During pregnancy
After menopause, if you have not had a menstrual period for a full year
Bleeding is accompanied by other symptoms or pain
Before puberty
Bleeding that lasts longer than one week
More sex advice
How to revive your sex drive
SheKnows.com gives the scoop on how to put the spark back into your relationship.
More on women's health:
---
The opinions expressed in this article are of the author and the author alone. They do not reflect the opinions of SheKnows, LLC or any of its affiliates and they have not been reviewed by an expert in a related field or any member of the SheKnows editorial staff for accuracy, balance or objectivity. Content and other information presented on the Site are not a substitute for professional advice, counseling, diagnosis, or treatment. Never delay or disregard seeking professional medical or mental health advice from your physician or other qualified health provider because of something you have read on SheKnows. SheKnows does not endorse any specific product, service or treatment.