Global Approach
To Weight Loss
It's the regular battle of every summer: when it's time to get into that bikini, it's time for a crash diet. Unfortunately, a successful diet is not an easy feat to meet, and efforts often result in failure. With the US rate of obesity proving that chronic dieting isn't the answer, consider taking a global approach to find a long-lasting way to eat that will not only help you lose weight but also satisfy your taste buds.
(page 2 of 2)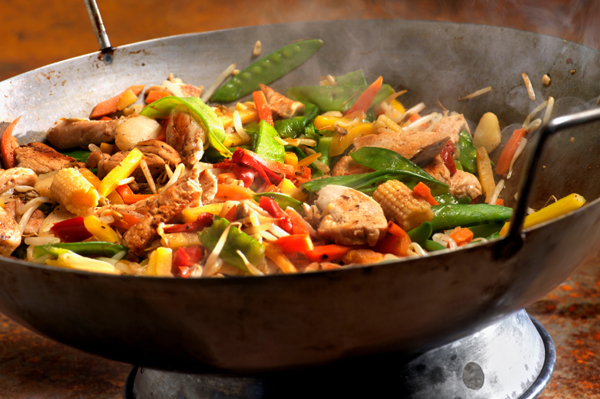 EAST ASIAN DIET
Our friends to the East have less trouble fighting the battle of the bulge, boasting lower obesity and diabetes rates (although their numbers are climbing partially due to the insertion of Western cuisine). The traditional diet in East Asia offers a tasty variety of good-for-you foods and can help you deliciously slim down. This is not your average Chinese-take out. We're talking foods rich in nutrients and sparing on fat.
Plant-based meals mean diet success
Part of its success is its emphasis on plant-based foods and less concentration on red meat and dairy, as well as an overall balance to all parts of your meal. You should think of meat and seafood as a complement to your rice and veggies, as opposed to a centrally-focused entree. "The secret to lifelong weight control is to eat small amounts of the foods you love, but subsist on a mainly plant-based diet, rich in fruits, vegetables, legumes, nuts, olive oil, fish and fat-free dairy," explains Dr. Brill.
Tame your taste for take-out
Love ordering take-out from from the local Chinese restaurant? You may be sabotaging your diet. Seiden cautions that if eaten in a restaurant, East Asian foods tend to swim in peanut oil, but if prepared at home, diligently avoiding too much oil, it's probably the perfect food, according to Seiden.
Rice is an Asian staple – in moderation
Although most commercial, low-carb diets tell you to stay away from rice, you'll find it to be a staple in the cuisine of East Asia. Although, as with everything else, rice should be eaten in moderation, and not salted or buttered.
Fruit is it
The East Asian diet also features fresh fruit like melon, orange, grapefruit, dates and pears, in place of desserts. "Fruit is Mother Nature's gift to humankind…low in calories, high in nutrients and simply delicious," said Dr. Brill.
Soy, soy good
The East Asian diet has a large emphasis on soy. Edamame, soy sauce, soy nuts, tofu, soybean paste and miso are commonplace in the East Asian diet. While soy has been accepted by the FDA as a protein that can be incorporated into a diet low in saturated fat and cholesterol, which may reduce the risk of heart disease, be careful of the sodium content in some soy products like miso.
Reduce your red meat intake
Like the Mediterranean diet, the East Asian diet replaces red meat with fish a few times a week. And don't worry, there is no shortage of flavor or satisfaction in this diet as the plant-based recipes easily pack a punch with spice.
Asian sides satisfy
Try new veggie sides like kimchi, fermented cabbage soaked in vinegar, garlic, and chili pepper: a central dish found in Korea. Kimchi is both low in fat and calories, and high in fiber. Health magazine named kimchi in its list of the top 5 "World's Healthiest Foods" because it is rich in vitamins, aids digestion and may reduce cancer growth.
Portion control is key in any diet
Both experts agree that what is most important for both diets -- and the crucial element to any diet -- is portion control. Seiden emphasizes: "No matter what the ethnicity, what we really must watch is the amounts we take in. The old saying: everything in moderation."
Asian recipes
Time to replace that Chinese take-out with healthy home-cooked Asian meals.
---
The opinions expressed in this article are of the author and the author alone. They do not reflect the opinions of SheKnows, LLC or any of its affiliates and they have not been reviewed by an expert in a related field or any member of the SheKnows editorial staff for accuracy, balance or objectivity. Content and other information presented on the Site are not a substitute for professional advice, counseling, diagnosis, or treatment. Never delay or disregard seeking professional medical or mental health advice from your physician or other qualified health provider because of something you have read on SheKnows. SheKnows does not endorse any specific product, service or treatment.