Preventing Bug Bites & Rashes
Most summertime rituals -- enjoying the great outdoors, visiting the beach, having campfires – are a lot of fun. The accompanying and mostly unavoidable bug bites and rashes, however, are not. So when these summer maladies occur, what's an active gal to do? We checked in with Dr. Svetlana Kogan, an internal medicine specialist and founder of Doctors at Trump Place, to find out.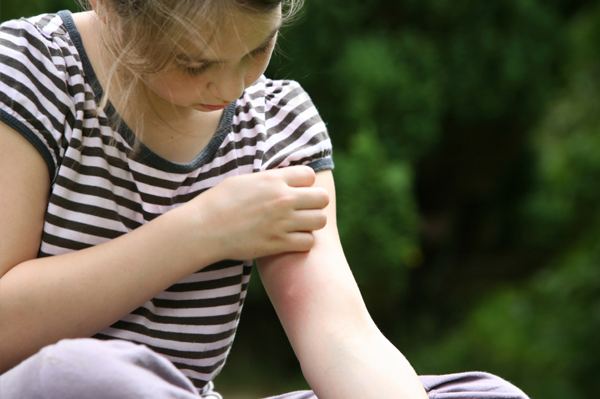 Beware: Insect bites and rashes
SheKnows.com: What are the top insect bites and rashes people experience every summer?
Dr. Svetlana Kogan: The most common are mosquito bites. These are closely followed by bug bites (wasps, etc.), solar rashes (from the sun, etc.), allergic rashes (poison ivy, etc.) and Lyme disease-type bites and rashes.
SheKnows.com: What are the best ways to prevent insect bites and rashes over the summer?
Dr. Svetlana Kogan: Use DEET-free insect repellant such as Bite Blocker when going into areas of high insect exposure. To prevent insect bites from becoming a cellulitis (an inflammation of the skin or connective tissue) or erysipelas (a bacterial infection that causes inflammation), keep the face and body well moisturized to avoid developing breaks in the skin. Trim your nails to prevent an entry for the infection while itching. Use calamine lotion or calendula gel on the bites or irritations as soon as they appear.
Treating bug bites and rashes
SheKnows.com: What are the best ways to treat insect bites and odd rashes over the summer?
Dr. Svetlana Kogan: Insect bites should be washed with water. The skin should then be wiped with hydrogen peroxide or alcohol followed by an application of a calendula gel, such as that from Boiron, or by smearing some calamine lotion on the bitten skin. If a tick is attached to the skin, remove the tick carefully with forceps and see your doctor immediately (ask for a Lyme assessment). If possible, bring the offending tick to your doctor, sealed in a plastic bag; it can then be sent off to a lab for analysis.
SheKnows.com: When should you be worried about the size, color and texture of a bite or rash?
Dr. Svetlana Kogan: If the bite swells and the "red heat" starts spreading over the course of the next day or two, there is a possibility the bite could be infected with, for example, streptococcus or staphylococcus bacteria. In that event, see your doctor as soon as possible.
SheKnows.com: If you're out in the woods and nowhere near a hospital, what are the first steps you should take to ensure a bite or rash doesn't seriously affect your health?
Dr. Svetlana Kogan: Keep the area clean and dry. Take Zyrtec or Benadryl to control itching and to help localized allergic reactions calm down. And, most importantly, do not scratch the bite area!
Self-care of insect bites and rashes
SheKnows.com: What should you never do when treating a bite or rash?
Dr. Svetlana Kogan: Never touch any bite or rash with dirty hands. Never scratch. Never use any kind of abrasive soap. Most importantly, never put a bandage or Band-Aid over a bug bite. It can cause a methicillin-resistant staphylococcus aureus (a hard-to-treat bacterial infection) growth under the skin. The complications from that are incredibly serious.
As you head into summer, you may not be able to avoid bug bites or rashes, but you can take proper steps when they occur to ensure they are successfully treated and have minimal impact on your health.
More on insect bites, rashes and summer maladies
---
The opinions expressed in this article are of the author and the author alone. They do not reflect the opinions of SheKnows, LLC or any of its affiliates and they have not been reviewed by an expert in a related field or any member of the SheKnows editorial staff for accuracy, balance or objectivity. Content and other information presented on the Site are not a substitute for professional advice, counseling, diagnosis, or treatment. Never delay or disregard seeking professional medical or mental health advice from your physician or other qualified health provider because of something you have read on SheKnows. SheKnows does not endorse any specific product, service or treatment.