Get Fit With
Water Aerobics
Though the days are still too cool to jump in your backyard pool, you can hit your health club for a springtime swim or, for a change in the aqua action, a water aerobics workout. Water is a gentle yet effective medium for both cardio and resistance training, giving you the opportunity to transition from winter fitness activities to spring and summer pool-based workouts that shape you up and keep you trim. Exercise physiologist Alice Burron, MS, spokesperson for American Council on Exercise (ACE) gives us the skinny on why water aerobics is the ultimate workout for women and shares her five-exercise aqua fitness routine that will have you splashing yourself slim.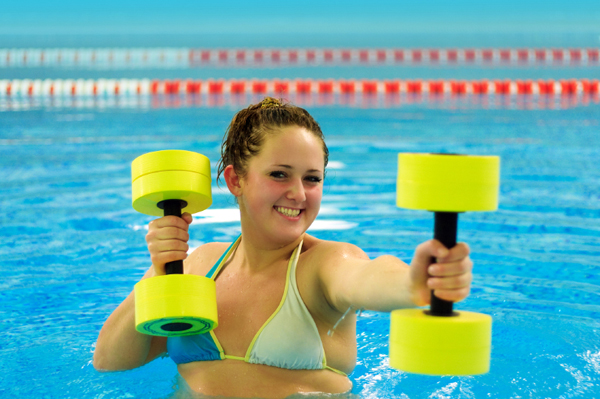 Benefits of water aerobics
Gone are the days when aqua aerobics was solely for the beginning exerciser. Though water offers buoyancy and a comfortable environment for movement, water workouts can be a super challenging part of your fitness regime. Burron, who is an ACE-certified personal trainer and wellness coordinator for the Cheyenne Regional Medical Center in Cheyenne, Wyoming says "water aerobics is perfect for many women for so many reasons."
"Water provides up to 20 times more resistance than air, which allows you to get a workout without getting injured," the fitness expert explains. Water also provides natural resistance in all directions, giving you an effective yet low impact workout for both upper and lower body. In contrast, when you work out on land, the only resistance you have (unless you are using fitness equipment) is gravity and, depending on your position and movements, your body weight.
Calories burned during a water aerobics workout vary greatly depending on the intensity of your moves and, thus, the level of your heart rate. The harder you work, the more calories and fat burned and the greater benefit for your heart. As you are doing your aqua routine, if you feel like you're taking a leisure stroll through the water park, you need to bump up your effort for maximum benefits. Another water workout bonus, adds Burron, is "it takes less time to recover from water aerobic exercise than land-based activities."
Determine the best heart rate for water workouts
Water aerobics is a good activity for injury rehab
If you've been feeling sidelined due to a skiing or another winter sport activity, it's time to get in the pool. "Water is the perfect place to rehabilitate injuries by keeping impact low but effort high," says Burron. "Water aerobics improves range of motion and flexibility." It also gives you the cardiovascular challenge that you may not be able to achieve while rehabilitating your injury. Check with your healthcare expert before starting an aqua fitness plan to make sure the water exercises you plan to do are right for your condition.
The ultimate water workout
The following five water exercises can be combined to give you a challenging and super effective full body workout.
1. Around the worlds
This exercise targets your core, including the abdominals, obliques and back muscles, while providing an aerobic challenge. You are essentially doing crunches "around the world."
Exercise: Start by treading water with your body in an upright position and your arms moving out to the sides to keep your head above the water. Stretch your legs straight forward then bring knees to chest. Extend your legs out to side (body is now upright and not face up), then bring legs back into a tuck (knees to chest position). Extend your legs straight behind you then tuck legs to chest. Extend legs straight out to the other side (you are again upright), then tuck knees in. Stretch legs straight in front again. Repeat "around the world" for 10 to 20 repetitions.
2. Cross country
Get ready to work your arms and legs and get your heart rate up with this move.
Exercise: Starting with your feet on the bottom of the pool and water up to your shoulders, alternate arms and legs as if cross country skiing (right arm out and left leg out then switch). Reach and extend arms far behind body and in front of body for maximum workout. Perform for up to 10 minutes.
3. Tucks
You'll use a pool noodle for this abdominal and aerobic exercise.
Exercise: Place noodle behind upper back, bringing the ends in front of you, and hold on towards the ends of the noodle with your hands, keeping your head and shoulders above the water. Start with your legs out straight and toes pointed, then tuck knees to chest. Hold 2 seconds and extend legs straight. Repeat for 2 to 5 minutes or until fatigued.
Try tucks without the noodle for maximum workout. For variety, turn belly-side down, hanging on to the pool wall, and tuck knees to chest.
4. Water cycling or jogging
Using a pool noodle, you'll get your heart rate up while working your legs and arms and challenging your balance. Instead of using a noodle, you may also wear a jog belt, if available, around your waist.
Exercise: Place noodle between legs as if riding a bike. Move legs and arms in a circle, alternating legs and arms as if jogging. Extend elbows behind body and straighten arms far in front to pull yourself through the water quickly for maximum speed and effort. Make sure your head is aligned with your body and not tilted forward or backward. Perform for 5 to 10 minutes.
Advanced: Add water dumbbells for additional arm workout. Arms can be done in breaststroke fashion to engage chest and back muscles.
5. Side Kicks
A full body exercise, doing side kicks will work your legs, arms and core while boosting your heart rate.
Exercise: Start by standing tall in the water. Kick right leg out to the side while extending both arms to sides in a punching motion while the leg kicks sideways. Repeat with left leg. Continue to alternate legs for 2 to 5 minutes or until fatigued.
Advanced: Add water dumbbells for additional arm workout.
After you complete your water exercises, cool down by swimming a few easy laps and stretching.
More ways to get fit in the water
---
The opinions expressed in this article are of the author and the author alone. They do not reflect the opinions of SheKnows, LLC or any of its affiliates and they have not been reviewed by an expert in a related field or any member of the SheKnows editorial staff for accuracy, balance or objectivity. Content and other information presented on the Site are not a substitute for professional advice, counseling, diagnosis, or treatment. Never delay or disregard seeking professional medical or mental health advice from your physician or other qualified health provider because of something you have read on SheKnows. SheKnows does not endorse any specific product, service or treatment.