Postpartum Fitness
You might have given birth to an adorable 8-pounder, but the woman who walks out of the hospital weighing just one or two pounds less than when she was wheeled into the delivery room is no myth. But that doesn't mean you can't bounce back and get a pre-pregnancy bod again. Here's a realistic guide to your postpartum fitness.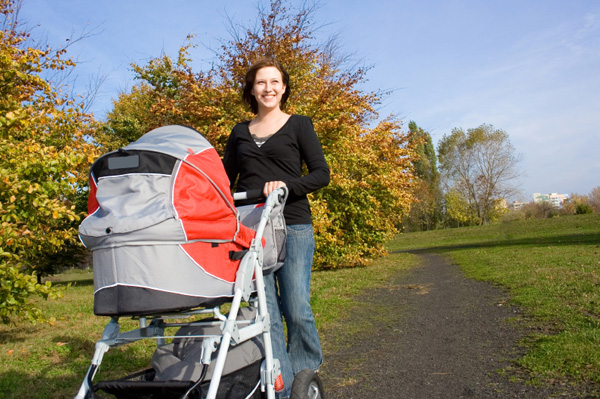 Be happy and realistic about your postpartum fitness
You just had a baby; you have a lot to happy about. Revel in it and be realistic about your post-baby recovery – it's going to take time. The National Women's Health Information Center advises that about one pound per week is a safe amount of weight to lose postpartum, and will not affect your milk supply or the baby's growth. With the average woman gaining about 30 pounds during pregnancy, losing around 18 to 20 in the first month, that final 10 pounds will push your weight loss goal to several months after baby makes an arrival.
The good news? You can get that pre-pregnancy body back - it just might look a little different. "Be realistic and positive," advises Rebecca Scritchfield, registered dietitian, ACSM health fitness specialist and weight management expert with Diets in Review. "Your life changes in many ways after giving birth. Your post-pregnancy body needs time to naturally rebound and repair."
Belly wraps may be a good place for you to start. A postpartum tummy tightening technique that is nothing new in other cultures, belly wraps have become quite popular in the US, with celebrity backed products such as Tauts and Belly Bandits. The concept is simple enough: Tightly wrap your stomach and the compression will help reduce swelling, tighten muscles and just generally minimize your midsection. Though there are some skeptics, belly wraps in addition to a balanced healthy diet and a sensible approach to exercise certainly won't hurt, and they may be the motivational tool you need to get moving.
Read: Do belly wraps really reduce the postpartum pooch?
Fit exercise in for your body and mind
If you had a cesearean delivery, the American College of Obstetrics and Gynecology (ACOG) reports your return to exercise will be longer. But, regardless of your birthing methods, the other big challenge will be finding time…studies show mothers are less active than women without children. However, with studies linking postpartum exercise to a reduction in postpartum depression risk and a reduction in fatigue for new moms, it's worth it to get out there.
If you are having trouble getting motivated, consider iSWEAT 2 the BEAT iPhone application ($2.99), a unique app created to help moms move and get the upper hand on fitness. iSWEAT 2 the BEAT is a database of 70,000+ popular song titles that are classified by beats per minute (bpm) and genre of music, and includes four major workout types: walking, running, cycling, and the elliptical in which there is a step-by-step guide on how to calculate your workout beat per minute pace. Visit iTunes.com or iSweat2theBeat.com to learn more.
The ACOG recommends checking with your doctor before starting an exercise program - some women can comfortably exercise within days after giving birth while other new moms take longer. Experts suggest kicking things off with a brisk walk, slowly ramping up the workout quotient. Mommy and Me Exercise classes such as Stroller Strides or Baby Boot Camp or postpartum exercise classes available at some hospitals or fitness facilities are a good starting point, and including a routine that focuses on your core will help your abdominal muscles recover from being stretched out during pregnancy.
"Exercise releases endorphins, which will help ease the postpartum blues that almost every new mom encounters at some point," advises Kristen Horler, founder of Baby Boot Camp. "Physically, you will feel better about your changing postpartum body with regular exercise. Emotionally, exercising with your baby will help you further bond with her."
Exercise benefits your baby
Exercise isn't just good for mom; it's also good for baby. "According to some reports from physically active women that breastfed, the expressed breast milk was readily accepted by their infant following an exercise session," says Erin Headley, a registered dietitian and exercise physiologist with Kingley Health. "Women who expressed and discharged milk following a workout noticed greater baby acceptance."
Eat for two – sensibly
You heard about eating for two when you were pregnant, but you also need to keep your baby in mind as you diet post-pregnancy. While your little tyke is eating, you should be, too. To sustain your baby while you are breastfeeding and safely lose weight, the National Women's Health Information Center advises consuming at least 1,800 calories per day with well-balanced, healthy food choices that include foods rich in calcium, zinc, magnesium, vitamin B6 and folate.
Follow these guidelines, and you'll find it took nine months to pack on the pounds, but in another nine months, you can safely take it off.
More on postpartum fitness
---
The opinions expressed in this article are of the author and the author alone. They do not reflect the opinions of SheKnows, LLC or any of its affiliates and they have not been reviewed by an expert in a related field or any member of the SheKnows editorial staff for accuracy, balance or objectivity. Content and other information presented on the Site are not a substitute for professional advice, counseling, diagnosis, or treatment. Never delay or disregard seeking professional medical or mental health advice from your physician or other qualified health provider because of something you have read on SheKnows. SheKnows does not endorse any specific product, service or treatment.