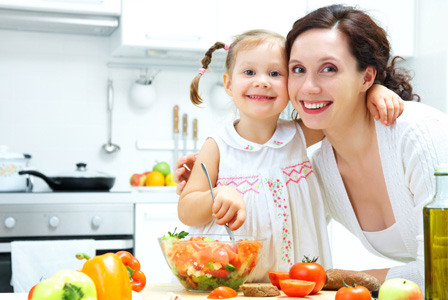 Despite the mounting evidence that diets high in fruits and vegetables fight chronic diseases and promote longevity, the average American gets a mere two servings of produce a day
Health benefits
of fruits & veggies
This falls short of the recommended five to nine servings of fruits and vegetables that experts say are required for optimal health. Here's why fruits and vegetables are exceedingly important in your family's diet.
1
Fruits and vegetables are your first line of defense
Research continues to support the importance of fruits and vegetables in a healthy diet. They're loaded with vitamins, minerals, antioxidants, fiber and disease-fighting phytonutrients, and they're your family's first line of dietary defense against obesity and chronic health conditions, such as heart disease, cancer and diabetes, as well as digestive and vision problems and cognitive decline. Additionally, fruits and vegetables are essential for healthy pregnancies and the proper growth and development of your children.
2
They're rich
in antioxidants
Fruits and vegetables are a prime source of antioxidants and disease-fighting substances, including vitamins A, C and E, the minerals selenium and zinc, and all of the phytonutrient carotenoids. They are key in contributing to your overall and long-term health because they fight free radicals that attack the healthy cells in your body. Research has demonstrated that antioxidants help combat cancer, boost the immune system, reduce inflammation associated with heart disease, promote healthy vision and can even delay the aging process.
The National Academy of Sciences recommends that most people consume at least 25 grams of fiber per day (some experts even suggest consuming a minimum of 37 grams per day), yet most Americans get less than half of their daily requirement. Fiber, which is abundant in fruits and vegetables (as well as whole grains), helps reduce the risk of diabetes and heart disease, lowers cholesterol and may decrease the risk of some cancers, including colon, ovarian and breast. Consuming adequate fiber has also been associated with a reduced risk of gall stones, kidney stones and diverticular diseases. Fiber is also key in controlling hunger and promoting a healthy weight. Fruits and vegetables can improve your family's health now and prevent diseases in the future.
4
They promote
healthy pregnancy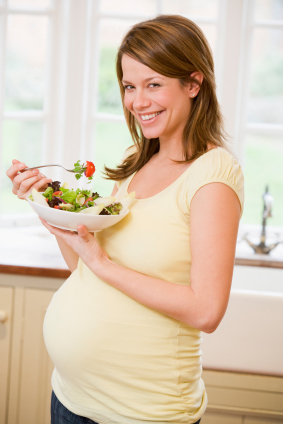 Whether you are pregnant or planning to conceive, a diet high in fruits and vegetables will promote the health of your baby. In addition to providing your body and unborn child with key vitamins and minerals, certain fruits and vegetables can help ward off birth defects. Oranges, spinach, broccoli and dried beans are good sources of folate, which has been shown to reduce the risk of neural tube defects such as spina bifida.
5
They help with kids' growth
and development
A balanced diet rich in fruits and vegetables lays the foundation for your children's growth and development into adulthood. Making fruits and vegetables a cornerstone of their diets also establishes healthy eating patterns that will help protect them from disease for a lifetime.
According to the National Cancer Institute, diets rich in plant foods are associated with a lower risk of cancers of the mouth, pharynx, larynx, esophagus, stomach, lung, colon, pancreas and prostate. A diet high in fruits and vegetables also contributes to healthy weight maintenance and reduces the risk of cancers related to obesity.
7
They're good for the heart
Not only can eating fruits and vegetables reduce the risk of developing heart disease by lowering cholesterol, reducing the risk of blockages and reducing inflammation, it can help people with heart disease manage their conditions. The American Heart Association recommends consuming a variety of fruits and vegetables because they are nutrient-dense and low in calories, and can help with weight and cholesterol control.
8
Fruits and vegetables
help control diabetes
Because fruits and vegetables are low in calories and high in fiber, they can help with weight loss and reduce the risk of developing diabetes. Fruits and vegetables are also important in managing blood glucose for people who have the disease. Fiber delays glucose absorption from the small intestine and can help prevent the spike in blood glucose levels that follows a meal or snack.
Make a Note
Incorporating fruits and vegetables into your family's meals and snacks is essential in promoting lifelong health. Aim for at least five servings (2-1/2 cups) every day to provide your children with nutrients important in their growth and development (even in the womb), to ward off disease and help with weight control for your whole family.
More on fruits and vegetables
In a pickle: How to prevent fruits and veggies from rotting
5 Reasons you need to eat more fiber
Organic fruits and vegetables worth their higher price
---
The opinions expressed in this article are of the author and the author alone. They do not reflect the opinions of SheKnows, LLC or any of its affiliates and they have not been reviewed by an expert in a related field or any member of the SheKnows editorial staff for accuracy, balance or objectivity. Content and other information presented on the Site are not a substitute for professional advice, counseling, diagnosis, or treatment. Never delay or disregard seeking professional medical or mental health advice from your physician or other qualified health provider because of something you have read on SheKnows. SheKnows does not endorse any specific product, service or treatment.
More From SheKnows Explorer