Tips To Beat
The Holiday Blues
The most wonderful time of the year isn't always so wonderful for the majority of us. But for some, the holidays bring feelings of unshakable despair, sleeping and eating difficulties, and impaired daily functioning. If your holiday blues have intensified to the point you feel helpless against them, chances are you are suffering from depression. Wondering what you can do if the holiday blues or depression hit you? Dr Rakesh Jain, director of psychiatric drug research at the R/D Clinical Research Center in Lake Jackson, Texas, shares his holiday advice for warding off the feelings of holiday doom and gloom.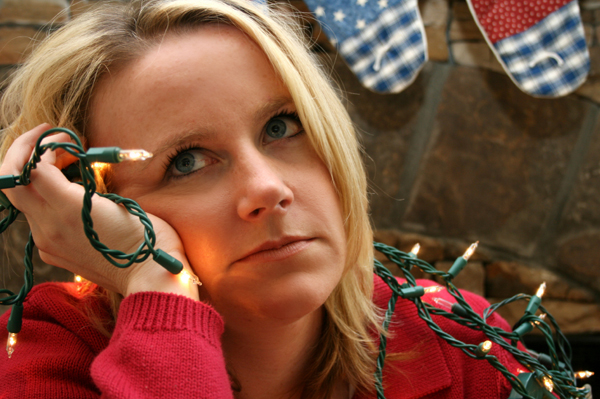 The most wonderful time of the year isn't wonderful for some
SheKnows: Is the incidence of depression truly higher during the holidays or does it just seem more recognized during the holiday season?
Dr Rakesh Jain: There is no question the incidence of depression does indeed go up during the holidays, particularly between Thanksgiving and New Year. Stress, even "good stress," can impact the mind and the brain. Money stress, family stress and missing people who have passed away all contribute to this increased incidence of depression. Holiday blues is an even bigger problem for those who have underlying vulnerabilities to depression.
Beyond the holiday blues
SheKnows: What are the differences between the holiday blues and depression?
Dr Rakesh Jain: Holiday blues are a generic term often used to describe mild, and temporary drop in moods that surround specific time periods, such a Christmas holidays. Depression, however, is a different matter. No matter what provokes it – holidays or nothing at all – the symptoms are classic: depressed mood, lack of joy in life, sleep and appetite difficulties, feelings of hopelessness, etc. In addition, for it to be major depression, it needs to be present most of the day for two weeks or longer, and cause impairment in functioning. Now, one can certainly slip from holiday blues to major depression but one condition is different from the other.
Holiday factors can bring on depression
SheKnows: What about the holidays worsens depression for some and brings depression on for others?
Dr Rakesh Jain: Good question! The same vulnerabilities that create depression in people during non-holiday times also create increased risk for depression during holiday times. There are biological, psychological and social factors that play a role in the genesis of depression. During holidays, sleep can be distrusted, more alcohol can be imbibed, one misses family members who are gone even more, and financial pressures can be higher. All of these can collude to create just the right bio-psycho-social environment to create major depression.
Holiday blues? Not you!
SheKnows: How can people prevent the holiday blues?
Dr Rakesh Jain: I have two sets of advice. One, prepare for added stress that holidays inevitably bring. Pace yourself, make sure you sleep well, keep alcohol drinking to a moderate level, don't back off from your regular exercise schedule, budget your money wisely, and make sure negative thoughts about past losses don't overwhelm you. The second words of advice are that if you find yourself having even minor troubles with mood, don't procrastinate, do something about it as soon as possible.
SheKnows: In addition to seeing a mental health professional, what are some other things readers with the holidays blues or depression do?
Dr Rakesh Jain: Some things you can do would be to reach out to friends and family members who are very supportive of you – tell them you are experiencing holiday blues and ask for their support. Pace yourself, and if life is too hectic and too busy, slow down, take time for yourself; find soothing activities that work for you, and if you are not sleeping well, examine your sleep habits and make appropriate changes so that sleep is optimized. Exercise, by the way, is another very important intervention for preventing or treating holiday blues. I recommend approximately 40 to 60 minutes of exercise per day when holiday blues affect a person.
The dangers of holiday blues and depression
SheKnows: For people that do get depression during the holidays, will it go away once the holiday season has passed? If not, what steps do they need to take to manage their depression?
Dr Rakesh Jain: Generally speaking, holiday blues do pass once the stressful holiday season passes. However, damage to a person's and their family's life can occur, so its best not to take holiday blues lightly. If, unfortunately, it slips from holiday blues to major depression, then action is warranted. This would include seeking professional counseling. I specifically recommend a type of psychotherapy called cognitive-behavioral therapy. And if the symptoms of depression are quite significant and impairing, anti-depressants can be used to reduce the symptoms of depression. It's best to control depression as quickly as possible. Seeking professional help is entirely appropriate and warranted. Depression is damaging and needs quick control.
Treatments for depression
SheKnows: What are the most successful treatments for depression today?
Dr Rakesh Jain: Certainly psychotherapy and physical exercise have a central role in the treatment of major depression. Anti-depressants are frequently warranted. Over the last few decades, anti-depressants have improved and become better tolerated. Speed of onset is important as damage from depression increases the longer it's been present. There is now preliminary evidence that anti-depressants can be made to work faster by the addition of certain medicinal foods, particularly if there is a vitamin deficiency present. One particular medical food in the news is called Deplin, which is a vitamin, and preliminary evidence shows that in certain individuals it can hasten the speed of onset of standard anti-depressants. These are complex decisions and it's best to consult with your health care provider in order to determine which choice or choices are best for you.
Get more information on depression
SheKnows: What are some helpful resources for our readers to learn more about depression?
Dr Rakesh Jain: Thankfully a large number of high quality resources are available. Two of my favorite websites to refer people to are www.webmd.com and www.mayoclinic.com. Additionally, the National Institute of Mental Health has a free and very useful booklet on depression that people can download electronically. It can be accessed at http://www.nimh.nih.gov/health/publications/depression/complete-index.shtml.
More health and wellness tips to get through the holidays
Dr Rakesh Jain, director of psychiatric drug research at the R/D Clinical Research Center in Lake Jackson, Texas, obtained his medical degree from the University of Calcutta and a Master of Public Health degree (MPH), from the University of Texas School of Public Health. Dr Jain has authored numerous publications, including four books. He serves on several Boards focusing on drug development and disease state education, and was recently named "Public Citizen of the Year" by the National Association of Social Workers, Gulf Coast Chapter, in recognition of community and peer education and championing of mental health issues.
---
The opinions expressed in this article are of the author and the author alone. They do not reflect the opinions of SheKnows, LLC or any of its affiliates and they have not been reviewed by an expert in a related field or any member of the SheKnows editorial staff for accuracy, balance or objectivity. Content and other information presented on the Site are not a substitute for professional advice, counseling, diagnosis, or treatment. Never delay or disregard seeking professional medical or mental health advice from your physician or other qualified health provider because of something you have read on SheKnows. SheKnows does not endorse any specific product, service or treatment.