Time-Saving
Home Fitness DVDs
The most recent release of American Council on Exercise's report on the top fitness trends for 2010 indicates that fitness enthusiasts want workouts that are not only easy on the wallet, but also super time-efficient. You can't get more time-efficient than home fitness DVDs -- and they are cheaper than a gym membership -- so we're giving you the skinny on the latest exercise DVDs that will motivate you get fit and trim right in your own living room.
Exhale: Core Fusion Pure Abs & Arms
The newest release in the award-winning, bestselling Core Fusion series, Pure Abs & Arms is focused on the entire upper body. Continuing the brand's proven formula of five concentrated Pilates-inspired 10-minute workouts that provide fast results and maximum flexibility, exhale's exercises lengthen, strengthen and tone the core, biceps, triceps and shoulders. Core Fusion is a favorite among fit-minded celebrities such as Heidi Klum, Cameron Diaz, Julia Roberts, Kate Hudson, and Mariska Hargitay. This 50-minute fitness DVD will change the way you think about toning and strength-training. Available: www.AcaciaCatalog.com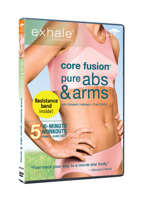 Stephanie Vitorino The Ultimate Body Shaper
Nationally-certified fitness expert and celebrity trainer Stephanie Vitorino just released The Ultimate Body Shaper, the first DVD of her new V Body workout series. Vitorino's DVD features two 30-minute interval workouts that combine cardio with full-body strength-training to activate core muscles in every move, emphasizing the "V" shape (wide shoulders narrowing down into a small waist) that fitness enthusiasts spend hours in the gym to achieve. The DVD's V Body High Step Workout focuses on lower body shaping, while the V Body Mat Workout shapes the body with long and lean muscles by incorporating yoga-inspired strength work. As bonus features, the DVD also includes a special V-8 abdominal segment that showcases Vitorino's eight favorite on-the-go waist shrinking moves, as well as pop-up training tips and a workout timer. Appropriate for men, women and all fitness levels, The Ultimate Body Shaper delivers real body-shaping results in the most efficient amount of time. Available: www.StephanieVitornio.com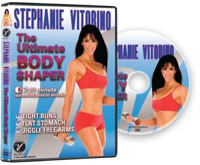 The Biggest Loser--Last Chance Workout
No fitness DVD list would be complete without Jillian Michaels, best known as the butt-kicking trainer on the popular reality TV series The Biggest Loser. Michaels continues her hardcore guidance in this 55-minute DVD, challenging you with three workouts that will work your muscles to the max. Past Biggest Loser contestants join Michaels in motivating you through the unique blend of cardio and strength-training designed to boost your metabolism and shed those pounds. Last Chance Workout will also keep you from getting bored; you'll be sweating to a variety of power moves, kickboxing, jump rope, and other high and low impact moves in addition to the intense strength exercises that target every muscle in your body. Available: www.Amazon.com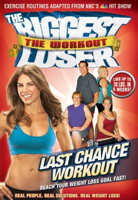 Shiva Rea: Daily Energy--Vinyasa Flow Yoga
Featuring seven 20-minute practices -- one for every day of the week -- Daily Energy will restore your energy, balance and strength as you follow Shiva Rea, one of the top female yoga teachers in the country. This 168-minute yoga fitness DVD caters to people with busy schedules who want a workout that never gets boring. With a customizable Yoga Matrix, you can choose from more than two hours of yoga to create endless possibilities for short or long practices, or try one of the six pre-set yoga practices. You'll build stamina and sculpt long, lean muscles as well as learn the importance of breath in regards to your health and relaxation. Popular among stars, such as Jada Pinkett-Smith and Bjork, Shiva Rea's yoga moves will not only get you fit, they will also give you an effective way to bust the stress in your busy day. Available: www.AcaciaCatalog.com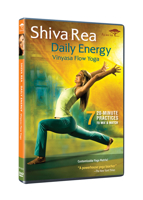 Zumba Fitness
Get fit and trim with the popular Latin dance known as Zumba. The Zumba Fitness Total Body Transformation System DVD Set is a four-disc, six-workout collection featuring salsa, cumbia, samba, merengue and more. The Zumba DVD set also comes with maraca-inspired toning sticks to add body sculpting to your saucy dance exercise. Got kids who want to Zumba? Consider Zumbatomic, a ground-breaking fitness program designed specifically for girls and boys ages 4 to 12 that combines Latin, urban and contemporary dance moves with high-energy beats. The Zumbatomic Box Set features three DVDs with individual 30-minute workouts, a CD soundtrack and comic book. Available: www.Zumba.com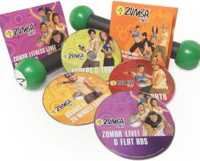 Ten Zen Tummy Toners
Ten Zen Tummy Toners provides the most effective yoga poses targeted to work your abs from every angle. You'll be easily captivated with Rodney Yee and Cameron Shayne as they demonstrate the top ten yoga moves designed to lengthen and strengthen the entire body, tighten the torso, and build a mind-body connection that will keep you engaged, focused and motivated to continue regular practice of yoga. High-ranking martial arts expert Cameron Shayne leads you through 20 minutes of intense yoga poses that challenge your full body postural strength while yoga master Rodney Yee takes you through 20 minutes of cardio-boosting yoga moves that get your heart rate up. Both workouts leave you feeling tall, tight-waisted, powerful and invigorated. Available: www.Gaiam.com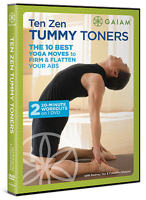 Dance and Be Fit: Hip Hop Cardio
Combining the joy of dance with an irresistible hip hop pulse, dancer choreographer Sarita Lou brings you two high-energy 20-minute workouts -- Old School and Sexy Sculpt -- that burn fat and calories while toning the abs, legs and arms. Sarita Lou's funky, feisty moves, like rock steady, hip swings, chest pops and sexy body rolls, are broken down into simple steps so you gain dance confidence as well as improve your full body fitness. Featuring original music and an option to download the audio for fitness on the go, you can add a little attitude to your workout routine with this 50-minute hip-hop fitness DVD. Available: www.AcaciaCatalog.com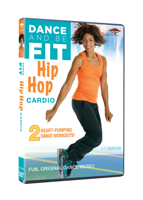 Tai Chi for Beginners with Grandmaster William C.C. Chen
Though a much more low-key modality of movement, Tai Chi is an effective way to increase flexibility, muscle tone, stamina and strength while reducing stress and renewing energy. Anyone, regardless of age or physical ability, can enjoy Tai Chi's health benefits. Grandmaster Chen, one of the world's top Tai Chi instructors, leads you through basic, low-impact exercises with easy-to-follow instructions that are divided into three complete-form practices. Bonus features makes this Tai Chi fitness DVD an 87-minute program of mind-body moves. Available: www.AcaciaCatalog.com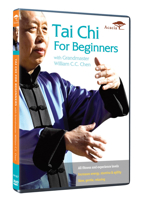 YogaWorks for Everybody: Beginners AM/PM
Not yet a yoga devotee but curious to try the mind-body workout? You'll love YogaWorks for Everybody: Beginners AM/PM, a collection of three basic workouts designed to help you learn the ropes. Expert Patti Asad will guide you through a series of fun and easy yoga postures that are simple enough for anyone to try. Build strength and flexibility with the 40-minute beginner's regimen, rise and shine with the 10-minute AM Wake-Up, or unwind with instructor Billy Asad's 10-minute PM Relax & Restore. Beginners AM/PM, only one of the yoga DVDs in the YogaWorks series, is a perfect starting point to make yoga a strong component of your lifestyle, especially since you can do it at home and fit your yoga workout in when it works for you. Available: www.ExerciseTV.tv (YogaWorks workouts are also available on demand for free)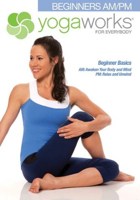 Hemalayaa: Bollywood Dance Blast
Featuring two new workouts from the bestselling Bollywood fitness star Hemalayaa, this dance fitness DVD offers two 20-minute cardio routines that will dance off those holiday calories. Giving you the fitness opportunity to loosen up your hips and ditch the stresses of the daily grind, Bollywood Dance Blast is all about having fun while losing pounds and toning muscles. With her warm, playful personality and expert instruction, Hemalayaa has built a solid reputation for fun, effective programs unlike anything else available when it comes to dance fitness. The dance expert will get you grooving to the Bollywood beat, jumping, spinning, and moving your way to a beautifully-toned body and a stress-free mind. Available: www.AcaciaCatalog.com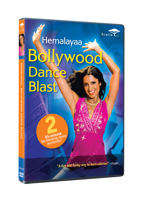 Even more fitness DVDs to get you fit for the New Year
---
The opinions expressed in this article are of the author and the author alone. They do not reflect the opinions of SheKnows, LLC or any of its affiliates and they have not been reviewed by an expert in a related field or any member of the SheKnows editorial staff for accuracy, balance or objectivity. Content and other information presented on the Site are not a substitute for professional advice, counseling, diagnosis, or treatment. Never delay or disregard seeking professional medical or mental health advice from your physician or other qualified health provider because of something you have read on SheKnows. SheKnows does not endorse any specific product, service or treatment.