Causes And
Treatments
Imagine being the maid of honor at your sister's wedding and staining your dress from armpit to waist. For the estimated 8 million Americans suffering from hyperhidrosis, a condition marked by excessive sweating, this is just one of the many embarrassing moments that can occur with dripping wet underarms. What are the causes of this psychologically devastating disease? Read on to learn more about hyperhydrosis and a new treatment to put a stop to excessive sweating.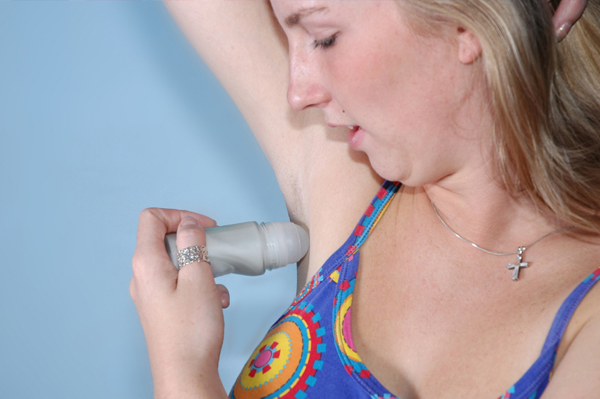 Hyperhidrosis makes you sweat - in more than one way
Your body naturally perspires when you are too warm, exercising or suffering the rigors of stress. But when you know that a sweat-inducing situation can launch a bucketload of moisture from your armpits, even the thought of the ensuing embarrassment can make you perspire. Hyperhidrosis may not be a health danger, but this involuntary bodily response can wreak havoc on your mental health and quality of life.
"There have been quite a few embarrassing sweat moments in my life," says Jill, a 30-year-old hyperhidrosis sufferer from Jersey City, New Jersey. The most devastating occurred at her sister's wedding. "It was a beautiful day, a beautiful ceremony and I was wearing a beautiful dress... that really showed off my perspiration problem. It is laughable now, but at the time I was mortified and miserable throughout the entire reception. I didn't want to give my speech, I didn't want to dance, I didn't want do anything because I didn't want anyone to see how sweaty I was. I felt terrible. All of the excitement leading up to this big day was ruined for me due to my excessive sweating."
What causes hyperhidrosis?
According to New York-based board-certified dermatologist Dr Marina I Peredo, hyperhidrosis is a condition that causes people to sweat four to five times the normal amount needed to regulate body temperature. The excessive sweating emanates from the armpits as well as the hands and feet, and people may feel drenched or sticky all day and night, regardless of the ambient temperature. Unfortunately, the causes of hyperhidrosis aren't clear, but experts believe it is most likely due to overactivity of the nerves in the sweat glands.
A social stigma
If you don't have hyperhidrosis, it's hard not to snicker or giggle at someone sporting giant rings of underarm moisture. Excessive sweating isn't a laughing matter for those with the disease, however. "Hyperhidrosis is not a health danger; however, most people are affected socially and are embarrassed to sweat excessively as it is not socially acceptable," explains Dr Peredo, who is also founder and medical director of Spatique, a medical spa in Smithtown, New York. "Hyperhidrosis makes daily life very difficult, and sufferers have to constantly adapt their lives -- whether it is changing clothing several times or even avoiding certain job positions that require uniforms or much public speaking."
Hyperhidrosis is hard to hide and is especially devastating when it occurs at a social event. The condition nearly ruined college graduation for Ashlie, age 31, a hyperhidrosis sufferer from Dallas, Texas. "Almost any time I've dared to wear lighter-colored clothing, disaster has ensued," she says. "Up at the top of the list would be college graduation. I took off my black gown after the ceremony, and the sides of my lavender sundress were wet; somehow the crepe-type material caused the sweat to really migrate. I didn't just have underarm sweat circles, I had a dress disaster." Her day of celebration, hugs and picture taking was drenched with embarrassment and spent hiding her out-of-control sweating from graduation goers.
Treatment a necessity
Unless living with excessive sweat is acceptable to you, the only solution is treatment. "People who have hyperhidrosis cannot change their body's affinity to sweat. Aside from treatment, there is not much they can do but to cope with the symptoms," explains Dr Peredo.
The good news for hyperhidrosis sufferers is that there are treatments -- based on the severity of their condition -- to minimize the sweating. "Initially, patients are recommended over-the-counter and then prescription-strength antiperspirants such as Drysol," Dr Peredo says. When topical agents fail, however, Botox (onabotulinumtoxinA), an FDA-approved treatment for excessive underarm sweating, is a treatment of choice. "It is safe, extremely effective, and my patients are happy with the results, which last around seven months," the dermatologist adds. Surgery is another option that you can discuss with your doctor. 
Benefits of Botox treatments
In addition to drying up the sweat, Botox treatments give hyperhidrosis sufferers a renewed quality of life.
"I was amazed by how much time and energy I spent worrying about and coping with the problem," recalls Ashlie, who has experienced remarkable results from the Botox treatment. "Almost immediately after receiving the Botox treatment I felt an overwhelming sense of freedom. Now I can wear a white blouse without a contingency plan!"
Putting an end to excessive sweating also boosts self-confidence. Ashlie adds, "I feel a million times better about myself. I no longer feel like people are going to stare and wonder why I might have underarm circles... 'Why is she sweating?  Is she nervous?  Is she anxious?  Is she telling the truth?'."
Botox treatment side effects
According to Allergan, the makers of Botox, the side effects of Botox can include dry mouth, discomfort or pain at the injection site, tiredness, headache, neck pain, eye problems and allergic reactions. Though some people may experience negative side effects from the Botox treatment, Dr Peredo says these are very limited and short lived. "The only negative my patients sometimes mention is that they may experience slight pinching or pain at the injection site during treatment." If you receive Botox treatment for hyperhidrosis, be sure to contact your doctor immediately if you begin to feel any adverse effects.
Learn more about hyperhidrosis
If you suffer from excessive sweating or know someone who does, educating yourself about the condition can help lead to proper diagnosis and treatment. Talk to your dermatologist about the condition and visit SweatHelp.org, the website for the International Hyperhidrosis Society, to learn more.
Don't let excessive perspiration put a damper on your life. Seeking treatment can help you stop the sweat, boost your self confidence and improve the quality of your life. You can certainly raise your arms to that! 
---
The opinions expressed in this article are of the author and the author alone. They do not reflect the opinions of SheKnows, LLC or any of its affiliates and they have not been reviewed by an expert in a related field or any member of the SheKnows editorial staff for accuracy, balance or objectivity. Content and other information presented on the Site are not a substitute for professional advice, counseling, diagnosis, or treatment. Never delay or disregard seeking professional medical or mental health advice from your physician or other qualified health provider because of something you have read on SheKnows. SheKnows does not endorse any specific product, service or treatment.