Fit Arms With
Four Exercises
Strappy sundresses, upcoming bikini season, and the uproar over Michelle Obama's terrifically fit arms, has put firm biceps, toned triceps and shapely deltoids on the fitness want list for most women. Does that mean hours in the gym pumping weights? Not at all! Pete McCall, MS, exercise physiologist with the American Council on Exercise (ACE) recommends a mere four upper body exercises to get arms that rival the First Lady's. Here are those effective time-saving moves using a new piece of equipment called the TRX Suspension Trainer.
(page 3 of 4)
Get terrifically-toned triceps
For enviable trim triceps, McCall recommends the chest press, which targets the chest and triceps, and the overhead triceps extension, which isolates the triceps. "For triceps, the chest press utilizes a lot of the triceps (as well as the chest) and should be done first to help warm up and prepare the triceps for the isolated exercise," he explains.Same application of the variables: Start with 2 to 3 sets of chest press for 12 to 15 reps each, resting about 45 to 90 seconds between each set, then move on to doing the triceps-only exercise for 10 to 12 reps, again resting for 45 to 90 seconds between each set for a total of 2 to 3 sets.
TRX Chest Press
Step 1: Starting Position: Place your feet securely into the foot cradles, positioned directly under the anchor point. Apply downward pressure with the tops of your feet by pointing your toes away from your shins. Gently lie flat on your stomach with your hands placed shoulder-width apart, under your shoulders and facing forward. Stiffen your torso by contracting your core/abdominal muscles, and your glutes and quadriceps (keep your core muscles tight to avoid sagging towards the floor):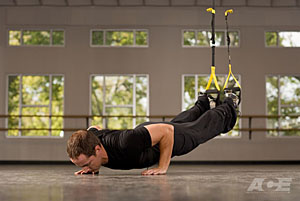 Step 2: Upward Phase: Exhale and slowly press yourself upward until your elbows are fully extended, aligning your head and spine. Avoid any sagging or arching in your low back and keep your hips from hiking upwards. Keep your feet together throughout the exercise and avoid any back and forth swinging of the TRX straps.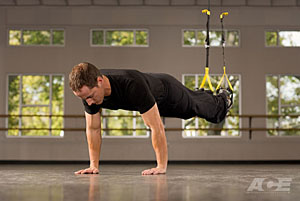 Step 3: Downward Phase: Maintaining your rigid torso, inhale and slowly lower your body towards the floor, touching your chin or upper chest to the floor. Again, avoid any arching or sagging in your low back.
Next up…Overhead Triceps Extension
---
The opinions expressed in this article are of the author and the author alone. They do not reflect the opinions of SheKnows, LLC or any of its affiliates and they have not been reviewed by an expert in a related field or any member of the SheKnows editorial staff for accuracy, balance or objectivity. Content and other information presented on the Site are not a substitute for professional advice, counseling, diagnosis, or treatment. Never delay or disregard seeking professional medical or mental health advice from your physician or other qualified health provider because of something you have read on SheKnows. SheKnows does not endorse any specific product, service or treatment.