Naturally Sweet
Fruits should be a part of your daily diet. These naturally sweet treats are loaded with essential vitamins, minerals, antioxidants and other phytochemicals that protect the body from disease and infection - and they may even help slow the aging process. As an added bonus, fruits are easily portable, making them healthy on-the-go snacks. Here are eight must-eat fruits and fruit recipes.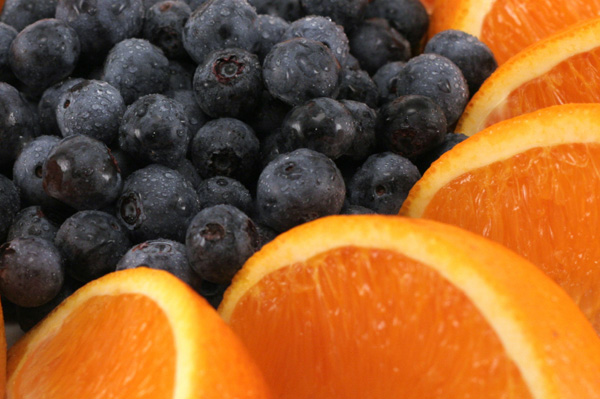 Blueberries
It's hard to believe so much vitaminy goodness can be packed into such small juicy berries. From antioxidants to fiber, getting your daily dose of blueberries will help your body protect itself from free radical damage, slow age-related degeneration and stave off things like constipation, varicose veins, heart disease and cancer.
How to eat them:
The Best Blueberry Pancakes
Oranges
Oranges are an excellent source of dozens of vitamins including vitamin C and the B vitamins, and these citrusy fruit are packed with body-protecting nutrients like calcium, potassium and folate. Oranges are associated with respiratory and immune system health. And because oranges are loaded with dietary fiber, they help protect the body against esophageal and stomach cancer.
How to eat them: Tropical Orange Waffles
Kiwifruit
These furry green fruits are loaded with eye, lung and colon-protecting nutrients. Kiwis are also one of the best sources of vitamin E, an antioxidant known to prevent cancer and macular degeneration. Other nutrients packed into kiwifruit include vitamin C, potassium, magnesium and copper.
How to eat them:
Kiwifruit recipes
Grapefruit
If you are looking for a way to naturally detox your body, eating grapefruit is a must. This red (or pink) fruit boosts the liver enzymes that clear out carcinogens from the body. And because they flush your system, eating grapefruit boosts your body's ability to prevent things like colon cancer, kidney stones and breast cancer.
How to eat them:
Grapefruit recipes
Strawberries
These potent antioxidant-providers are loaded with dozens of essential vitamins and nutrients including vitamin C, manganese, dietary fiber and iodine. Strawberries are also packed with B vitamins and potassium, meaning they help reduce your risk of conditions like rheumatoid arthritis and age-related eye conditions.
How to eat them:
Strawberry Rhubarb Cream Pie
Cantaloupe
Looking for some added beta-carotene in your diet? Look no further than this juicy orange-flesh melon. Cantaloupes are packed with vitamin A, and studies show that people who eat cantaloupe are 39 percent less likely to develop cataracts and 50 percent less likely to ever need eye surgery. What's more, the fruit is packed with vitamin C, a known fighter against heart disease and stroke.
How to eat them:
Protein Packed Cantaloupe Bowl
Pears
If you tend to suffer from food allergies to certain fruits, up your consumption of pears. In addition to boasting antioxidants and other must-eat nutrients, pears are considered a hypo-allergenic fruit (because they so rarely incite allergic reactions). Pears are also packed with fiber and vitamin C, nutrients the body needs to stave off constipation and a slew of other chronic diseases.
How to eat them: Pear and Cherry Crumble
Apples
It looks like mom was right: An apple a day
will
keep the doctor away. Packed with fiber and anti-inflammatory nutrients like vitamin C and other antioxidants, apples (from Granny Smith to Royal Gala) can help prevent dozens of conditions including asthma, arthritis, cancer and heart disease.
How to eat them:
Double-crust Spiced Apple Pie
More reasons and ways to eat fruit
Importance of vitamin C in your child's diet
Why antioxidants are important in your diet
Health benefits of grapes
Recipes for an abundance of bananas
Fabulous fig recipes
Summer fruit sorbet recipes
---
The opinions expressed in this article are of the author and the author alone. They do not reflect the opinions of SheKnows, LLC or any of its affiliates and they have not been reviewed by an expert in a related field or any member of the SheKnows editorial staff for accuracy, balance or objectivity. Content and other information presented on the Site are not a substitute for professional advice, counseling, diagnosis, or treatment. Never delay or disregard seeking professional medical or mental health advice from your physician or other qualified health provider because of something you have read on SheKnows. SheKnows does not endorse any specific product, service or treatment.