Count & Cut
Those Calories
You know when to swap mayo for mustard, or to use milk instead of cream, but there are dozens of other ways to cut at least 100 calories from your daily diet routine. Here are 50 of our favorite calorie-cutting tricks.
(page 2 of 2)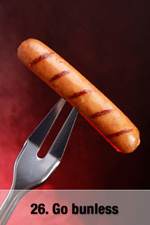 26. Go bunless with your burger or hot dog.
27. Dump snack foods into individual, small-sized bowls (instead of eating them straight from the bag).
28. Dip your fresh veggies or pita in hummus instead of creamy spinach dip.
29. Use plain yogurt to make dips instead of sour cream.
30. Only buy extra-lean ground beef (or, swap beef for ground turkey or chicken).
31. Use canned fish packed in water, not oil.
32. When ordering a drink, make sure it's on the rocks and opt for clear-colored choices (like vodka and soda).
33. Stay away from thick, super-sweet frozen drinks like margaritas and daiquiris.
34. Dip nacho chips in a thick tomato-based salsa (instead of guacamole).
35. Intersperse your alcoholic beverages with water.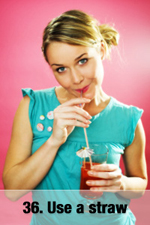 36. Drink through a straw (it slows down how much and how fast you drink).
37. Dip your pizza or wings in hot sauce, not blue cheese dressing.
38. Sip on club soda (with a slice of lemon or lime) instead of pop.
39. Suck on popsicles to get your frozen food fix (instead of licking an ice cream cone).
40. Reach for grilled foods, like fish and chicken, instead of foods that are breaded or fried.
41. Stay away from alfredo sauces (opt for tomato-based sauces instead).
42. Eat baked potatoes (sans cheese and sour cream) instead of ones that are mashed or fried.
43. Nibble on lightly-salted edamame instead of digging into potato chips.
44. Eat grapes instead of raisins (Note: Freezing grapes makes for a sweet and refreshing snack!).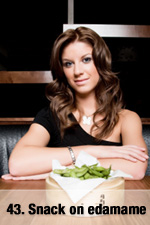 45. Use reduced-sugar jam on your morning toast instead of butter or peanut butter.
46. If you must have ice cream (or frozen yogurt), eat it out of a bowl instead of on top of a sugar cone.
47. Stay away from the skin on meats and chicken.
48. Nibble on extra-small pretzels instead of the thick-stick ones (and eschew the yogurt-covered pretzels - opt only for plain).
49. Grill sandwiches with nonstick cooking spray instead of using butter.
50. Eat your fish with lemon juice instead of tartar sauce.
Here are a few more ways to cut calories
How to eat less and enjoy it more
The 10-calorie reality check
7 Diet mistakes and fast fixes
---
The opinions expressed in this article are of the author and the author alone. They do not reflect the opinions of SheKnows, LLC or any of its affiliates and they have not been reviewed by an expert in a related field or any member of the SheKnows editorial staff for accuracy, balance or objectivity. Content and other information presented on the Site are not a substitute for professional advice, counseling, diagnosis, or treatment. Never delay or disregard seeking professional medical or mental health advice from your physician or other qualified health provider because of something you have read on SheKnows. SheKnows does not endorse any specific product, service or treatment.