(page 2 of 2)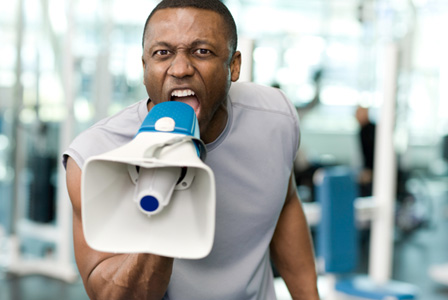 Hiring a personal trainer can be great for your health. A fitness professional can help you lose weight, tone your muscles and achieve your health goals.
Get fit, not hurt
But personal training has its fair share of unqualified people who claim they can train, yet put clients at risk. The problem? There are no state or federal safety regulations a person has to meet before he or she can claim they are qualified in the health and fitness field. What's worse, at some gyms - big-name health clubs included - all you need is a high school diploma to get hired. So as a consumer, it's important to know how to hire a personal trainer and avoid the ones that are potentially hazardous to you health.
Beware of dangerous personal trainers
Most trainers are qualified and competent, but there are those who are underqualified or may be qualified but not cut out for the job. Listen to your gut when working with a fitness professional. If something just doesn't feel right, it probably isn't. But there are also some signs that can indicate you may be working with a personal trainer who could harm, rather than help, your health.
Your trainer doesn't answer your questions. If you ask a question, a good personal trainer should be able to respond with a wealth of knowledge or suggestions. If he can't — and doesn't offer to research your question and get back to you — something could be amiss.
Your trainer doesn't listen to you when you say no. If you start complaining about pain or exhaustion in your muscles or joints, a good personal trainer will tell you to slow down or stop. If she doesn't and makes you push through the pain, you could get seriously hurt. Find another trainer.
Your trainer doesn't provide enough encouragement. A personal trainer should offer positive reinforcement to help you to reach your goals. If your trainer isn't your biggest cheerleader or worse, is demeaning and makes you feel like a failure, find a new one.
Your trainer offers unsolicited health advice or supplements. If for any reason a personal trainer tries to sell you on supplements, whether offered by the gym or those that she personally sells, be wary. Unless a personal trainer is a qualified doctor, holistic practitioner or nutritionist, she should not be offering medical advice. And with the potential danger of weight loss supplements that contain potent stimulants, you definitely want to steer clear of shady advice from someone who isn't qualified to prescribe medications or supplements.
Your trainer seems distracted. Gyms are loud places. If a personal trainer gets distracted easily or pays more attention to his cell phone or other people, it may be time to find an attentive trainer to work with. You need and deserve his undivided attention when working with weights and machines or while performing other exercises.
How to find a qualified personal trainer
If you do the research before hiring someone, finding a personal trainer that's qualified is easy. Here are some simple suggestions.
We listen to the advice of our friends and family when they suggest a hairdresser or doctor, so why not a personal trainer? Their suggestions could point you to a gym or fitness club that offers the kind of training you're looking for.
2
Watch personal trainers at your gym
By watching how a trainer interacts with clients, you'll get a pretty good idea of how he would work with you. In particular, look for trainers who are working with people who share your fitness goals.
3
Check out professional organizations
The ACSM, ACE and NSCA all offer listings for personal trainers in your area.
4
Book a trial appointment
A good personal trainer should be able to sit down and talk with you before you sign on. She should also be able to walk you through a typical training routine. Many health clubs offer complementary personal training sessions as part of the membership.
5
Talk to the fitness director at your health club
If your health club has a long list of trainers, it may be difficult to choose which one is right for you. Talk to the fitness director about your health and fitness goals and have her pair you with a good match in a personal trainer. And don't be afraid to ask for another referral if you don't hit it off with that particular trainer.
One of the common complaints from trainers is that some clients expect miracle results, then blame their trainer for not being qualified enough to help them reach their unrealistic goals. Even the best personal trainers can't deliver overnight results like losing 30 pounds in a week or dropping six dress sizes in two weeks; they really can't help you reach your goals if you are overeating, drinking too many calories or rarely exercising outside of your appointments. Be reasonable about your goals and take responsibility for your part of the program. Make sure you follow a healthy diet, hydrate properly, get adequate sleep and round out your personal training sessions with workouts of your own.
More fitness
Unique workouts that get results
Real fitness for real women
Fitness technology for your best body
---
The opinions expressed in this article are of the author and the author alone. They do not reflect the opinions of SheKnows, LLC or any of its affiliates and they have not been reviewed by an expert in a related field or any member of the SheKnows editorial staff for accuracy, balance or objectivity. Content and other information presented on the Site are not a substitute for professional advice, counseling, diagnosis, or treatment. Never delay or disregard seeking professional medical or mental health advice from your physician or other qualified health provider because of something you have read on SheKnows. SheKnows does not endorse any specific product, service or treatment.