Lose Weight
With Lower Carbs
The holiday season is nearing its climax and you may already be feeling like your waistband is also reaching its max. If your top New Year's resolution is to lose weight, following a lower carb diet may be just what you need to shed the holiday pounds. Here is your New Year's low-carb weight loss guide.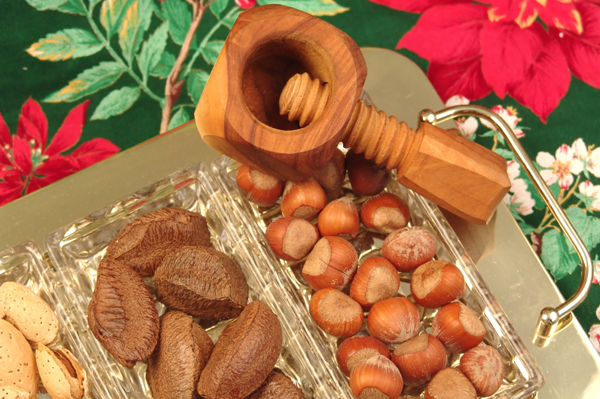 1. Get on track even before the New Year
You don't have to wait until January 1 to start your weight loss program – in fact, you'll feel better during the holidays and, consequently, have a much easier time losing weight after the holidays if you begin cutting back on carbohydrates today. Visit our
low-carb section
for a delicious selection of
low-carb recipes
.
2. Never skip meals and leave yourself famished
Whether you are on a nonstop shopping mission or heading to a holiday party, don't starve yourself. Collete Hemowitz, vice president of health and nutrition at
Atkins
, says "Eat a small low-carb meal beforehand, or enjoy a filling snack to stabilize your blood sugar." Be sure to sign up for our
Low-Carb newsletter
for healthy recipes and ways to keep you well-fed.
3. Put the candy and other sweets away
Though it lends a warm and inviting touch to keep bowls of candy or trays of sweets around the house for holiday guests, those decorative dishes can easily equate to 100 calories a handful – and who can stop at just one handful? "Instead, fill pretty bowls with potpourri, pinecones or colorful ornaments," advises Hemowitz. They are pretty, impressive and calorie-free.
4. Share your gifts
If your loved ones or coworkers have showered you with gift baskets of sweets, regift them, donate them to a shelter, or take them to a holiday party. In this case, it truly is better to give than to receive.
5. Snack smart
To keep your blood sugar stable and avoid a mid-afternoon binge, be sure to eat a small healthy snack in between meals. Hemowitz suggests keeping bowls of whole nuts and a nutcracker handy. "Nuts in their shells are traditional at this time of year. Plus, it takes time and effort to crack them, so you probably won't eat too many," she adds.
6. Sip tea at the end of the day
How often do you find yourself exhausted at the end of a long day and instinctively head for the kitchen for sweets or high-calorie drinks? Hemowitz recommends a calming cup of peppermint tea by the fire. Couple it with a few deep breaths and you will feel less stressed and less likely to overeat on high-calorie sugary treats.
7. Prepare low carbohydrate desserts with sugar substitutes
With the wide variety of sugar substitutes on the market, you have many ways to replace the refined sugar called for in your favorite dessert recipes. Do an Internet search for low carb versions of sweets or experiment by replacing part of the sugar in recipes with a sugar substitute. And keep in mind that "low in sugar" doesn't necessarily mean "low in calories." Moderation is still key to losing weight.
8. Replace all purpose flour with soy
Hemowitz says, "Soy (also called soya) powder and soy flour are both made from soybeans and can be used for baking. Both contain protein and some carbohydrate and are an appropriate lower carbohydrate flour substitute." You can find soy powder or soy flour at your local whole foods store as well as in the health food section of many supermarkets.
9. Eat your superfoods – aka vegetables and fruits
"There are more than 4,000 known polyphenols and the richest sources are vegetables," says Hemowitz. "In general, the more color a vegetable has, the richer the polyphenol content. Vegetables act as protective antioxidants which naturally support the body's use of the essential fatty acids, EPA and DHA and have antioxidant properties that help reduce free radicals" And if you think you can't have fruit on a low-carb diet, think again. Simply eat fruit in moderation and get your fill of
superfoods
with vegetables.
10. Don't give up if you overindulge
The holidays aren't the only opportunities ripe for overeating or overdrinking – you may find yourself overindulging any time of year. But don't let a diet regression derail your weight loss plans. Simply accept that you ate or drank too much and get back on track. Hemowitz says, "Eating is important – don't skip meals or go too long in between meals." She advises meals composed of adequate protein, fiber and healthy fats to help you feel satisfied. (Try these
healthy low-carb recipes
.)
More tips for losing weight
Workplace diet strategies to lose weight and tone up
7 Diet tips for women to eat healthier at home
Diet-conscious strategies when choosing from a menu
Top 10 diet mistakes that prevent women from losing weight
Eating fewer calories per bite key to losing weight
---
The opinions expressed in this article are of the author and the author alone. They do not reflect the opinions of SheKnows, LLC or any of its affiliates and they have not been reviewed by an expert in a related field or any member of the SheKnows editorial staff for accuracy, balance or objectivity. Content and other information presented on the Site are not a substitute for professional advice, counseling, diagnosis, or treatment. Never delay or disregard seeking professional medical or mental health advice from your physician or other qualified health provider because of something you have read on SheKnows. SheKnows does not endorse any specific product, service or treatment.