Feast On Fiber
With all of the food choices out there, those containing fiber aren't always the ones that get your taste buds buzzing. But now, more than ever, fiber-rich foods - like fruits, veggies and whole grains - should be at the top of your list to protect your health. Here's why you should fill up on fiber.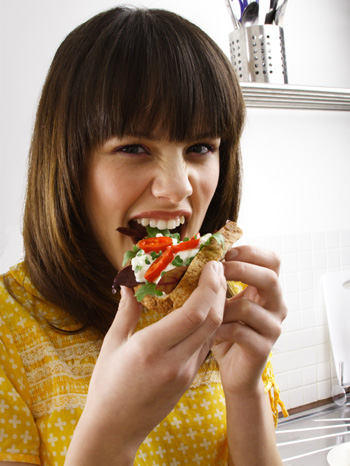 Fiber fights colon cancer
We all know that fiber helps with digestion, but now scientists say it can protect against colon cancer and those developing in the small intestine, too. Researchers from the National Cancer Institute (NCI) report that people who have a high intake of fiber from whole grains have a significant reduction in the risk of developing cancer in the small bowel. In fact, results showed that people with the highest intake of fiber from grains had a significant 49 percent reduction in the risk of developing small bowel cancer.
Fiber decreases your risk of diabetes
Meanwhile, another study reveals that a whole grain, high-fiber diet can also control and prevent type 2 diabetes and pre-diabetes. In particular, barley — which is rich in beta-glucan soluble fiber — promotes healthy blood sugar and blood pressure while reducing cholesterol. The findings, published in
Nutrition Research
and the
Journal of the American College of Nutrition
, report that foods containing barley offer significant reductions in glucose and insulin responses (inherent to diabetes prevention and treatment) compared to products containing whole wheat and corn. To boost the barley in your diet, replace white rice with the grain. (Give this
Barley Salad with Feta
a taste.)
Get your daily dose of fiber
In addition to combating colon cancer and diabetes, research suggests that an adequate fiber intake also reduces the risk of other cancers and heart disease.
So what's the right amount of fiber to fill up on to take advantage of its many benefits? While most Americans only get 12 to 18 grams of dietary fiber a day, experts recommend 20 to 35 grams a day (that's about equal to two to three half-cup servings of All-Bran cereal).
Sneak some fiber into your diet by tossing fruits and veggies into pilafs and grain salads, or using crushed whole grain cereals to coat your poultry or fish (
click for more tasty ways to get high-fiber foods to taste great
).
Related Articles
How protein and fiber can keep you satisfied
Soaking grains can help reduce damage associated with diabetes
Recipes to prevent breast cancer