Lose Weight
& Live Better
The Pritikin Diet has been around for decades, initially being introduced as a new approach to decrease heart disease. Unlike other diets that quickly fall out of favor, the Pritikin has withstood scientific study and has evolved into a healthy lifestyle program that is not only heart-healthy, but also reverses metabolic syndrome, controls diabetes, lowers blood pressure, reduces the risk of cancer, and promotes weight loss. What makes the Pritikin plan, also called the Pritikin Edge, so effective? Read on to find out.
(page 5 of 5)
9. Don't smoke your life away
Did you know that cigarette smoking kills over 430,000 Americans prematurely every year? That is more than the number of American soldiers killed in World War II. But despite the prolific anti-smoking campaigns and public smoking laws, smoking still remains the leading cause of preventable premature death in the US.
Dr Vogel and Lehr say that every minute you spend smoking shortens your life by a minute – but quitting smoking can literally give you years back. They recommend that you consult your doctor and/or a program that offers support to help you quit.
And if you are pregnant and smoking, it is even more paramount that you quit.
Here are some tips to kick the habit.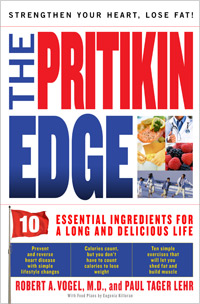 10. Step around stress
Stress seems to be ubiquitous, something you deal with day in and day out. But consider that stress is created by how you react to the many potential stressors you encounter.
Potentially stressful circumstances are always at arm's length and completely eliminating stress is out of the question. However, you can change the way you perceive and deal with stressors.
Dr Vogel and Lehr recommend getting regular exercise and sleep, develop close relationships and become emotionally nourishing, laugh, be intimate, get a pet, reserve time for enjoyable activities, develop spiritually and consider meditation or other stress-reducing activities.
Effectively dealing with stress is tied directly to how well you take care of yourself.
Here are some more strategies to reduce stress.
For more details on the Pritikin strategies, meal plans, and the top 10 exercises for losing fat and building muscle, pick up The Pritikin Edge or visit www.Pritikin.com.
{headine}Related Articles
Small steps to a healthy lifestyle
Slim down with the DASH diet
Healthy grocery shopping made easy