Keep The
Spark Alive
Do you loathe your postpartum body? Is sex the last thing you want to add to your new mommy daily roster of duties? Despite the changes your body has gone through (and there will be more changes to come) and the nearly nonexistent libido you are experiencing, keeping the spark alive with your partner is important. You may think you'll "get around to it later" but the longer you put it off, the harder it may be. Here are some top tips to celebrate your post-baby body and rekindle the romance that got you pregnant in the first place.
(page 2 of 2)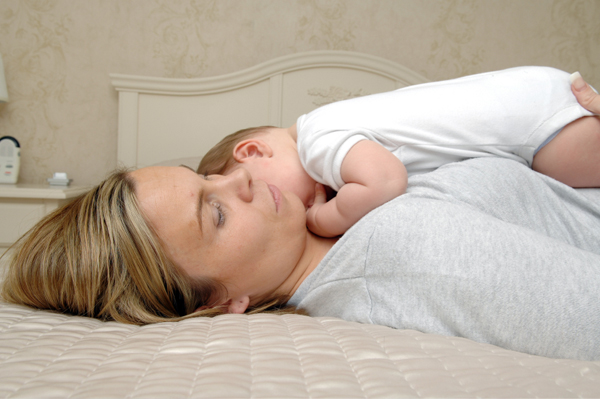 Why you aren't in the mood
Lackluster libido
He looks at you across the dinner table on your first night out since the baby was born. He's flirting, you think, but you hardly notice because you've been secretly checking your watch under the table, counting the minutes until you can get home to make sure your babysitter hasn't dropped the baby. He reaches for your hand; you're still thinking about the baby. You hear something in the background which sounds like a baby – and your breasts fill up with milk. He tells you how much he loves you and you start to leak. He is definitely trying to set the stage for a romantic and intimate evening and you, on the other hand, have to excuse yourself to change your breast pad in the bathroom. How can he think about sex when sex is the furthest thing from your mind? You haven't thought about sex for, well, it's been about four months. Last night, he told you that he misses being with you. You start to feel bad. But then you check your watch again; only 15 more minutes, you think, and then you can go home and be with the baby. And you wonder "What is wrong with me?"
Reasons why you aren't in the mood
There are so many explanations for why new moms aren't in the mood to have sex after the baby comes. A low sex drive can be frustrating for both you and your partner. But don't despair; it's a normal part of the picture. Here's why.
Fluctuating hormone levels
After the baby is born, estrogen and progesterone levels drop, which can contribute to a decrease in your sex drive. If you are breastfeeding, a hormone called prolactin becomes elevated, which can further suppress other hormone levels, and with them, your sexual desire. It can take months for your hormone levels to go back to their pre-pregnancy levels.
Fatigue
I don't need to tell you that new moms frequently suffer from exhaustion. But fatigue and exhaustion can wreak more havoc on your body than you may realize. Studies have shown that disrupted sleep, night after night, can contribute to stress, moodiness, poor decision-making, a decreased immune response, and lowered sex drive.
Concern about the way your body looks
As discussed above, many women are self-conscious about the changes in their bodies during the postpartum period and anxious about whether their partners will still find their bodies attractive. While these feelings are normal, they can get in the way of the desire to be intimate with your partner. (Refer back to page 1 for ways to love your post-pregnancy bod)
Pain
Depending on the type of delivery you experienced, you may have incisions that have not yet healed and are still quite painful. Even if there is no episiotomy or Cesarean scar, the perineum, or area between the vaginal and rectal openings, has been stretched (beyond belief) and is most likely pretty sore. For many women, the thought of putting anything even close to that area can evoke fear and anxiety, which in turn can dramatically lessen sexual desire.
Lack of vaginal lubrication
In breastfeeding women, elevated prolactin levels and lowered estrogen and progesterone levels can result in vaginal dryness. Without proper lubrication, sex can hurt, and as a result, women may steer away from relations with their partners, especially while breastfeeding.
You're normal! Even if it has been longer than six weeks
Doctors recommend waiting six weeks after birth to have sex because it gives the body a chance to heal. At this point, for most women, postpartum bleeding will have stopped, tears, sutures, and lacerations will be healed, and the cervix will have closed. But that doesn't necessarily mean you feel ready. If you aren't, there is nothing wrong with you. Some women just take longer than others to be ready. I can't stress enough how individualized this all is. The decision to have sex after the baby comes is definitely not a one-size-fits-all milestone. Everyone is different. It is important to keep the spark in your relationship alive and it is as essential that you feel comfortable – physically and mentally – resuming sexual activity. For more ways to reclaim your body, health, sanity and sex life after having a baby, check out The New Mom's Survival Guide.
Libido boosting tips
How to revive your sex drive
SheKnows.com gives the scoop on how to put the spark back into your relationship.
More on life after baby
---
The opinions expressed in this article are of the author and the author alone. They do not reflect the opinions of SheKnows, LLC or any of its affiliates and they have not been reviewed by an expert in a related field or any member of the SheKnows editorial staff for accuracy, balance or objectivity. Content and other information presented on the Site are not a substitute for professional advice, counseling, diagnosis, or treatment. Never delay or disregard seeking professional medical or mental health advice from your physician or other qualified health provider because of something you have read on SheKnows. SheKnows does not endorse any specific product, service or treatment.