52 Relaxing
STRESS-BUSTERS
When did everyday life become so hard? Between work or school, household chores, typical errands, raising a family and maintaining general sanity, days are packed to the gills with more than even Wonder Woman could handle! To combat all those days brimming with things to do, people to see and places to be, we have some ideas for fun, relaxing and enjoyable ideas for you. These calming activities might give you the peace of mind and solace your life is missing.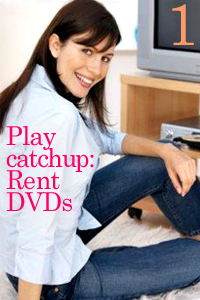 1. Play catchup: Rent DVDs for a whole season of a hit show you've missed out on to catch up on the buzz. cup of tea and drink it out of a proper teacup with saucer. colored lightbulb and really view the world -- or the room at least -- with a rose-colored (or blue, or purple) tint. long bath with an gloriously indulgent and fragrant bubble bath.  
2. Buy yourself a bouquet of your favorite flowers and have them delivered.
3. Go to the park and swing. See how high you can go.  
4. Take a nap or go to bed early. No lie -- if you are feeling completely zonked from a tough week, your body will love you for it.
5. Brew a
6. Make some popcorn and have a themed mini-movie marathon. Watch five or six flicks starring your favorite actor, set in a special city, or with a storyline that always makes you smile.
7. Take your car to be detailed -- inside and out -- while you read or listen to music in the waiting area.
8. Buy a cool
9. Take a
10. Determine a maximum amount of money that you are "allowed" to spend and go shopping for new shoes. And a purse. And clothes...
11. Listen to soft, soothing music... or, if you really need to get out some frustration, make that rock 'n' roll or hard core. Loud.
12. Make some "comfort food." Cupcakes, cookies, cakes, pies... anything sweet and scrumptious is fair game!
13. Take an entire night to be a complete couch potato. Have take-out delivered, walk around in your PJs, and just enjoy having nothing to do.  gratitude list. Think of the many people, things and life happenings for which you're really grateful. pedicure to pamper yourself and to get your toes in shape for sandals.Download some of the favorite songs from your youth, and see if you can still remember the lyrics well enough to sing along.
14. Make a
15. Go on a boat ride. Canoe, sailboat, yacht, kayak -- it matters not the kind of boat, but that you have a nice, relaxing time on the water.
16. Do something small that will make your life simpler. Make a duplicate set of keys so you don't have to panic if you lose them during the morning rush. Buy a pen on a cord and stick it on your fridge so it won't disappear. Get rid of all the lingerie you never wear so you don't have to sift through it every day.
17. Give yourself a nice
18. Go get two coffees: one for you, and one to be hand-delivered to a friend or co-worker.
19. Put on comfy clothes and snuggle up with a stack of good books.
20.
21. Stop and smell the roses. Or the laurel, freesia, primroses, daphne.
22. Look through old photo albums to remember where you've been and all you've done.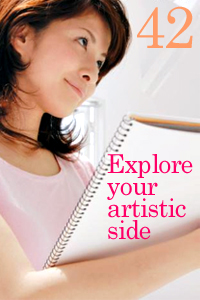 23. Exercise! Go for a run, walk, jog, ride your bike, use a hula hoop or any other athletic activity that's fun and rewarding to you.
24. Add a little comfort to your life -- whether that means faux-sheepskin covers for your car or a big, soft bath towel for you. Go on vacation. Whether you leave for a week or you actually only take a fifteen-minute walk around the block without your cell phone, sometimes an escape from reality is all it really takes to re-energize and rejuvenate yourself.
25. Enjoy a candlelit three-course meal, with your best china, a placemat and a cloth napkin.
26.
27. Buy a box of chocolates, and eat all your favorite ones first.
28. If you're home alone, close the blinds and walk around naked. No waistbands, no collars... it'll feel pretty good.
29. Go all day (or longer) without makeup. (Hey -- if celebrities can go out in public like that, you can, too.)
30. Get some friends together and play tennis or golf, toss the ball around or do something new and exciting in the world of sports.
31. Write down all the things on your mind that are stressing them out. Put the list away somewhere for later, and stop worrying about it for now.
32. Have a massage or another relaxing spa treatment or throw your own spa party.
33. Get together with your girlfriends to chat or to commiserate.
34. Try a brand new super-posh luxury shampoo and conditioner -- one that smells just heavenly.
35. Hire someone to come clean your home from top to bottom.
36. Upgrade something little but practical in your life. For example, swap your old scratched sunglasses for a stylish new pair or replace your faded, thinning bed sheets with some fabulous high-thread-count versions.  picnic, complete with a blanket, a deli lunch and some fresh strawberries. jigsaw puzzle, preferably featuring a soothing scene.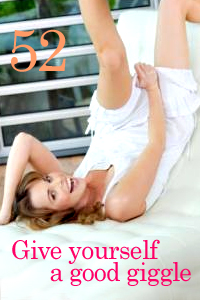 46. Take yourself out to dinner at your favorite restaurant.
47. Visit a local body of water -- ocean, lake, reservoir or even a fountain -- and just chill out watching the water flow.  Meditate or try some calming visualization. sex. The hormonal release can be profoundly relaxing. Laughter is one of the best stress-busters of all. Whether by means of a movie, book or DVD of your favorite comedian, give yourself a good giggle!
48.
49. Go for a drive at dusk with the top down, sunroof open or windows down. Music optional.
50. Cross something niggling (but ultimately not vital) off your to-do list... even though you didn't get it done. Let it go.
51. Try one of the oldest de-stressing methods in the world:
52.
No matter what types of activities – or lack thereof – refuel you and refresh you after a tough workday or workweek, remember that the best way to restore yourself and relax is only a good night's sleep away.
37. Imagine you won 10 million dollars, and write down all the delightful ways you'd spend it.
38. Take yourself on a
39. Find somewhere quiet and simply enjoy the silence.
40. Go outside, get comfortable on the ground or a chaise longue and just watch the sky go by.
41. Start making your dream real: Start researching hotels at an exotic destination, start checking out new kitchen countertop materials or test drive a fancy car.
42. Explore your artistic side: draw, paint, write or even make something out of paper maché.
43. Take a deep breath. Inhale slowly through your nose and fill your lungs (comfortably) as deeply as you can. Hold for about five seconds, and then exhale through your mouth. Repeat at least twice more.
44. Work on a challenging-but-still-fun
45. Light some candles (including a couple with your favorite scent) and place them throughout the room.
---
The opinions expressed in this article are of the author and the author alone. They do not reflect the opinions of SheKnows, LLC or any of its affiliates and they have not been reviewed by an expert in a related field or any member of the SheKnows editorial staff for accuracy, balance or objectivity. Content and other information presented on the Site are not a substitute for professional advice, counseling, diagnosis, or treatment. Never delay or disregard seeking professional medical or mental health advice from your physician or other qualified health provider because of something you have read on SheKnows. SheKnows does not endorse any specific product, service or treatment.